Jose Reyes: How His Signing Affects the Marlins Plans at the Winter Meetings
December 5, 2011
Jamie McCarthy/Getty Images
John Lennon once said that life is what happens to you while you are busy making other plans.
I planned on getting most of the way through my team TPR series before today. Well, life ended up getting in the way. These things happen, and the Marlins have been busy little bees in the meantime.
They added Heath Bell in what is still a somewhat puzzling move. The artist formerly known as Leo Nunez got into plenty of legal trouble, but he was a perfectly serviceable closer.
There can be no doubting that Bell is better and that "Nunez" will be a more than capable setup man. Still, a team with limited resources should attack parts of the club that are more critical.
The Infield
Of course, I'm burying the lead. Last night, the Marlins agreed to a six-year $106 million deal with Jose Reyes.
I could go into the folly that is this deal, but suffice it to say it will systematically govern the Marlins' efforts in Dallas. Now, they have two premium shortstops and only one spot.
Hanley Ramirez will almost certainly be dealt sometime this week. So, in order to run down this rumor, you simply look around the baseball landscape at who needs a shortstop.
John Buck, Gaby Sanchez, and Omar Infante are firmly entrenched at their spots for the moment. That leaves third base as a question.
Matt Dominguez is one of the best prospects in baseball, but the Marlins appear to be in win-now mode. Will they continue to coax Ramirez into moving to third?
Maybe they could sign another Ramirez (Aramis) to play third. The third option is trusting that Dominguez is the prospect they think he will be.
The decision on Ramirez (Hanley) will determine the success of the winter meetings. If they can work out a trade that nets them another good starting pitcher or possibly a center fielder, they will be on their way to competing. Otherwise, they might have created more of a mess than they wanted.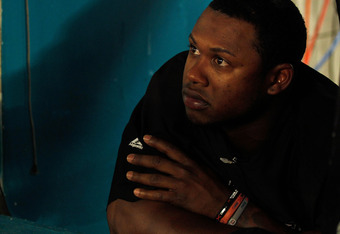 Mike Ehrmann/Getty Images
Outfield
The Marlins' outfield situation is as unsettled as the infield.
Logan Morrison is one of the more talented young hitters in baseball, and he was among the Marlins' best last season. Yet he was sent down midseason in a bizarre turn of events that dealt with Twitter, off-field promotions and maturity. He may be included with Ramirez in a package to get a more impressive starting pitcher.
Center field is an absolute mess.
Chris Coghlan played there last year, but it turns out his Rookie of the Year campaign was a fluke. He isn't even listed on the 25-man depth chart in some circles (mlbdepthcharts.com).
Brayan Peterson could be the guy, but others seem to be pointing at Emilio Bonifacio. Obviously, none of those options are particularly appealing.
Finally, you get right field.
Mike Stanton has megastar written all over him. Some pundits wondered if he would lead the NL in home runs.
I'm not so sure about that, but he is definitely a candidate to hit 40 this year in the new stadium. If Reyes can stay healthy and set the table, it could be an entertaining season.
Starting Rotation
Josh Johnson's injury this past season did more to derail the Marlins than anything else. He is a legitimate ace and was on pace to be the Cy Young front-runner until he went down.
Anibal Sanchez has ace potential but always seems to struggle some with command. That leaves Chris Volstad and Ricky Nolasco as prominent returning starters.
Neither of those two is a front-line starter, but both will give you solid innings. Javier Vazquez came on strong in the end, but some are wondering if he will retire.
That leaves a gaping hole at the third starter's spot. The Marlins are in on everyone these days, but Mark Buerhle is the biggest free-agent name linked to them.
Mike Ehrmann/Getty Images
Of course, teams like the Giants and Cardinals are interested in upgrading at shortstop. The Phillies could be as well if they can't bring Jimmy Rollins back. The Brewers could make sense too if/when they lose out on the Prince Fielder sweepstakes.
So Hanley Ramirez has value on the open market, and any one of those teams could be a match. The Giants might be the best match, since they will listen on starting pitching.
Bullpen
The dirty little secret from last season was that Heath Bell was not his team's best relief pitcher. Even if you remove Mike Adams, he was still not the best relief pitcher on the team, according to TPR.
Still, he is a proven closer, and I suppose if you are going to be a playoff contender, you need one of those.
The addition of Bell does extend the bullpen to the point where they probably can check that item off of their offseason shopping list. Still, the signing only makes sense if management is so shaken with Nunez (or whatever he is calling himself these days) that they wanted insurance in case things went south on that front.
Winter Meetings Win
There are two items on the to-do list for the Marlins.
The first one is necessary for them to move forward as a contender. They must find a viable trade partner to take Hanley Ramirez. If they can get something of value in a position of need, then the Reyes signing will look a lot better.
If they can't, then the signing seems redundant.
Secondly, they could definitely use another starting pitcher. They could address that with the Ramirez trade, but if they can nab someone like Buerhle then they could conceivably fill another hole in center field or elsewhere.
If they do both, they are legitimate contenders—if they don't, then the two big signings elevate them to third place.