Oakland Raiders: A Healthy Team Can Beat the Green Bay Packers
November 30, 2011
The Raiders tamed the Chicago Bears 25-20, and Sebastian Janikowski single-handedly beat the Bears with a team-record six field goals in Sunday's win at the Oakland Coliseum.
Janikowski kicked field goals from 40, 47, 42, 19, 37 and 44 yards to set a new team record and continue the Raiders' push of getting back into the playoffs, and controlling their own destiny in doing so.
Raider punter Shane Lechler was able to get into the record books by booming an 80-yard punt over the head of Bears return man Devin Hester in the fourth quarter, eclipsing a previous Raiders' record of 77 yards.
Aaron Rodgers is having a great year, and you're starting to hear the buzz about the Green Bay Packers going 16-0, but there's a team from Oakland that shouldn't be overlooked when it arrives in Wisconsin on December 11.
The Raiders are a really good football team and have the roster to become a great team. If all players are healthy, they can compete with anybody in the National Football League—including the Packers. 
The missing names from the roster on Sunday was a very long list, starting with Jason Campbell. Jacoby Ford, Denarius Moore, Darren McFadden, Taiwan Jones, Bruce Campbell and Jarvis Moss were all also inactive for last Sunday's game.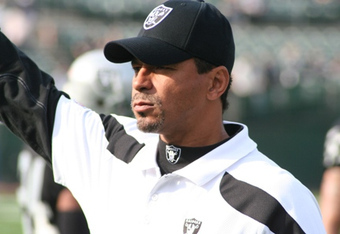 Raiders head coach Hue Jackson is still leading his team to its peak, and the players are starting to get the message he's been sending: they are a very good football team, and if they play together with discipline, they are going to be tough to beat.
The players' chemistry is rising in the locker room, and he's continuing the message of the late Al Davis that a win is a win, no matter how you get it.
In the Raiders/Bears postgame press conference, Jackson recalled his conversation with Davis prior to his passing, and said it has been placed in his memory bank.
"I'd like to reflect for a moment on Coach Davis, one conversation I did have with him obviously before he passed he said, 'Hue winning in this league is not easy,'" Jackson said. "'It's not going to be always pretty, but as long as the team plays as hard as it can, you'll have a chance to win,' and he's right."
Carson Palmer completed the day with 301 passing yards on 18-36 attempts against the Bears. He had his struggles throughout the game, but his belief and will to win is perfect for the team's personality.
He's developing into a nice fit as a leader, particularly when he showed ability to make the big-play, third down deep throw of 47-yards to wide receiver Louis Murphy to the Bears' three yard line and seal the victory for the Raiders. 
Palmer is speaking with confidence, and that's what you want to hear at the quarterback position. He's on the same page with the coaches.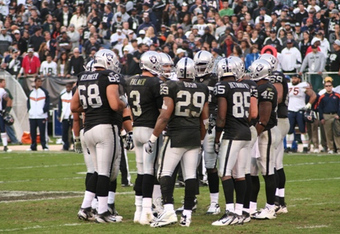 "First and foremost that was a great call by Coach (Al) Saunders and Coach Jackson, the timing of it, and the looks we set up to get it were great," Palmer said. "At that point in the game it's just a great call to pull out."
The Raiders will take their show on the road this week against the Miami Dolphins. They currently hold a one game lead over the Denver Broncos in the AFC West, and will continue controlling their own destiny toward reaching the AFC playoffs.
Raiders fans, don't be surprised if this team goes into Lambeau Field and comes out with a victory over the Packers, because this team is gaining belief in their abilities and will be a challenge for any team they face for the remainder of the season.
Mike Walker is a Contributor for Bleacher Report. Unless otherwise noted, all quotes were obtained first-hand or from official interview materials.