2012 NFL Draft: Stock Watch for College Football's Top QBs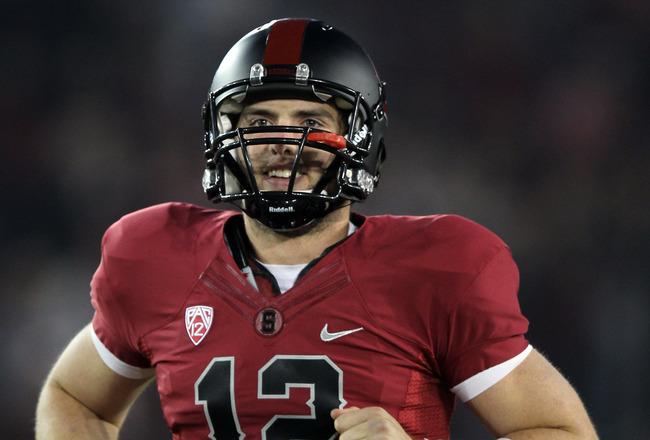 Ezra Shaw/Getty Images
With everything that has happened at quarterback this year, quarterback will be one of the most coveted positions in the draft this year.
The stock of these players has also changed over the course of the season.
Players such as Landry Jones have fallen from grace whereas the stock of Matt Barkley has risen.
Here is the stock watch for the top five quarterbacks in the 2012 draft.
Andrew Luck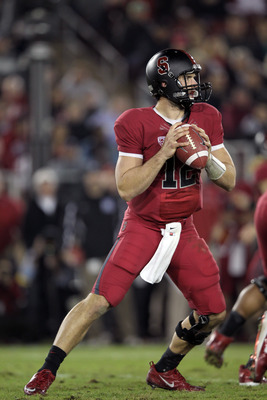 Ezra Shaw/Getty Images
All season the mantra of the NFL's worst teams has been, "Suck for Luck."
Since Peyton Manning's future is still uncertain, and the Colts have the No. 1 spot all but locked up, it is looking like Andrew Luck will be an Indianapolis Colt in 2012.
Just like at the beginning of the season, Luck's stock is as high as ever.
His 35 touchdowns and nine interceptions this season has done nothing to harm his value.
Draft Prediction: Indianapolis Colts (No. 1 Overall)
Matt Barkley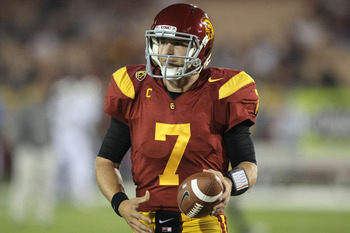 Stephen Dunn/Getty Images
As each week goes by, Matt Barkley's stock continues to rise. For the quarterback out of USC, his season has been getting better and better.
He has been steady all season with his best performances coming in recent weeks. He has thrown for six touchdowns in a game twice this season.
Barkley is a solid pocket passer with a high completion percentage.
Look for him to be taken as the second quarterback in the draft.
Draft Prediction: Miami Dolphins (No. 3 Overall)
Landry Jones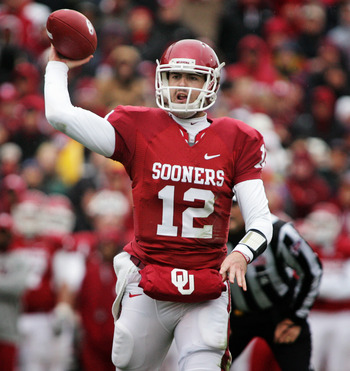 Brett Deering/Getty Images
At the beginning of the 2011 season, it looked like Landry Jones would be taken as the second quarterback in the draft.
He stock has since fallen. In Oaklahoma's last two games, Jones has not thrown a touchdown pass and he has thrown three interceptions.
Still, Jones has the raw skills to become a great quarterback in the NFL.
He is still an accurate pocket-passer.
Look for him to be the third quarterback to be drafted in 2012.
Draft Prediction: Seattle Seahawks (No. 8 overall)
Robert Griffin III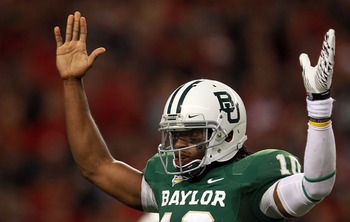 Ronald Martinez/Getty Images
Robert Griffin III is yet another young, run first quarterback. Generally, these types of quarterbacks have not been successful in the NFL, but someone will give Griffin a go in the first round.
His stock has been on the rise this season. He has developed into a more accurate passer.
His completion percentage is at 72 percent, more than five percent higher than in the 2010 season.
He has thrown for 12 more touchdowns this season than last season.
He will surely be going in the first round.
Draft Prediction: Washington Redskins (No. 11 overall)
Ryan Tannehill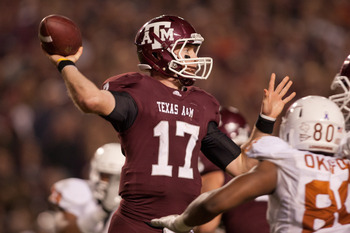 Darren Carroll/Getty Images
Ryan Tannehill's stock has risen drastically this season. At the beginning of the season, it looked like he would be a second round or later draft pick.
Now, it looks like he could be a first-round draft pick.
For the quarterback out of Texas A&M, improvement has been drastic in 2011.
He has the ability to scramble and make plays in the air.
While he sometimes does have problems with interceptions, he does not take many sacks.
He can also throw for a lot of touchdowns. In 2011, he has thrown for 28.
Draft Prediction: Cleveland Browns (No. 23 overall)
Keep Reading