Bears vs. Raiders: No Love from National Media? Shocking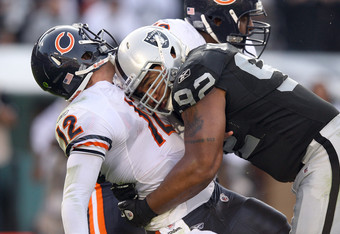 Ezra Shaw/Getty Images
Yesterday I found myself sitting in section 218 at the O. That's the O.co Coliseum for the Oakland Raiders vs. Chicago Bears game (why isn't anyone talking about a Raiders/Niners shared stadium on Treasure Island? No one wants to drive to Santa Clara).
The day started early with a great tailgate provided by some close friends who I haven't hung out with in quite a while. It really doesn't get much better than a "late November, high 60s in the Bay Area" Sunday, but I digress.
Coming into Sunday the only thing I heard about on the sports talk shows was how Jay Cutler was out. I heard everyone asking the question about how the Bears would do without Cutler. Could the backup answer the bell? What kind of game plan would the mad scientist Mike Martz use to beat the Raiders?
As all of you know the Raiders took care of business. They won ugly by using special teams and turnovers to get the job done. They didn't blow out the Bears; they actually hung on at the end to beat the Bears. There were not a bunch of great highlights in this one and as my good friend told me during the game: "I would rather have a root canal without Novocain than watch a game like this.
I have to admit I was nervous coming down the stretch after the long pass from Caleb Hanie to Johnny Knox set up the touchdown late.
When the game ended and the Raiders won, I didn't have an overwhelming feeling of accomplishment a fan often gets after his team wins. It was another "whew, we pulled it out" game like Minnesota and San Diego the weeks prior.
As we were walking out of the stadium my buddy and I were talking about the play-calling, the lack of tackling, the fact that we gave Lovie two minutes to figure out if he should challenge the Darrius Heyward-Bey catch and other things that didn't make us feel swell and confident. We made it all the way to the parking lot before we realized what happened.
The Raiders won and for the first time since 2002 are 7-4. It was an ugly win, and some of the other wins have been ugly, but it was a win. The Raiders beat a solid team. The Bears-Raiders game was the only game on Sunday featuring teams with winning records.
Bears fans and the media can make the excuse that they didn't have Cutler. Who cares, really? The Bears lost and the Raiders won.
If this had been a Super Bowl matchup would anyone care the Raiders won with the Polish Cannon, Sebastian Janikowski, kicking six field goals? Would anyone care that the Raiders struggled to put it in the end zone for touchdowns? Would anyone care that the Raiders didn't beat the incomplete Bears team who didn't have one of their leaders?
Here's a news flash for all you excuse-making prognosticators: The Raiders didn't have all-world running back Darren McFadden. They didn't have rookie wide receiving sensation Denarius Moore going. They didn't have Jacoby Ford going. This is Carson Palmer's fourth game with the Raiders (KC doesn't count).
Janikowski kicked six field goals with a still-hurt hamstring. Shane Lechler and Janikowski kept Devin Hester from doing anything. Lechler kicked an 80-yard punt—80 freaking yards! Think about it—80 yards!
On the way home, we listened to the Raiders broadcast team. They got it. They talked about it. We as fans reveled in it. It was a fantastic team victory.
I couldn't wait to get home and watch ESPN and hear the team I love get their props. When I watched, it seemed like the briefest group of highlights and the smallest discussion was given to the Raiders victory. All the talk was Patriots, and that guy in Denver playing QB. I went to bed dreaming of Lombardi Trophy No. 4, thinking it was late in the east and tomorrow they would be pouring out the accolades for the Raiders' third win in a row.
On my way to work this morning, I was listening to Mike and Mike on ESPN. All Mike Greenberg could say was there's no doubt if Cutler was playing they would beat the Raiders handily; he is sure of it. He seemed to have Mike Golic buying in. After a brief "no credit" comment on the Raiders, the conversations switched back to the Patriots, Andy "I would like the pamphlet on gastric bypass" Reid and Tim Tebow (do you think the Denver D is pissed they seem to be getting no props for winning? It's all Tebow time?).
I turned off my radio. I realized once again, as a Raider fan and member of the Raider Nation, it's us against the world. No one's going to give us credit, win or lose. We are not going to ask for our props; let's keep on taking them though. Never has the Al Davis-coined phrase been more appropriate. (Quick side note: Ice Cube singing "Just Win Baby" really got me fired up.)
I heard a quote yesterday that I have added to my list of favorites. It goes like this: There are three types of people in the world: people who make it happen, people who watch it happen and people who have no idea what happened. The Raiders are definitely starting to make it happen whether anyone wants to recognize it or not.
This article is
What is the duplicate article?
Why is this article offensive?
Where is this article plagiarized from?
Why is this article poorly edited?

Oakland Raiders: Like this team?