MLB Trade Rumors: Cleveland Indians Should Trade Chris Perez for Yonder Alonso
November 28, 2011
Norm Hall/Getty Images
The Cleveland Indians should trade Chris Perez to the Cincinnati Reds in order to acquire Yonder Alonso to be their every day first baseman.
According to MLB Trade Rumors, the Reds have decided to hold onto Joey Votto for the 2012 season but are more than willing to trade Alonso in order to acquire pitching. In their search, the Reds are looking for a No. 2 starter or a closer to replace Francisco Cordero.
It wouldn't make sense for the Indians to trade Ubaldo Jimenez or Justin Masterson, but the Indians can more than afford to move Chris Perez.
Chris Perez may have finished with 36 saves—good for fourth in the American League—but he is absolutely replaceable. His ERA was a strong 3.32, but his FIP was 4.27, his xFIP was 5.01 and his fWAR was only 0.1. Add in the fact that his SO/9 dropped from 10.74 in 2009 to 8.71 in 2010 to 5.88 in 2011 without a decent corresponding drop in his BB/9 (4.26 in 2009, 4.00 in 2010, 3.92 in 2011), and 2012 Chris Perez is a recipe for disaster.
Knowing that there is a good chance Perez will struggle in 2012 and knowing the volatility of relievers, it makes absolute sense to sell high on Perez now. Perez alone likely won't be enough to bag the Tribe Alonso, but throwing in a decent starter such as Jeanmar Gomez, along with a decent prospect like catcher Chun Chen, could be enough to sway the Reds.
Giving up three quality players for someone just breaking into the big leagues may seem like a lot, but Alonso may be worth even more than that.
Adding Joey Votto would have made a ton of sense for the Indians, but Alonso isn't a bad consolation prize. His AAA numbers (averaged out to one season) look like this:
.296/.364/.478 slash line, .842 OPS, .369 wOBA, 19 HR, 90 RBI, 12 SB, 44 2B, 15.9 SO%, 9.7 BB%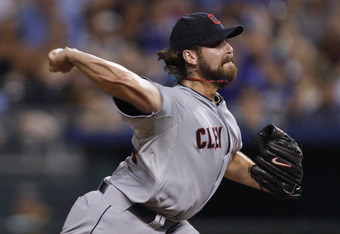 Ed Zurga/Getty Images
Alonso will only be 25 years old going into next season and should continue to hit more home runs. He is considered a plus power hitter and, added to his other good peripheral stats, a legitimate threat to become one of the top players in the league.
Sure, Alonso may be another left-handed bat in an already lefty-heavy Indians lineup, but if the Tribe can acquire him, they should do it. There's no point waiting on Matt LaPorta to develop anymore. The Indians need some power and consistency out of the first base position.
Trading for Yonder Alonso could easily help the Tribe compete in 2012 and beyond. He is exactly the sort of talent they need to add and they can more than afford to move Chris Perez.
If the Reds will go for it, I think the Indians would make this deal in a heartbeat.