Stevie Johnson: 5 NFL Players Bills WR Should Have Mocked over Plaxico Burress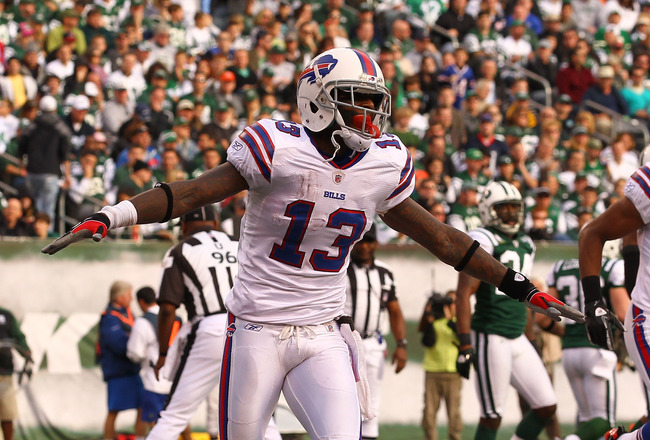 Al Bello/Getty Images
So Stevie Johnson decided to get personal and direct his only touchdown celebration of the day at Plaxico Burress and Santonio Holmes.
Obviously, Johnson's mocking of Burress is getting all the press since it poked fun at a self-inflicted gunshot wound, but crashing Holmes' "flying airplane" celebration into the turf wasn't exactly subtle either.
Still, if Johnson was dead-set on miming reality, he could have picked better targets than the two Mark Sanchez can't seem to hit. So, just in case he's looking for material instead of at a playbook, here are five suggestions for Johnson's repertoire.
Chris Johnson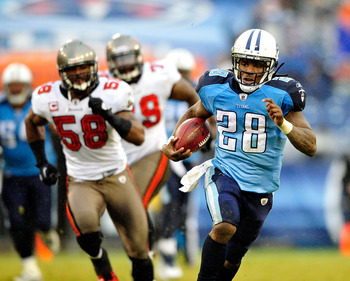 Grant Halverson/Getty Images
All right, so after watching Chris Johnson pile up 190 rushing yards on 8.3 yards per clip against the Bucs, this mock celebration might have been ill-timed, but it still would have been funny.
After grabbing the five-yard strike from Ryan Fitzpatrick, Stevie Johnson could have performed the ultimate homage to the Titans' running back by simply disappearing.
I'm not saying it wouldn't take a lot of time and planning, but it would have been pretty cool to see Stevie Johnson lift up his jersey to reveal a T-shirt with the words "Call me Chris" scrawled on it in marker before Stevie just vanished into thin air.
Then, Stevie could have shown up in a couple of weeks and blame his absence on being all part of the act.
Peyton Hillis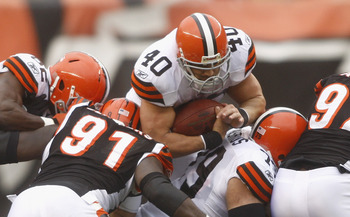 John Grieshop/Getty Images
This could have been classic. Johnson scores from five yards out, reaches up and pulls a big folded poster out from under his jersey.
He then unrolls it and sticks his head through a hole near the middle. As he turns toward the camera, we see that he's used scissors to make a cutout in a poster of Hillis' Madden '12 cover, but that's not all.
Johnson is also holding the world's tiniest check, made out to Hillis, while crying and writhing on the ground during a full-on tantrum in the end zone.
Then, of course, he disappears.
Brandon Marshall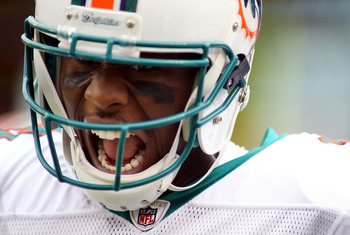 Marc Serota/Getty Images
Maybe the deal with Johnson is that he only likes impersonating divisional foes. That's cool. It makes Marshall a perfect fit.
Weeks ago, Marshall basically promised to get himself thrown out of Miami's game against the Jets, but like most of Marshall's promises, this one was fake. Marshall played modestly and acted humbly the entire game.
Johnson could have bailed him out while still managing to make fun of him. All he had to do was score the TD, then grab a Josh McDaniels voodoo doll and tape it to the football. Then, obviously, the next step would be to punt the football into the crowd, as Marshall said he would, before finding Antonio Cromartie and kicking his ass, the second stanza of Marshall's pledge.
Finally, Johnson would again disappear, but to Miami this time.
Himself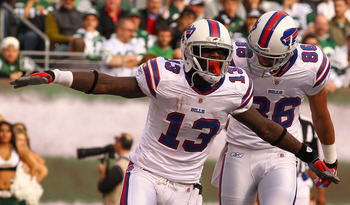 Al Bello/Getty Images
The greatest celebration of them all, though it could possibly paradox the world into non-existence. It also would have required some collaboration, which is tricky.
Johnson reaches the end zone after snagging the nickel from Ryan Fitzpatrick, but this time he immediately grabs Fitzpatrick before he can reach the sidelines and hands him the ball. Johnson then runs down the middle of what is now a wide-open field, heading toward the end zone again.
Fitzpatrick then hits him with a perfect pass that Johnson drops hard. Since this won't take much time, Johnson repeats the act in all corners of the end zone. Then CJ Spiller blows an air horn symbolizing the end of the game and runs over to Johnson holding a big letter "L."
And Johnson disappears.
Jim Harbaugh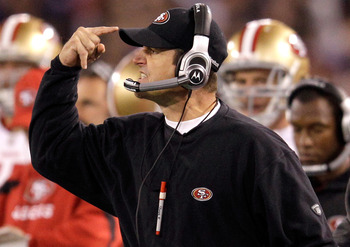 Rob Carr/Getty Images
I get that Harbaugh is no longer a player, but this is definitely the best celebration on this list, and there's no doubt it would have been the most fun to watch.
After breaking the plane and finding the end zone, Johnson could have pulled a necklace with a pen hanging from it out of his shoulder pads before leaping into the air throwing his hands around wildly.
Next, he'd run around the end zone, half skipping as he went, finding all the Jets players and slapping them wildly on the back and heartily shaking their hands.
Bonus points if he can convince Scott Chandler to run over and shoulder into him while screaming profanities toward the sky.
Keep Reading