Denver Broncos Sold on Tim Tebow? John Elway Watched RG III and Landry Jones
November 21, 2011
Ronald Martinez/Getty Images
Thursday night was a great moment in Denver Broncos history. New starting QB Tim Tebow orchestrated a drive even the Comeback Kid, John Elway, could appreciate. And he did from the owner's box at Sports Authority Field at Mile High.
Signature toothy smile and all. 
Down by three, late in the fourth quarter on their own five-yard line, it started. And it ended in the New York Jets' end zone with 59 seconds left in the left hand of Mr. Tebow.
The Broncos defense did its part, and Denver held on to win another nail-biter, 17-14.
Fast-forward two days.
Rookie executive vice president of Broncos football operations Elway was in the stands in Waco, TX watching another great college football QB pull one out. Robert Griffin III and his Baylor Bears beat visiting Oklahoma in overtime, 45-38. Griffin finished with an un-Tebow-like 479 passing yards and four TDs.
But he did look more Tebow-like with 72 yards rushing as well. 
Was this just a chance for Elway to inhale some Big 12 college football atmosphere? Was he here just to see Griffin do his Tim Tebow impression?
Oh, right. There was another QB playing on the opposite team, Landry Jones. He had a pretty decent game in a losing cause, going 36-for-51 and 447 yards.
Were there other players to see?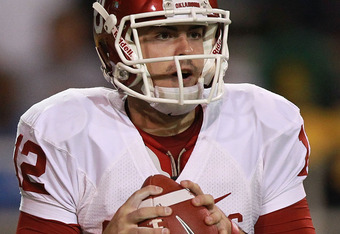 Ronald Martinez/Getty Images
Yes, and maybe that was the main reason for the scouting trip. But it does seem like we are seeing Elway watching college pigskin where high-draft-pick quarterbacks are playing. Like John's main heartthrob Andrew Luck at a recent Stanford practice session.
All three of those QBs will likely go in the first round of the 2012 NFL draft. And with a previous first-round pick currently starting at QB, does it make sense to burn our first round pick plus more to trade up with so many other holes to fill?
What should we or should we not read into these excursions by the Broncos football boss? Probably just a chance to see a lot of great college football with one airline ticket.
Ya think?