NFL Playoffs: 3 Currently Seeded Teams That Won't Make the Postseason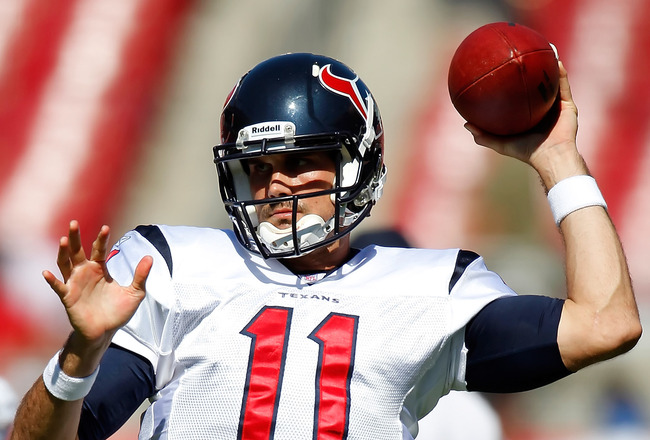 J. Meric/Getty Images
With Week 11 underway, the NFL playoff picture is taking shape. In the NFC, the undefeated Green Bay Packers and one-loss San Francisco 49ers are the obvious standouts.
The AFC looks more murky. Pittsburgh and Houston lead their divisions and the conference with 7-3 records.
As this season hits the back stretch, teams hovering around .500 will play fierce battles and try to state their cases for the playoffs.
But three teams currently holding playoff seeding will not be so fortunate.
Whether by circumstance, remaining schedule or downward momentum, there is no conceivable chance for the following three teams to maintain their postseason aspirations.
Oakland Raiders (5-4)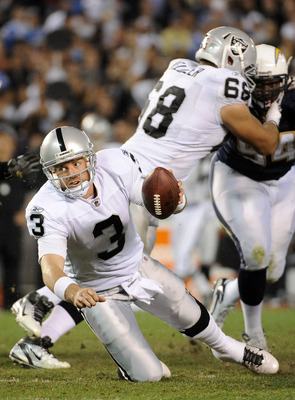 Harry How/Getty Images
Oakland rolled out 2011 with Hue Jackson coaching, Jason Campbell at QB and Darren McFadden at RB. They traded wins and losses over the first four weeks of the season.
Then, the passing of Al Davis gave the team a spark and fueled them to two-straight wins. But just as the climb back to prominence began, it all came crashing down.
In the second of those wins against Cleveland, the Raiders lost Jason Campbell for the season and scrambled to replace him.
They decided to bring in disgruntled ex-Bengals QB Carson Palmer.
The following week at home against the Chiefs, the Raiders started Kyle Boller and allowed him to throw three first half interceptions.
Palmer came in and threw three more, as the Chiefs shut out Oakland 28-0. The game also saw McFadden go down with a foot injury, from which he hasn't yet returned.
The Raiders had a nice bounce-back win a week ago at San Diego and have Minnesota this Sunday.
It's a chance to salvage their season, but the rest of their schedule includes Chicago, Green Bay, Detroit and repeat games against Kansas City and San Diego.
Tim Tebow is turning heads for the Denver Broncos. He led his team to a 38-24 win in Oakland and is gaining confidence.
The Broncos are 5-5 now, and I am picking them to jump ahead of Oakland for the AFC West crown.
New York Giants (6-3)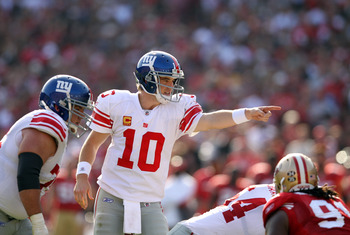 Ezra Shaw/Getty Images
The New York Giants have typically gotten the job done, but their head scratch-inducing hiccups are difficult to understand.
The two most prominent of these were their Week 1 loss at Washington and Week 5 loss at home against Seattle.
But the team has gotten its six wins in bunches of three and two, so the good news is their losses are spread out.
The bad news is their running game is a joke, and Eli Manning can't do it all by himself.
I consider him an elite quarterback, but he can throw three interceptions as easily as he can throw three touchdowns.
This is a dangerous truth to contend with, considering Ahmad Bradshaw and Brandon Jacobs have one 100-yard rushing performance between them in 2011. Bradshaw is now injured to add to the problem.
The Giants defense doesn't fare any better. They are in the lower half of the league in total defense and have only held three teams under 20 points this season.
They should get by Philadelphia this week, but even that isn't guaranteed.
The rest of their schedule includes New Orleans, Green Bay, New York Jets and both Dallas games.
Meanwhile, the 5-4 Cowboys have quietly won two straight and three-of-four. Their next three games are against Washington, Miami and Arizona.
In fact, the only team with a winning record left for Dallas this season is the New York Giants.
Houston Texans (7-3)
Al Messerschmidt/Getty Images
I do feel badly for the Houston Texans, but this is football and injuries are unavoidable.
Despite decimating the Buccaneers 37-9 last week, QB Matt Schaub was lost for the season with a Lisfranc injury.
The team's playoff dreams began and ended with Schaub.
The Texans are on a four-game win streak and have a bye this week. It's one extra week backup Matt Leinart has to get ready.
And I just don't see it turning out well.
Leinart doesn't have the passion or drive to carry this team to the playoffs. He hasn't developed any chemistry and probably doesn't have the trust of his teammates.
Houston's remaining schedule would be manageable at worst with Schaub.
With Leinart, it's manageable at best. The toughest games are home against Atlanta, at Cincinnati and home against Tennessee.
The Titans should be licking their chops by now. At 5-4, they are within striking distance to overtake Houston atop the AFC South.
Their remaining schedule is equally up in the air.
At the very least, they should gain wins against Tampa Bay, Indianapolis and Jacksonville before they even see Houston in Week 17.
And by then, the division should be theirs.
Keep Reading