San Francisco 49ers
Alex Smith and San Francisco 49ers: Headed for NFC Championship vs. Packers?
Alex Smith has had sucess under offensive coordinator Greg Roman
Ezra Shaw/Getty Images
November 17, 2011
San Francisco 49ers football fans remember the 2005 NFL Draft when the 49ers had the top selection in the draft, and former 49ers head coach Mike Nolan elected to go with Alex Smith as their No. 1 pick, only to later learn from the fans they made a tremendous error in their pre-draft scouting calculations. 
The subsequently determined correct choice would have been to select the quarterback playing across the Bay Bridge at the University of California, one Aaron Rodgers.
Rodgers seemed confused and frustrated in the NFL draft "Green Room," as he sat patiently waiting to be selected after being bypassed by the 49ers. He fell to the Green Bay Packers at the 24th selection.
Rodgers has since gone on to have tremendous success with the Packers, after being overlooked by the 49ers, a team for which he envisioned himself playing and leading them to a Super Bowl.
"I dreamt about being the quarterback of the San Francisco 49ers. I used to draw little plays on note cards and dream I was Joe Montana throwing passes in the back yard with dad," Rodgers said according to TotalPackers.com.
He won his first Super Bowl in 2010 and has set the standard of being an elite quarterback in the NFL with his current performance in 2011, and leading the Packers to an 8-0 record at the midseason point.
Smith's journey has been somewhat the opposite of Rodgers'. He's been in a coaching carousel. It never seemed to end, in which, seven different NFL offensive coordinators, in seven years, have attempted to make the quarterback successful.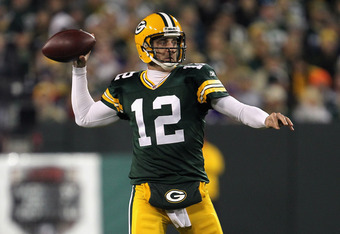 Aaron Rodgers MVP of the 8-0 Green Bay Packers
Jonathan Daniel/Getty Images
He reached rock bottom when he was booed by 49ers fans every time he took a snap on his home field last season.
Smith reached the pinnacle of frustration on national television last season, when he engaged in a sideline shouting match with former 49ers head coach Mike Singletary, while losing a must-win game against the Philadelphia Eagles, 27-24.
He's finally reached success with his current offensive coordinator Greg Roman, and a coach who's had belief in him since day one, Jim Harbaugh
The quarterbacks have taken train routes to their current success, and their teams are running on the same track and that could lead to a 49ers vs. Packers showdown in the NFC Championship Game, in which many NFL analysts and experts are predicting the 49ers to have an excellent chance at  winning.
Rodgers has the Packers cruising along with an 8-0 record, and Smith has become the foreman of the blue-collar 49ers, while leading his team to a surprising 7-1 record.
The Packers are a high-powered offense and they depend on the throwing arm of Rodgers, surprisingly the 49ers have a high-powered defense, but they also rely on the decisions and offensive game management of Smith.
This time, Smith has a chance to validate the 49ers' decision for choosing him as the No. 1 selection in 2005, as well as eliminating the Packers in the potential NFC Championship showdown, which would give them an opportunity to perhaps win their sixth Super Bowl.
Like the new article format? Send us feedback!