Fantasy Football: 10 Handcuffs You Should Keep on Your Radar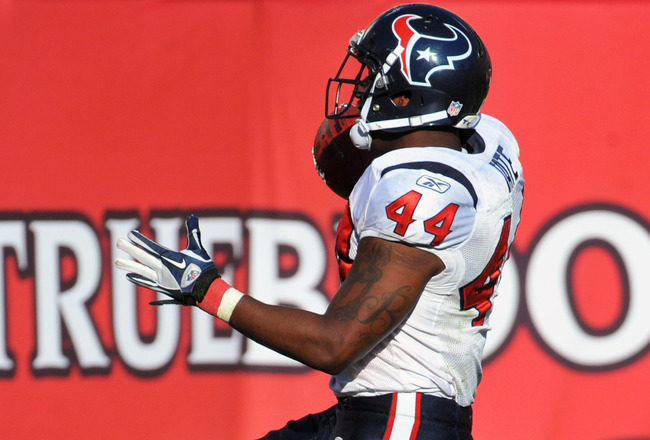 Al Messerschmidt/Getty Images
Ben Tate of the Houston Texans, Kendall Hunter of the San Francisco 49ers and Jason Avant of the Philadelphia Eagles lead the list of key handcuffs this week.
An injury to a key player on your team at this point of the season can be deadly to your playoff prospects. So you need to handcuff to protect your team.
Typically we look for a top producer whose backup on his real team is a borderline producer and is therefore probably available in your league. For example, if you own LeSean McCoy, you would like to handcuff him. But it you look at the Eagles' depth chart, you can't find anyone that would be a reasonable replacement. So in that case, you'd be better off just hunting the waiver wire if McCoy suffers an injury.
Now in the case of Calvin Johnson, you can find a rookie on his team who had 150 catches and 23 touchdowns in his last two years of college. Aha! There is your handcuff.
Pierre Thomas: Handcuff for Darren Sproles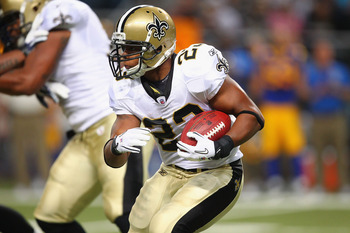 Dilip Vishwanat/Getty Images
In the league I run, triple threat Darren Sproles is the second-most productive running back, behind only LeSean McCoy. If we go down to the 25th spot on the running back list, we find his teammate on the New Orleans Saints, Pierre Thomas.
This is the classical handcuff situation: a top producer whose teammate is a marginal but useful fantasy starter.
Clearly Thomas does not have the skills to be a triple threat like Sproles. And there are other running backs in the picture. However, Thomas could be a better substitute than most running backs you could find on the waiver wire.
Jason Avant: Handcuff for Jeremy Maclin and DeSean Jackson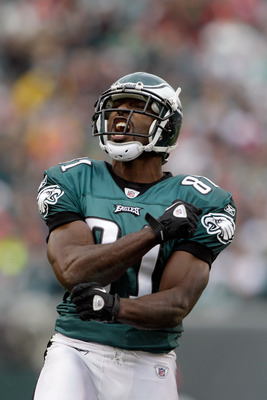 Rob Carr/Getty Images
Jeremy Maclin of the Philadelphia Eagles has several injuries. From week to week, you can't be sure whether or not DeSean Jackson will show up. And if he does, you don't know whether he will give a good effort. And now we have to worry about Jackson going "T.O." on the Eagles.
Jason Avant is next down on the depth chart of Eagles' receivers, so he is a good handcuff to have.
He is typically targeted on third down and has produced 19 first downs this year. He has 434 passing yards this year, and in the game against the Buffalo Bills he had nine receptions.
Ben Tate: Handcuff for Arian Foster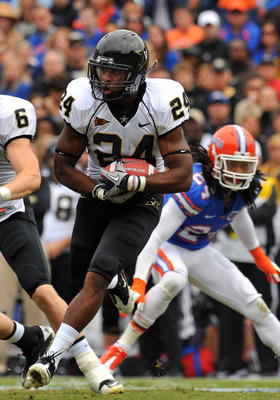 Al Messerschmidt/Getty Images
The Houston Texans are fortunate to have a very good 1-2 combination at running back. With the injury to Matt Schaub, they should be putting this to even better use over the next few games.
In the last four games, Ben Tate has carried the ball 45 times for 324 yards and two touchdowns. In the first two games of the season while Arian Foster was dealing with an injury, Tate rushed for over 100 yards each game.
So if you spent an early draft pick to get Arian Foster, you need Ben Tate as your protection for the playoffs.
Kendall Hunter: Handcuff for Frank Gore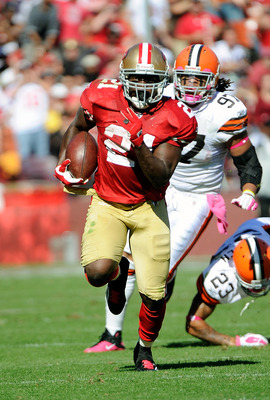 Thearon W. Henderson/Getty Images
Frank Gore of the San Francisco 49ers gave his fantasy owners a scare last week. He couldn't play in the second half of the game against the New York Giants due to a knee injury. He ended up with no rushing yards on six carries in the game.
This had Gore owners running to the waiver wire to grab his backup, Kendall Hunter.
If you have not done the same thing, now would be a good time to do so. Gore claims that he will play this week, but that might not be determined until game time.
In his 54 carries this year, Hunter has averaged 4.8 yards per rush.
Marion Barber: Handcuff for Matt Forte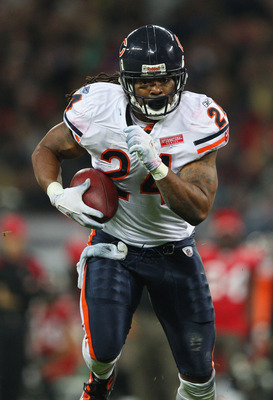 Warren Little/Getty Images
Matt Forte of the Chicago Bears has been leading the league in combined rushing and receiving yards per game. Losing him could put a big dent in your weekly production.
Marion Barber is currently the Chicago Bears' short-yardage specialist. So he is already getting scoring opportunities close to the goal line. In Forte's absence, his role would certainly expand.
Early Doucet: Handcuff for Larry Fitzgerald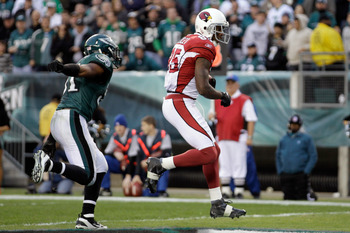 Rob Carr/Getty Images
Larry Fitzgerald of the Arizona Cardinals got a gift from the Philadelphia Eagles last week. They inexplicably covered him at critical times of the game with a linebacker. As a result he had 146 receiving yards and two touchdowns. For the year, Fitzgerald has 45 receptions, 792 yards and five touchdowns.
A decent handcuff for Fitzgerald would be Early Doucet, who himself has four touchdowns on the year.
Javon Ringer: Handcuff for Chris Johnson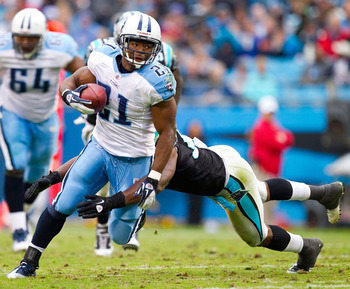 Brian A. Westerholt/Getty Images
After a slow start, Chris Johnson of the Tennessee Titans has returned to the top 10 list of running backs over the last four weeks. Last week he had his best game this year with his 130 rushing yards. So that means that he is worthy of a handcuff.
Fortunately for Johnson's owners, one is available in Javon Ringer. He has just under 300 total yards this year between rushing and passing.
Randall Cobb: Handcuff for Greg Jennings and Jordy Nelson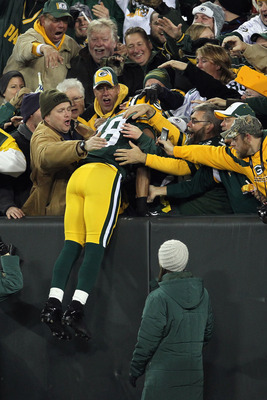 Jonathan Daniel/Getty Images
Both Jordy Nelson and Greg Jennings of the Green Bay Packers have been good producers this year. Both have seven touchdowns and are on the top 10 list of wide receivers. That's what happens when you have Aaron Rodgers as your quarterback.
A good handcuff for either of these players would be Randall Cobb.
If you watched the first game of this season, you will know who Cobb is. He has three touchdowns this year: a 108-yard kickoff return, an 80-yard punt return and a 61-yard pass. That sounds like a pretty good handcuff to me.
Titus Young: Handcuff for Calvin Johnson
Justin Edmonds/Getty Images
Rookie Titus Young of the Detroit Lions had 150 pass receptions and 23 touchdowns in his last two years at Boise State. No one can replace Calvin Johnson, but Titus could come close.
He has had 11 receptions in the Lions' last two games, so he is now being targeted more than earlier in the year. If you are in a keeper league, this guy would make a great rookie keeper.
Matt Leinart: Handcuff for Matt Schaub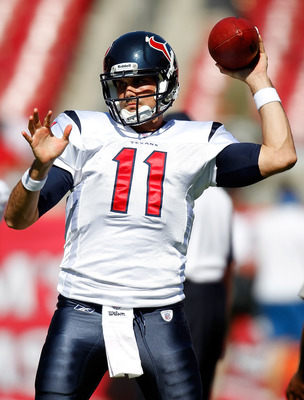 J. Meric/Getty Images
Arizona Cardinals fans will be chuckling at this one. Nevertheless, Matt Leinart of the Houston Texans should have enough experience and supporting cast to do well during Matt Schaub's absence, however long that will be.
The Texans have a solid 1-2 running back combination. Top wide receiver Andre Johnson is expected to return to the lineup.
There are multiple injuries among starting quarterbacks throughout the league. This has resulted in a thinning of the quarterback waiver wire. So if you own Schaub, you need to pick up Leinart now before he has a great game.
Keep Reading