NFL Power Rankings Week 11: Comparing Every Team to Beer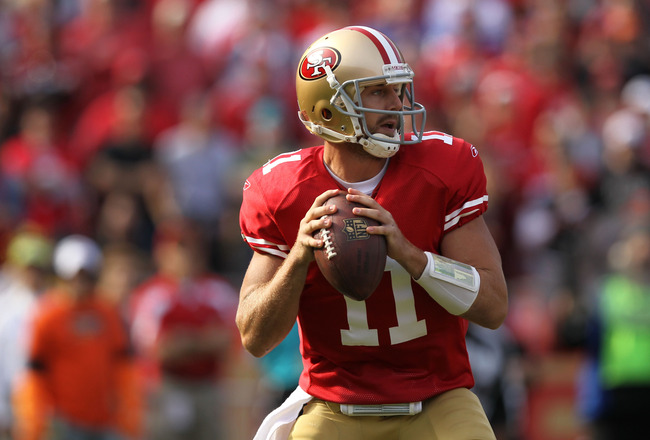 Ezra Shaw/Getty Images
Week 10 of the NFL season is in the books, and it's time to whip out a round of power rankings. There were some fantastic finishes and some not so great games, but there was drama like there is every single week in the NFL.
Instead of doing a traditional batch of power rankings, I decided to switch it up and compare every team to a beer, or in one case, a liquor. Most everyone loves beer, so this should be a fun way to look at every team.
Let me know what you think of your team's comparison and ranking. With that being said, let's get started.
Nos. 32-28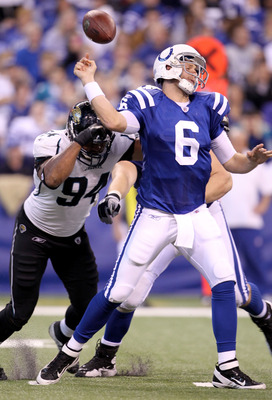 Andy Lyons/Getty Images
No. 32 Indianapolis Colts (0-10): Natural "Natty" Ice
The worst beer on the face of the planet goes to the worst NFL team, fittingly. It's hard to defend the Colts or make any excuses for them after they failed to show a pulse against a nearly as atrocious Jacksonville team. Choking down a Natty Ice is as hard as watching four quarters of a Colts game.
No. 31 Cleveland Browns (3-6): Olde English 800
Thankfully I have not tried this beer, but on ratebeer.com it had an impressive score of 0 out of 7! Olde English 800 is not a favorite of beer drinkers, just like the Browns aren't a favorite of NFL viewers.
Cleveland may have been a Phil Dawson 22-yard field goal away from having four wins, but don't let that fool you. This team's three wins came over Seattle, Miami and Indy. At this point in the season the Seahawks and Dolphins are better than the Browns.
No. 30 St. Louis Rams (2-7): Natural Light
It's amazing how far the Rams have fallen off this season. To say last year's 7-9 season was a fluke wouldn't be inaccurate by any means. Sam Bradford has little to no help and is going through a bit of a sophomore slump.
I have had the displeasure of drinking Natural Light, and it pales in comparison to other light beers, just as the Rams pale in comparison to other NFL teams this year.
No. 29 Miami Dolphins (2-7): Stroh's
The Dolphins were once one of the best franchises in the NFL, just like Stroh's was once one of the top-selling beers. Both have fallen off the face of the Earth since the good old days.
No. 28 Carolina Panthers (2-7): Fat Tire
Sure, the Panthers are on the rise looking towards the future, but at the moment this team isn't very good. Carolina makes too many mistakes and routinely shoots itself in the foot. Fat Tire is a delicious beer that continues to gain popularity, but at the same time it hasn't quite arrived.
Nos. 27-23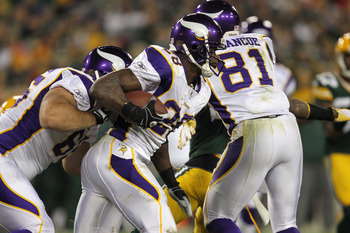 Jonathan Daniel/Getty Images
No. 27 Minnesota Vikings (2-7): Grain Belt
Getting blown out by Green Bay isn't the worst thing in the world, and it definitely isn't something to be embarrassed over. Still, it just shows how far the Vikings have to go to compete in the NFC North.
Grain Belt is an adequate beer that is brewed in Minnesota. It isn't anything special, but it isn't the worst thing in the world either.
No. 26 Jacksonville Jaguars (3-6): Michelob
Michelob is kind of the forgotten beer. How many people go to the bar and ask for a Michelob? How many people go to a bar and ask for the Jaguars game to be turned on? Exactly my point.
The Jags have a long ways to go before they can be a competitive team. Blaine Gabbert hasn't shown that he can lead this team yet, and you have to wonder if he would have benefited from sitting a year.
No. 25 Washington Redskins (3-6): Stella Artois
The Redskins have a strong fanbase, a Super Bowl-winning coach, an owner willing to spend money and sweet uniforms. From the outside everything looks great, just like Stella Artois, but once you taste it, you realize you've been fooled.
No. 24 Philadelphia Eagles (3-6): Dos Equis
The Dos Equis guy may be the most interesting man on the planet, but his beer sucks. Dos Equis is all flash (the commercials) and no substance.
Eagles fans were promised great things this year, but the team has failed to deliver on the field, and it likely will cost Andy Reid his job at the end of the season.
No. 23 Arizona Cardinals (3-6): Mike's Hard Lemonade
John Skelton is 2-0 as a starter and has the Cardinals riding a two-game win streak. Mike's Hard Lemonade may call itself a beer, but we all know that it really isn't—just like we all know Skelton and the Cards' current win streak isn't anything to take too seriously.
Nos. 22-18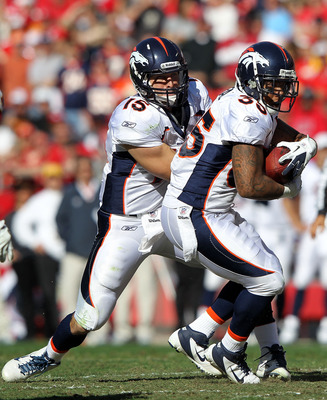 Jamie Squire/Getty Images
No. 22 Kansas City Chiefs (4-5): Keystone Light
A beer that isn't very good but is affordable and has a solid following fits right with where the Chiefs are right now. Kansas City lost Matt Cassel for a significant period of time this past Sunday and now will turn to Tyler Palko (who?). The Chiefs made a nice run after a poor start, but without Cassel, look for them to bottom out.
No. 21 Seattle Seahawks (3-6): Pabst Blue Ribbon
Pabst Blue Ribbon has regained a following recently and is being paraded as the beer for hipsters. The Seahawks have a cool stadium, sweet uniforms and a coach who regularly tweets.
Bottom line: The Seahawks are a cool team, just like Pabst Blue Ribbon has become a cool beer, but neither is actually very good.
No. 20 Denver Broncos (4-5): Coors Light
Coors Light is brewed in Colorado, and it is only fitting that I would pair the Broncos with it. With Tim Tebow at quarterback, Denver has gone to a gimmicky read-option offense. It's resulted in wins, but will it be successful over the long haul?
Similarly, Coors Light also uses a gimmick to sell beer with its cold-activated mountains that change color based on the temperature of the beer.
No. 19 Tampa Bay Buccaneers (4-5): Corona Light
The Bucs have regressed this season, as Josh Freeman hasn't been nearly as successful this year. A beatdown by Houston shows that this team has a long way to go before being a playoff contender.
Corona Light is known as a summer beer, but in Florida, you can enjoy a Corona Light year round.
No. 18 San Diego Chargers (4-5): Miller Lite
Miller Lite's slogan is "Great taste, less filling," which I found to be accurate for the Chargers. On paper this is a 11- or 12-win team, yet the Chargers routinely fumble away winnable games and rely on late-season charges to make the playoffs.
San Diego looks good at times, but the team always leaves its fans wanting more.
Nos. 17-13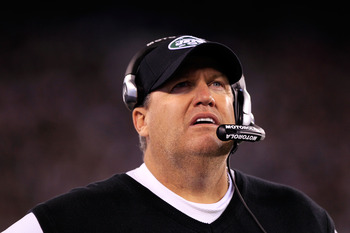 Chris Trotman/Getty Images
No. 17 Buffalo Bills (5-4): Labatt Blue
The Bills may play in the United States, but they are quickly becoming Canada's team to cheer for. Some feel that Buffalo will eventually relocate to Toronto, where the Bills already play a portion of their games. Labatt Blue is one of the most popular beers in Canada, which makes this the logical choice.
No. 16 Oakland Raiders (5-4): Busch Light
Carson Palmer won his first game wearing a Raiders uniform this past Thursday. It was an impressive win for Oakland, but this team is far from its glory days. Busch Light isn't on the same level as Coors light, Bud Light or even Miller Lite, just like the Raiders aren't an elite level team quite yet.
No. 15 Tennessee Titans (5-4): Bud Light Lime
Bud Light is America's most popular beer, and its spin-off is a favorite of lovers of the lime. Yet it is a beer that is hit or miss. Sometimes it hits the spot, and other times it is quite disgusting.
The same can be said for the Titans, who are coming off a dominating win over the Panthers, but their inconsistent play is troubling.
No. 14 New York Jets (5-4): Arrogant Bastard Ale
I've never tasted this beer, so I can't comment on its flavor, but the name fits the team. Rex Ryan has zero Super Bowl rings and has guaranteed more than one by now. To say that he is a tad arrogant would be the understatement of the century.
No. 13 Atlanta Falcons (5-4): Tequila
I'm going away from beer for the Falcons thanks to Mike Smith. Sound decisions aren't made under the influence of tequila, and Smith's decision to go for it on 4th-and-inches last Sunday was terrible. It was so awful that it is something I would expect from a drunk college student playing Madden.
Nos. 12-8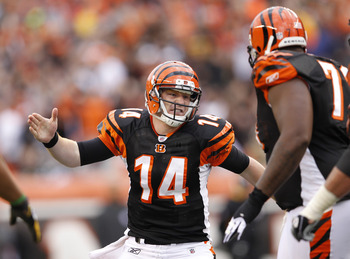 Joe Robbins/Getty Images
No. 12 Dallas Cowboys (5-4): Bud Light
America's most popular team is obviously going to get the comparison to America's most popular beer. It's too fitting. The Cowboys are coming off a more than impressive win against the Bills, and it looks like this team could be a factor come playoff time.
No. 11 Cincinnati Bengals (6-3): Shock Top
The logo of Shock Top reminds me of Andy Dalton's red hair for some reason. This is a beer that is on the rise and is starting to gather a following. The Bengals came close against Pittsburgh, but it wasn't enough, and you have to start to wonder if this team has peaked for this season.
No. 10 Houston Texans (7-3): Shiner Bock
The loss of Matt Schaub for the season is why you will find the Texans so low in these rankings. Matt Leinart isn't on the same level as Schaub, and you can expect teams to key in on the rushing attack heavily.
Shiner Bock is a great beer that is starting to gain steam and popularity, just like the Texans.
No. 9 Detroit Lions (6-3): Molson Kick
Molson Kick is an awful beer, in my opinion, but I thought it fit a Lions team that has rightfully gained the label as a dirty team. There will be plenty of fines coming to Detroit this week for what happened in the Chicago game.
Right now, the Lions should be more focused on winning ballgames than getting wrapped up in scuffles every week.
No. 8 Baltimore Ravens (6-3): Rolling Rock
Sometimes it's fantastic, sometimes it's skunky—just like the Ravens' play.
Nos. 7-4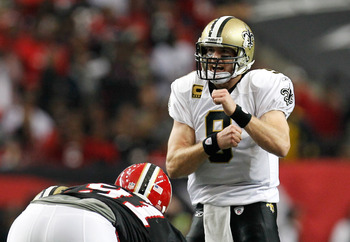 Kevin C. Cox/Getty Images
No. 7 New England Patriots (6-3): Sam Adams Boston Lager
The beer comparison is pretty self-explanatory. The ranking may be low for some, but the Patriots defense is not good enough to win a Super Bowl at this point. There are significant personnel issues on the defensive side of the ball that will have to be addressed in the offseason.
No. 6 New York Giants (6-3): Michelob Ultra
Earlier I said that Michelob was a forgotten beer among the larger brands, but Michelob Ultra is even less noticed. That's how I feel about the Giants at this point.
Not too many people are talking about them as a Super Bowl contender, and some even feel that the Cowboys will overtake them for the division lead. But don't discount this team, as it will be a factor in the playoffs.
No. 5 Chicago Bears (6-3): Samuel Smith's Oatmeal Stout
Like the Bears, Samuel Smith's Oatmeal Stout packs a punch. Chicago has won four in a row behind the improved play of the offensive line. The division title may be out of reach for the Bears, but there's nothing wrong with a wild-card berth.
No. 4 New Orleans Saints (7-3): Rogue Dead Guy Ale
This beer has a high alcohol content and strikes fast. Toss a few of these back and you won't know what hit you. The same can be said about the Saints' high-powered offense that no team has found a way to shut down.
Nos. 3-1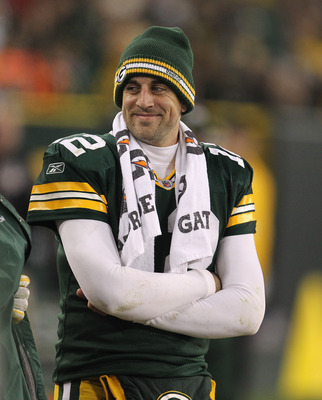 Jonathan Daniel/Getty Images
No. 3 Pittsburgh Steelers (7-3): Budweiser
The "King of Beers" goes to the team with the most Super Bowl championships. If Ben Roethlisberger can keep up his strong play, the Steelers will find themselves in the hunt for another Lombardi Trophy. A nice win over the Bengals put the Steelers on top of the AFC North.
No. 2 San Francisco 49ers (8-1): Michelob Golden Light
Last year, it took seven wins to win the NFC West, but the Niners have already surpassed that number this season. Jim Harbaugh has given San Fran a new identity and turned Alex Smith into a capable quarterback.
Yet the Niners still don't get the publicity some other teams do, just like Michelob Golden Light flies under the radar.
No. 1 Green Bay Packers (9-0): Milwaukee's Best
Forget for a second that Milwaukee's Best doesn't taste all that great and just focus on the name. The Packers are the best team in Wisconsin, let alone the whole world.
Aaron Rodgers is having one of the best seasons the quarterback position has ever seen, and there's a realistic chance that the Pack can go undefeated.
Keep Reading