NFL Fanbases Who've Already Given Up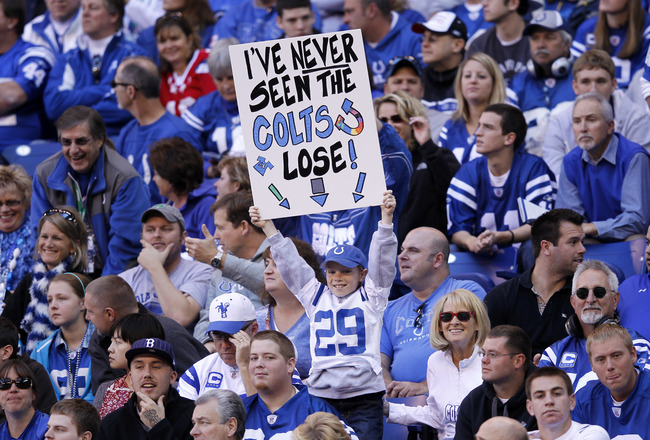 Joe Robbins/Getty Images
As we get set to enter Week 10 of the 2011 NFL season, there are inevitably those few teams that have no hope for the playoffs and are simply playing for pride.
However, some fanbases may have half a heart for losing the rest of their games in hopes that their team can snag a star player to rebuild their team around, because they have no hope left for a successful 2011 season.
Let's take a look at eight fanbases who have little left to cheer for and have their sights set on the 2012 NFL Draft.
Cleveland Browns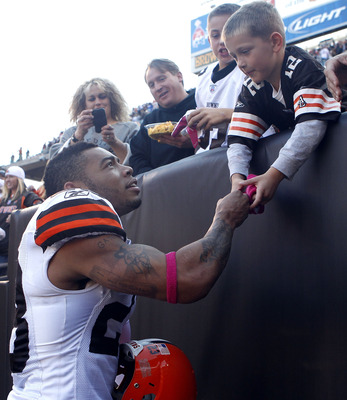 Matt Sullivan/Getty Images
At 3-5, it's easy to initially think that the Cleveland Browns would still have something to play for.
But when the rest of the teams in your division have six wins apiece and rank among the best in the NFL, you can understand why their fans would give up on the season.
It would take a miracle for the Browns to even finish at .500, but according to some of their fans, they might rather finish 5-11 or so and utilize their two first-round draft picks to trade up for Andrew Luck.
At this point I see the team finishing no better than 6-10, so if they've given up on Colt McCoy, that's not an impossible scenario.
Washington Redskins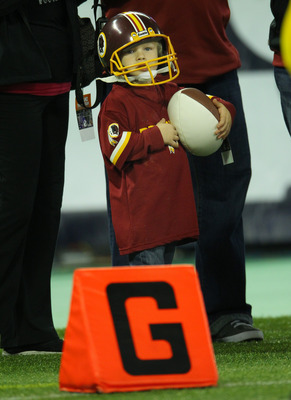 Tom Szczerbowski/Getty Images
It's hard to imagine Washington Redskins fans giving up after starting the season 3-1, but with four straight losses, it'd be kind of hard not to.
The 'Skins seem to have lost all the momentum they had at the beginning of the season. Rex Grossman reverted back to his inconsistent form, John Beck isn't much more effective, the running game isn't helping, and the defense isn't playing as well as it was at the beginning of the season.
With the way Washington has played the past couple of years, it'd be hard not to give up and say, "wake me up when the Draft starts."
Arizona Cardinals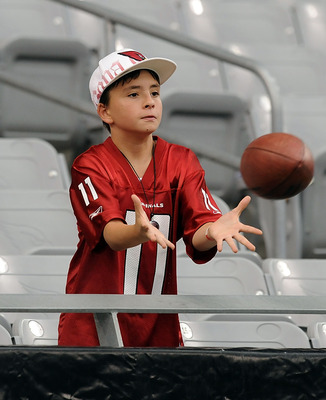 Norm Hall/Getty Images
The Arizona Cardinals are 2-6, so it's easy to see why the fans would give up just based on that.
On top of that, however, their defense has been gashed week in and week out and their only two wins have come against the Carolina Panthers and the St. Louis Rams, who have combined for three wins.
Quarterback Kevin Kolb hasn't been bad, but he also hasn't been what the fans had hoped, and with the San Francisco 49ers dominating the division, Cardinals fans have no reason to go to any more games other than to watch Patrick Peterson return kicks.
Jacksonville Jaguars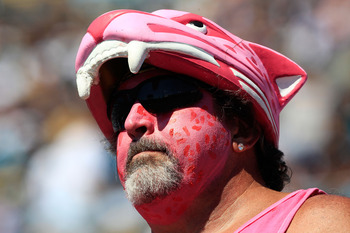 Sam Greenwood/Getty Images
I feel bad for Jacksonville fans, because frankly, the Jaguars are a very boring team.
Their offense, led by rookie Blaine Gabbert, is ranked last in three out of four major statistical categories, and Maurice Jones-Drew is the team's only real offensive threat.
The defense is pretty darn good statistically and helped the Jags upset the Baltimore Ravens for one of their wins, but their only other victory came against Tennessee at the beginning of the season.
The fans just want the team to find a dangerous target or two for Gabbert.
Seattle Seahawks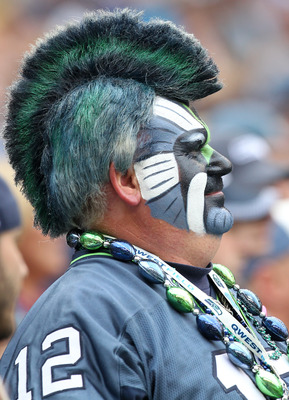 Otto Greule Jr/Getty Images
Other than a win over the New York Giants early in the season (which now seems fluky), the Seattle Seahawks have had almost no success on either side of the ball this year.
The offense is one of the worst in the NFL, and the defense is below average. Neither Tarvaris Jackson nor Charlie Whitehurst have been effective at quarterback, and Marshawn Lynch doesn't seem to want to go into "beast mode."
Seattle is another team that has been victimized by San Francisco's freight train, so the fans have nothing to hope for the rest of this season other than a bid for Andrew Luck.
Miami Dolphins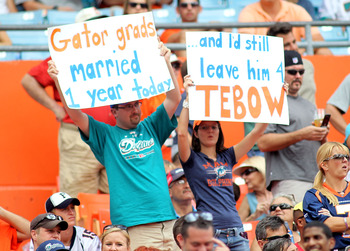 Marc Serota/Getty Images
At this point in the season, you have to think Miami Dolphins fans are wondering why head coach Tony Sparano hasn't been relieved of his duties yet.
At 1-7 (with their only win coming last week against the Jekyll-and-Hyde Kansas City Chiefs), the Dolphins have disappointed their fans time after time, and though they have a pretty good defense, the offense has been flat-out terrible.
Quarterback Matt Moore and running back Reggie Bush lit up the Chiefs defense last week, but there has been a whole lot more bad play than good play.
The Dolphins are squarely in play for Andrew Luck, and I don't think the fans would mind if that continued to be the case.
St. Louis Rams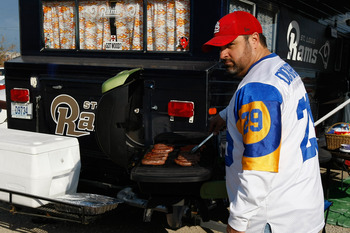 Scott Boehm/Getty Images
The St. Louis Rams are the third team on the losing end of the 49ers' rampage. Outside of a very fluky win over the New Orleans Saints, the Rams have been flat-out awful this year.
Last year's relative success had many Rams fans thinking big this year, but after losing their first six games, fans have likely come to grips with having another high draft pick.
Sam Bradford has regressed a bit this year, but he has had very little help from his receivers and his offensive line.
St. Louis fans have reason to be excited for next year, but they all know their team is done this year.
Indianapolis Colts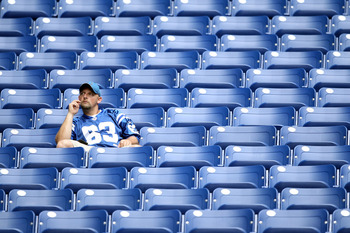 Andy Lyons/Getty Images
With the loss of legendary quarterback Peyton Manning this season, the flaws of the Indianapolis Colts have been badly exposed.
At 0-9, the Colts are easily the worst team in the NFL, and many of their fans are cheering for it to stay that way.
It's amazing how many years the Colts have been good, and if Indianapolis could lose out and pick up Andrew Luck in the 2012 NFL Draft, it might be worth one awful season.
Much like Aaron Rodgers, Luck would have the luxury of getting seasoned behind a future Hall of Fame quarterback and be ready to take over as the starter by the time he's done.
Colts fans have given up on their season more than any other fanbase, and they anxiously await the Draft and the return of Manning next season.
Keep Reading