Week 10 NFL Picks: Predicting Dallas Cowboys vs. Buffalo Bills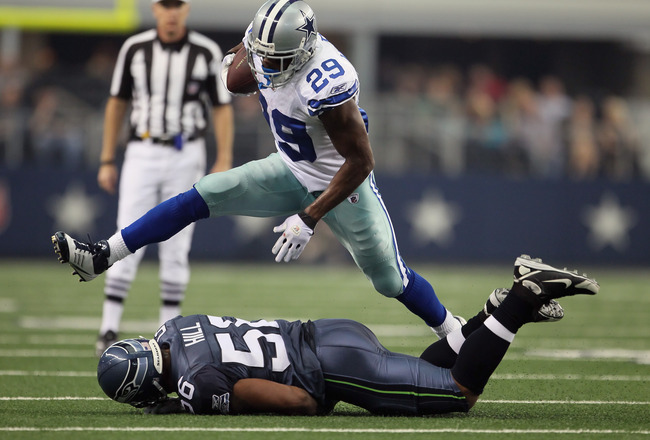 Jeff Gross/Getty Images
The Dallas Cowboys look to claim their first winning record since Week 3 by beating the Buffalo Bills on Sunday. What would make this win more significant than their win against the Redskins is that beating the Bills would put the 4-4 Cowboys in the middle of the Wild Card race.
Against the Seattle Seahawks, the Cowboys climbed back to .500 with a very nice, comfortable win. Tony Romo avoided throwing an interception. DeMarco Murray ran for 139 yards, continuing his spectacular tear.
Hopefully, the Cowboys can avoid sliding to a losing record again.
Meanwhile, the 5-3 Bills are sliding. They have lost two of their last three games. Against the New York Jets on Sunday, the Bills failed to score 20 points for the first time this season. Ryan Fitzpatrick threw two interceptions.
The Cowboys could push the Bills farther on their slide with a victory on Sunday.
In order to do that, the Cowboys must answer a few questions.
Will Sean Lee fare well playing with a cast on his hand? Can the Cowboys stop the run? Will DeMarcus Ware continue his sack parade? Can Romo have another mistake-free day? How will Murray hold up?
Tony Romo
Jeff Gross/Getty Images
30-of-41, 332 passing yards, 3 TD, 1 INT, 2 rushes, 5 yards
Romo will have an easy day throwing the ball. The Bills—who rank 25th in pass defense—won't do much to stop him from airing the ball out. Romo will hit pass catchers on screens and hit the intermediate throws easily. On occasion, he'll air it out.
Generally, Romo will be accurate. For the most part, he'll avoid making mistakes. However, Romo will make one bad read and throw an interception.
DeMarco Murray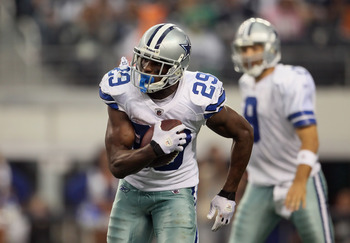 Jeff Gross/Getty Images
15 rushes, 169 yards, 2 TD
The word "hot" doesn't even begin to describe Murray, who is playing at a forest-fire level. In the last three games, Murray has rushed for a Cowboy-record 466 yards.
He'll continue that tear against the Bills. Murray will break a couple of big runs, including a touchdown run of at least 35 yards. Also, he'll break a couple of important third-down runs to sustain drives.
Dez Bryant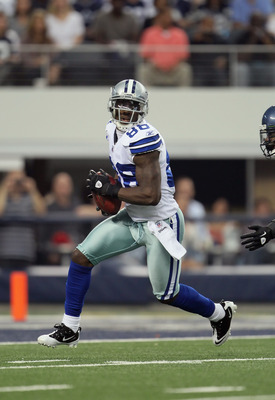 Jeff Gross/Getty Images
5 receptions, 80 yards, TD
Dez Bryant is on his way to where he belongs. Against the Seahawks, he had 76 yards receiving, his third game with 75 or more receiving yards. Still, he hasn't had a 100-yard game this season.
This will be a good game for Bryant. He'll have his share of catches and attain a good amount of yards. Look for him to break into the end zone for the first time in three games.
Jason Witten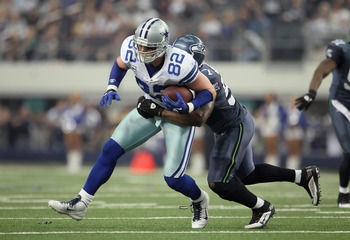 Jeff Gross/Getty Images
6 receptions, 70 yards, TD
Jason Witten will continue his consistent pace. In each game, Witten has caught at least four passes. He'll remain an object of attention for Romo.
Witten will break up the seam and find himself open a few times. He'll make good catches. One one occasion, Witten will catch a touchdown pass.
DeMarcus Ware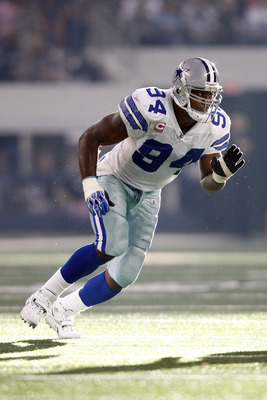 Layne Murdoch/Getty Images
5 tackles, 1 tackle for loss, 2 sacks
Ware will have a proud day again. He can't go long without getting a sack. Ware will find his way into the backfield frequently. He'll hurry Fitzpatrick into throwing early on several pass attempts. For the fifth time this season, Ware will grab a multi-sack game.
Ware is a terror for opposing teams. Coming off the edge, he's difficult to block. The Bills won't be able to slow him in his rush.
Sean Lee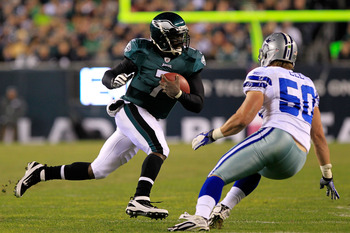 Chris Trotman/Getty Images
2 tackles, 1 INT
Lee will be interesting to watch against the Bills. Despite his best hopes, Lee missed the game against the Seahawks due to his dislocated wrist. He seems like he'll be ready against the Bills.
The Cowboys' practice on Wednesday gave a glimpse of his prospects of playing a factor against the Bills. He had limited participation in practice. Speaking to ESPN Dallas/Fort Worth, Lee said, "It felt good. It felt more comfortable than I thought out there with the cast, so it's transitioning to how to use it, make it functional, but I feel good. I wasn't hesitant."
Being hesitant in practice isn't a strong indication of whether he'll be hesitant in the game. He won't be able to use his left hand as he wishes. Lee can't expose his fingers since significant bending would cause further swelling in his wrist. He'll have to grab guys with his right arm.
Against the Bills, he'll be building into it. Lee will be able to make a couple of tackles. More often than not, Lee may push ball-carriers to other Cowboys defenders so that they can make the tackle. Thus, Lee will be hesitant in the run defense.
In the passing game, Lee will play a greater role. Fitzpatrick will be careful about throwing the ball in his direction because he can knock the ball down. On one play, Lee will jump and intercept a pass.
Dan Bailey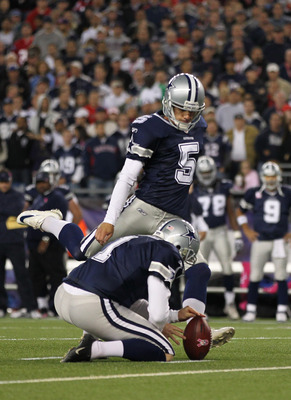 Jim Rogash/Getty Images
2/2 FG, 5/5 XP
Bailey will continue his terrific rookie season. The undrafted rookie from Oklahoma State is the fifth-most accurate kicker in the NFL (95.2 percent). Again, Bailey will avoid missing a field goal. He'll find a decent amount of action. Romo will need him to relieve the offense with his leg. Bailey won't disappoint.
Prediction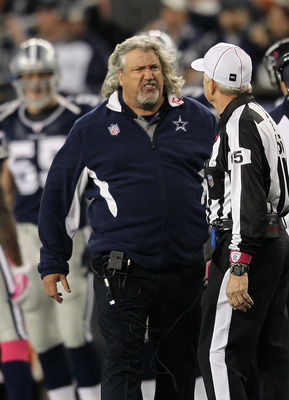 Jim Rogash/Getty Images
Prediction: Cowboys 41, Bills 33
The Cowboys will succeed in pushing to a winning record. The offense will perform with ease. Romo will generally be on target. Murray will burn it up again.
The defense will be somewhat challenged. They may succeed in forcing turnovers, but the general task will be work. Jackson will run for 100 yards. He won't be easily stopped by the Cowboys—not with Lee struggling in his first game playing with his cast.
Fitzpatrick will make some mistakes. Lee will get his interception. He won't get away from the pass rush. However, the Cowboys won't take advantage of every mistake. That will sustain some Bills drives and allow points that the Cowboys shouldn't surrender.
This will be one of only a few challenging games for the Cowboys down the stretch. This is the hump the Cowboys must surpass before breezy games against teams like the Arizona Cardinals and Miami Dolphins. The Cowboys will climb it well.
Keep Reading

Dallas Cowboys: Like this team?