Would the Miami Dolphins Deal for Peyton Manning If Colts Draft Andrew Luck?
November 8, 2011
Andy Lyons/Getty Images
By defeating the Kansas City Chiefs on Sunday, the Miami Dolphins severely diminished their chances of securing the first overall pick in the 2012 NFL Draft—a feat better known as "winning the Andrew Luck Sweepstakes."
It's far too early to rule Miami out of the Luck Sweepstakes, but their upcoming schedule is very soft.
More importantly, the Indianapolis Colts appear incapable of winning a game, and it has become increasingly safe to assume that they will march into the draft with the first overall selection.
If the Colts do, in fact, end up with the first overall pick, they will face a conundrum of epic proportions: do they draft Andrew Luck and risk enraging Peyton Manning, pass on Luck for another prospect or auction the pick to the highest bidder?
When you consider the uncertainty surrounding Manning's neck and the generational talent of Andrew Luck, it's very difficult to envision a scenario in which Indianapolis does not draft Luck. By drafting him, Colts czar Bill Polian essentially ensures stability at quarterback for the next 10-15 seasons—an opportunity that no team could pass up. 
But where does this leave Peyton Manning?
The man is singlehandedly responsible for keeping the Colts afloat, relevant and competitive over the past decade. However, Manning will turn 36 in March, and nobody knows the extent of his neck injury or if he will ever fully recover from it. 
On Sunday night, ESPN reported that Manning would leave the Colts "peacefully" if they draft Luck. Even though Manning is slated to make $90 million over the next five seasons, there's a nifty little clause that allows Indy to give him $26 million after this season and essentially terminate the rest of the contract. 
As this situation continues to develop, the odds of Manning playing for the Colts next season actually seem rather slim (crazy, right?). 
And this is where the Miami Dolphins come into play. 
The franchise is absolutely starving for a quarterback, and they will absolutely draft one in the first round of the 2012 draft. Miami will likely get to choose between prospects like Matt Barkley, Landry Jones and Robert Griffin III; however, none appear ready to take the reigns of an NFL offense quite yet.
So, Stephen Ross could conceivably sign Peyton Manning as a free agent (or trade for him if the Colts hold him hostage, which is probably a more likely scenario) and immediately boost the 'Fins back into playoff contention. 
Plus, Manning could tutor whichever quarterback the Dolphins draft. Imagine if Robert Griffin sat behind Manning for three seasons—he could become the greatest dual-threat quarterback in NFL history. 
This whole scenario sounds extremely far fetched, but it isn't nearly as ridiculous as you may think.
You just have to connect the dots. 
A few weeks ago, Pro Football Talk ran a story regarding rumors that former Chiefs G.M. Carl Petersen will either run or advise the Dolphins after this season. Petersen and Ross are allegedly very close, and rumors that the two would unite in Miami have floated around since Ross purchased the team in 2009. 
If this rumor proves true, then the Dolphins will immediately surface as the frontrunners for Manning. 
Back in 1993, Petersen (then G.M. of the Chiefs) traded a first round draft pick for 36-year-old Joe Montana. The 49ers were eager to usher in Steve Young, and Montana didn't figure into their long-term plans. 
Montana proceeded to lead Kansas City to the AFC Championship game that season. 
Petersen told The Big Lead last week that:
"I never like to give up 1st round draft choices," Peterson told me. "I would only give them up for an experienced, very talented, proven quarterback. And I did that in 1993 when I traded for a guy named Joe Montana," he said with a chuckle. "I had no problem doing that. He took us to an AFC title game the next year."
It's an almost identical situation, and the connections do not stop there. 
In 2001, Petersen sent a first round draft pick to the St. Louis Rams in exchange for Trent Green. In six seasons with K.C., Green tossed over 21,000 passing yards and 118 touchdown passes, and led the team to a pair of playoff appearances. 
It certainly sounds like Petersen would be open to acquiring Manning. In fact, if Petersen actually joins Miami's staff, then it would be destined to happen.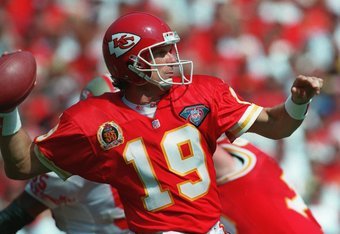 Mike Powell/Getty Images
The Dolphins will likely have a top-five draft pick in April, and they might not be willing to surrender it for Manning. However, they could potentially send a future first rounder (or some other combination of picks and players) to Indianapolis and still draft a quarterback of the future.
Also, keep in mind that Manning's health problems lowers his trade value, so Miami could get him at a discounted rate.  
Sounds like a pretty awesome consolation prize for losing the Andrew Luck Sweepstakes, no?
Manning, assuming he fully recovers from his neck injury, still has a few years of elite play left. He could keep the 'Fins in contention until he retires or Miami's quarterback of the future is ready to takeover. 
Of course, this is all sheer speculation. We are only midway through this season and anything can happen. The Colts could win a few games, and teams like the Rams or Jaguars could end up with the number one pick. 
But this Manning ordeal seems increasingly inevitable, and the Dolphins might finally find a solution to their quarterback issues in the form of a future hall of famer.