QB Report: Why the QB Win-Loss Record Is a Bad Stat
November 3, 2011
Frankly, I'm sick of hearing about a quarterback's win-loss record.
I'm not sure when the stat came into prominence, but it's an even worse measuring stick than a pitcher's win-loss record.
A quarterback is one of the team's 22-plus players participating in the game at a given time. Of course he has the opportunity to make good throws and runs that lead to touchdowns or field goals, but he has no part in the defensive part of the game.
And, unlike baseball, the defense has much more impact on the game. Turnovers can put the offense in prime position to score or can be returned for touchdowns. And don't forget about safeties!
As fans and writers, we try to attribute a win or loss to one player. It's much easier to vent our anger toward a scapegoat or give all the glory to a singular hero.
It's natural for that player to be the quarterback. After all, they do handle the ball more than anyone on the field. The nature of the position forces the QB into somewhat of a leadership role. To that end, fans use the QB to identify an offense and, in many cases, a team.
That is probably how the QB win-loss stat was born.
It makes sense on the surface.
Tom Brady, one of the all-time greats, sports a QB record of 116-34. Aaron Rodgers is on pace to break all sorts of passing records this year, and his QB record for the 2011 season currently stands at 7-0.
What's forgotten is that Brady has worked with eight top-10 defenses in his 11 seasons and Rodgers' defense is ranked ninth in points allowed so far.
Here are two examples from this season detailing why great QB play doesn't always equal wins, and mediocre-to-poor QB play doesn't always translate into losses.
The Panthers are 2-6 despite the sensational play of rookie QB Cam Newton. He has accounted for 18 total touchdowns and more than 2,700 yards of offense.
Yes, he has turned the ball over 11 times, but his mammoth production should translate into more than two wins, right?
Not if his defense is ranked 28th in points allowed.
Newton and the Panthers have put up 400 yards of offense five times this season. The team went 1-4 in those games.
How is that possible, you ask? The Panthers defense allowed 28 points per game in that stretch.
This past week, Newton drove the offense 57 yards down the field to set up for a game-tying field goal. Olindo Mare sealed the loss by missing the 31-yard attempt.
Is Newton responsible for losing those games?
The Chiefs started off 0-3. Matt Cassel looked terrible, averaging 143 yards a game and tossing only three touchdowns to five interceptions for a 65.5 rating.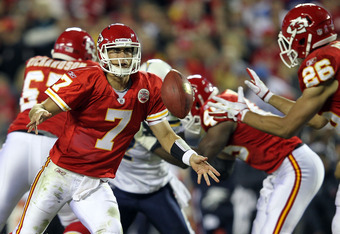 Jamie Squire/Getty Images
They have since won their last four in a row. Cassel improved with a 235 yard per game average, netting six touchdowns and four interceptions for an 88.2 rating.
What's hidden in the winning streak is that Cassel played poorly in the two most recent wins, posting a 54.6 rating in those games.
More importantly, the Chiefs defense allowed a whopping 36.3 points per game in their first three losses, but a stingy 15.3 points a game in the last four contests.
Who takes ownership over those last two wins?
Cassel, who threw four interceptions and one touchdown?
How about the Chiefs defense that forced 10 turnovers and scored two touchdowns?
Football is more of a team-oriented game than any other major sport in the U.S. Wins should not be attributed to just one player on a 53-person roster.