Jason Witten and the 5 Most Underappreciated Weapons in the NFL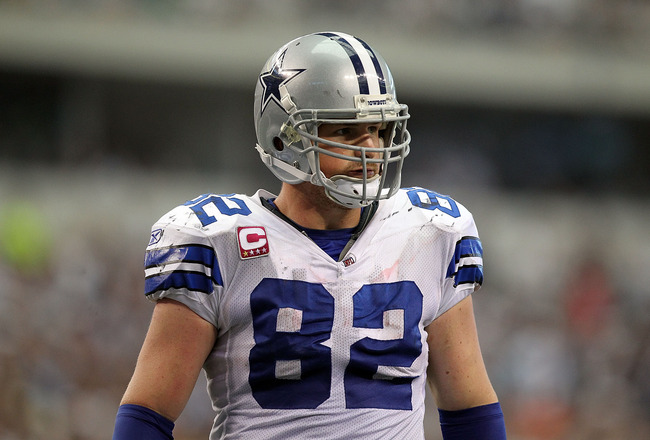 Jason Witten has been terrific for the Dallas Cowboys.
Ronald Martinez/Getty Images
Jason Witten, Fred Jackson and Alex Smith are just some of the names that come to mind when thinking about under-appreciated weapons in the NFL.
If you love guys that fly under the radar, then this is the slideshow for you! The following is a list of some of the most underrated players in the NFL this season.
The NFL is America's game. With so much national attention, it's hard to fly under the radar. But the following players have done just that.
So without further ado, let's get on with it.
Jason Witten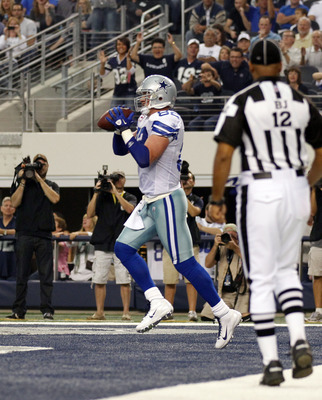 Jason Witten has been Tony Romo's best friend.
Layne Murdoch/Getty Images
Tight end is one of the most under-appreciated positions in the NFL. Not only do they have to be competent route runners, but they also have to be able to line up and do the dirty work.
Jason Witten is the player that all aspiring tight ends should look up to. Witten led all tight ends with 1,002 receiving yards last season. The only other TE to surpass 900 was Vernon Davis with 914.
Witten ranked fourth in his position with nine touchdowns. Yet for some reason, Witten is still not considered the best tight end in the league.
Aside from Miles Austin, Witten is the only receiver that Dallas Cowboys quarterback Tony Romo feels comfortable throwing to.
This season, Witten leads his team with 40 receptions. The next closest Cowboy is Miles Austin with 26.
To be fair, Jimmy Graham has been having an unbelievable season in New Orleans for the Saints.
But Jason Witten is one of the best tight ends in the league, and he doesn't get the accolades he deserves.
Alex Smith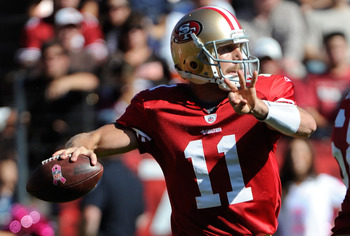 Thearon W. Henderson/Getty Images
Alex Smith is the most underrated quarterback in the NFL. There is no denying that. Upon examination of his numbers, it becomes clear that the San Francisco 49er does not get the credit he deserves.
For the record, this is not the first time I've argued this. Some of you may know that I've been arguing this since week 5.
A lot of football has been played since then, so let's do a quick update on Smith's situation.
He is the starting quarterback for a team that has won six of its seven games. He is the starting quarterback for the team with the second-highest winning percentage in the NFL.
Alex Smith has thrown two interceptions on the season, which is the fewest among starting quarterbacks.
His quarterback rating of 95.7 is tied with a man named Ben Roethlisberger for eighth best in the league.
To be honest, I've gotten sick of arguing for Alex Smith. He has proven himself to be one of the top quarterbacks in the NFL this season.
He may not throw the most yards, and he may not throw the most touchdowns, but he has thrown the fewest interceptions, and only one quarterback has won more games than he has.
Alex Smith may be the most under-appreciated weapon in the NFL. And for the record, that is all thanks to the genius of Jim Harbaugh.
Fred Jackson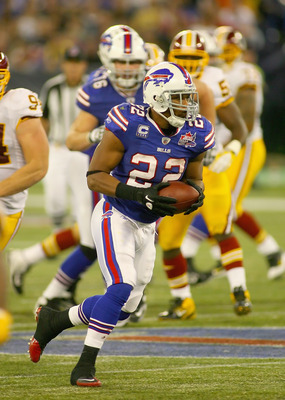 Rick Stewart/Getty Images
Fred Jackson is having an unreal season for the Buffalo Bills. Last year, Jackson accrued 927 rushing yards to finish 18th in the league.
Jackson already has 721 yards this season, which puts him at fourth in the NFL. He's equally as impressive as far as touchdowns go. His six rushing touchdowns on the season put him level with Michael Turner for fourth best in the league.
Some running backs operate well on the run but have trouble getting it done in the passing game. Well, this season's Fred Jackson does not fit into that category.
Jackson has 353 receiving yards, the fourth most amongst running backs. His combined 1,074 rushing/receiving yards make him the second-most productive running back in the league.
Jackson has also been the focal point of the Bills' offense. The Texas native has helped the Bills get off to their first 5-2 start since 2008.
Jackson has been sensational this season, and he is not getting the credit that he deserves.
Victor Cruz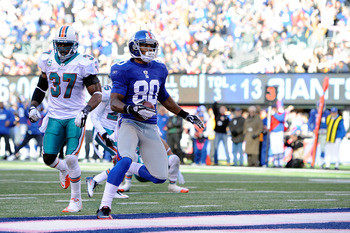 Patrick McDermott/Getty Images
Victor Cruz has been one of my favorite players of this NFL season. The New York Giants receiver has been a huge boost for Eli Manning and the Giant's passing game.
Cruz has brought in 28 receptions for 497 yards. His average of 17.8 yards per catch is a team high. Cruz has also caught four touchdowns, which is more than any other Giants receiver.
Quite frankly, these numbers are not that special. However, there is one key fact that has been omitted up to this point. Victor Cruz is the Giants' third-choice wide receiver.
Once you add that to this equation, Victor Cruz looks like an absolute star. Some notable names that have fewer receiving yards than Cruz include DeSean Jackson, Roddy White and Vincent Jackson.
It's also worth noting that Cruz has caught more touchdown passes than all of those three.
Hakeem Nicks steals a lot of Cruz's thunder, and rightfully so. But Cruz still remains one of the top receivers in the NFL, and he deserves more praise for his production.
Sebastian Janikowski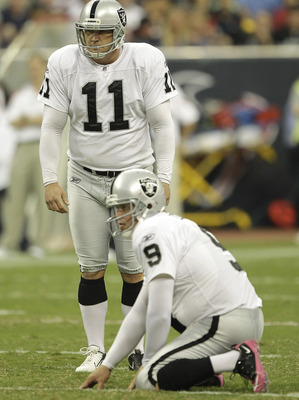 Bob Levey/Getty Images
I have to confess that I have a huge soft spot for kickers. But come on, who wouldn't want the Polish Cannon on their team?
Sebastian Janikowski is one of the most underrated players in the NFL. He chips in with his field goals and extra points just like every other kicker.
Janikowski's talent comes into play once your team in on the 40-yard line and is in need of a field goal. For most squads, the 40-yard line is punting territory. For the Oakland Raiders, that's Cannon territory!
Sebastian Janikowski kicked a casual 63-yard field goal in the opening game of the season. Those three points would prove to be the points that helped the Raiders edge the Denver Broncos in a 23-20 win.
Since then, Janikowski has chipped in with one 55-yarder, two 54s and a 50. Imagine having the luxury of needing to get to the 43-yard line for your kicker to have a legitimate shot!
Sebastian Janikowski has been exceptional for the Oakland Raiders, and I'm disappointed that his value is not talked about more in the media.
Keep Reading