Christian Ponder and Cam Newton: The Framework Theory of Football
October 31, 2011
Scott Cunningham/Getty Images
The framework theory is a philosophical theory in American football that good teams must be built around a frame. Either a scheme or a skill player, the frame must be what the team is built around.
Typically, the skill player is one that can be counted on for long periods of time, such as a quarterback. Players like running backs and wide receivers are much more at risk of injury, so it is more risky to make them your frame.
This theory is not to be misconstrued for the patchwork theory. The patchwork theory is one that goes over the framework theory, where you can fill the holes around the frame with "patches" and work to protect the construction of your framework.
Sometimes when the patchwork theory is misconstrued as a framework, or if the framework has become bad and needs to be replaced, you can get what you have in Carolina and Minnesota
Carolina's record since 2003 has not been great. Since they lost to the Patriots in the Super Bowl, they've put up two winning seasons. Two. Granted, they only have four in their history, but that's beside the point.
They had lost any semblance of good quarterback play in recent years, and have been hard-pressed to get the ball to guys like Steve Smith, all while watching the defensive cornerstone, Julius Peppers, jump ship and go to Chicago.
The offensive has been inconsistent and non-cohesive. It just doesn't seem to work out in Carolina for some reason, and the defense has been okay at some points and terrible at others. It makes sense if the offense can't stay on the field, but if you can't stop them from scoring, you're going to lose.
Then there's Minnesota. Since 2003, the Vikings have had a lot of downs, and one big up, followed by a series of unfortunate letdowns. They've posted three winning seasons, but still have not reached the Super Bowl since 1977. They nearly made it in 2009, but were stopped short by the New Orleans Saints.
They've had quarterback problem after quarterback problem, save for 2009, when Brett Favre came back for a monster year. They bring in veteran quarterbacks who seem to have problems moving the ball. With so much talent on the Vikings roster, offense shouldn't be a problem.
Then, this year, both teams drafted a quarterback who could be the quarterback of the future for both teams.
Cam Newton in Carolina has quickly become an NFL sensation, setting records and giving life and electricity to the Panthers' offense; while also resurrecting the career of wide receiver Steve Smith.
For a rookie, he's torn apart complex defenses in the NFL like Peyton Manning in 2004. It is truly a sight to behold. He works his magic up and down the field. He makes defenses and defensive backs look silly on any given play, and he also has the ability to scramble. At 6'5", 248 pounds, he's a big, strongly built quarterback. He's got a great arm and has no problem making reads.
Newton's got the makings of becoming the framework for a great Carolina offense. He could be more than what anyone expected. He plays like Warren Moon and is built like a linebacker. He's difficult to take down, and he's even harder to keep still.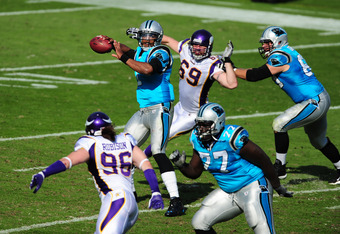 Scott Cunningham/Getty Images
He's like one of those Water Weiner toys. You get a hold of him and he squirts out the other side of your hand and into the open. Cam is very hard to stop.
Although there is one qualm with Mr. Incredible: His throwing mechanics. They're not bad. He gets the ball out great and he's all right with accuracy. The problem is his wind up. He pulls it back very far.
The upside is that he keeps it high, unlike Tim Tebow, who pulls it low. But this problem was exacerbated in the loss to the Vikings on Sunday, when Jared Allen could just come around the end and knock the ball out of Cam's wind-up. Fixable, but concerning.
And then there's Christian Ponder. In my opinion, the most overlooked quarterback coming into the 2011 draft. He never played with a skill player at Florida State that was drafted into the NFL, but he's got a quick release with a sense for pressure.
He does get a bit frazzled at times, but who doesn't? Ponder has the poise of a pocket passer and the instincts of a scrambler. He can step up, and he's great at keeping his eyes down field.
A problem with Ponder is his lack of reliable receivers. He has no go-to guy. No one he can really trust. His instincts are wasted on guys with "sort-of" talent like Devin Aromashodu. The Vikings have got to get someone to take the top off of the defense and let Ponder throw it to him.
The offensive line really isn't the problem, as much as people say it is. It was problem with Donovan McNabb, who is indecisive and takes too long in the pocket. So the real issue is at receiver, but this is a tightly contested and debated theory.
These two young men are franchise quarterbacks. Both organizations took steps forward in taking guys who can make a difference in their futures, unlike precedent for Minnesota especially, who tends to take lackluster veterans.
Maybe, someday, these two teams will make for some great playoff matchups.