Browns vs 49ers: 5 Things We Learned about Cleveland in 20-10 Loss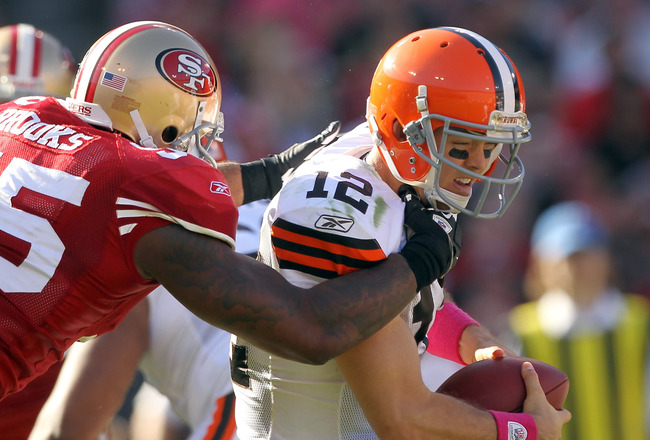 Ezra Shaw/Getty Images
It was another disappointing Sunday for Cleveland fans, as the Browns fell to 3-4 after losing 20-10 to the San Francisco 49ers.
The Browns defense kept them in the game, but the offense was appallingly unproductive as usual, leaving many to wonder why the defense seems to be progressing well through the season while the offense, if anything, seems to be regressing.
A 20-10 loss to a 6-1 team doesn't seem all that awful, but the Browns, at least on offense, looked worse than the score would seem to indicate.
There were a few bright spots, but on the whole, it seems the Browns will have a lot of work to do in the second half of the season, concerning considering their strength of schedule gets much worse in the final eight games of 2011.
Here are five things we learned in the Browns 20-10 loss to the 49ers. Let's hope they've learned a few things from it as well.
1. The Browns Still Can't Get It Together in the First Quarter
Ezra Shaw/Getty Images
As the final seconds ticked off the clock in the first quarter of the game, Browns fans let out a collective groan: here we go again.
The first-quarter touchdown drought that has plagued the Browns all season continued, and today, they went field goal-less in the first 15 as well.
As if to make it appear even worse, Colt McCoy fumbled on the opening drive (which led to a touchdown on the possession following the turnover for the 49ers), setting the tone for the offense's ineptitude that would continue for most of the game.
There have been weeks where, despite their first-quarter lethargy, the Browns have gotten it together eventually, in a few instances even in the second quarter. This wasn't one of those weeks.
They just narrowly avoided being shut out completely in the first half on a Phil Dawson field goal in the waning seconds of the second quarter. They were blanked in the third quarter as well and only came alive when the fourth quarter was halfway over, and they scored their lone touchdown of the day.
The margin at that point was 17-10, but another San Francisco field goal just before the two-minute warning proved to be the final nail in the coffin.
Perhaps, had they not been so slow to get going, as they always seem to be, they might have been able to catch up. Their defense kept them in the game, but the offense couldn't make up the deficit.
It's unfortunately possible with the way the Browns played throughout more than 75 percent of the game that they wouldn't have had a chance regardless, but you have to wonder if their perpetual tendency toward slow starts killed any momentum they might have built up later in the contest.
2. Browns Run Defense: Still a Mess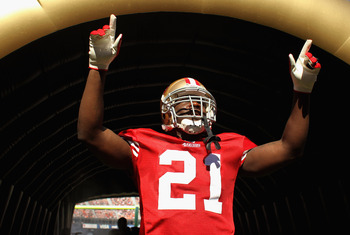 Ezra Shaw/Getty Images
For a team that had one of the league's top five defenses entering this game, it seems ridiculous how much trouble they have stopping opponents' running games.
That has been a problem throughout most of the season and was even worse than usual this week.
In a game of ugly stats for the Browns, here's the ugliest one of all: the Browns gave up more than 100 yards to Frank Gore...in the first half.
That's right, they gave up more yardage to a RB in 50 percent of a game than they should in a full four quarters.
Gore is obviously a tremendous talent. Nobody expected the Browns to completely shut him down, as very few defenses in the league can. But it's the same problem they had with other star rushers like Darren McFadden and Chris Johnson, which is that they didn't slow him down at all.
To be fair, they were much better in the second half. They allowed less than half the yardage they ceded to Gore alone in the first half to all San Francisco rushers in the second half. And Gore did almost nothing in the B-side of the game, though we have to acknowledge that some of that might relate to his injury.
So once again, it looks like a slow-start issue for the Browns, this time affecting the defense rather than the offense. Had the Browns D not let Gore run all over them in the first half, they would likely have been within striking distance in the second.
3. WRs and TEs Look Better Than Usual, but the Passing Game Was Still Mismanaged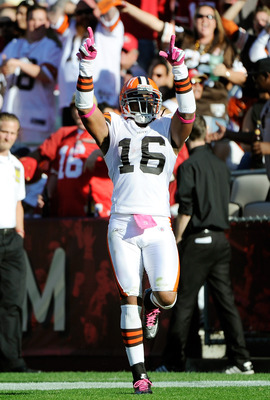 Thearon W. Henderson/Getty Images
Despite the lack of scoring, the Browns receivers somehow managed to look better than they have in recent weeks.
Obviously, their numbers and how they executed individual plays only count for so much when they only manage to put 10 points on the board, but in a game where very few things went right for Cleveland, we have to take what we can in terms of positives, however small they may be.
Josh Cribbs had a nice game, with 56 yards and a touchdown, and yet still managed to look like he was being underused. Jordan Norwood, who has been MIA for pretty much the entire season, looked solid and caught five of six targets.
Ben Watson looked good as always, and Alex Smith had a 20-yard reception, providing further proof that the Browns offense is more productive when it leans more heavily on its tight ends. Evan Moore caught 2-of-2 targets as well.
The only person who looked worse than usual was Greg Little, who seemed to have taken a step backward this week, catching just three of 10 targets for 20 yards.
Little's slight regression, to be fair, doesn't concern me much. It was likely the combination of the ups and downs of a rookie, and either suspect throws or suspect play calling.
What does concern me is the usual under-use of the Browns' best weapons: the tight ends.
TEs Watson, Moore and Smith caught EVERY ball thrown to them this afternoon. And yet the trio received just six of McCoy's 33 passing targets. We keep saying the Browns need to stick with the few things that do work for them and stop experimenting in the meager number of areas where they seem to get it right. This is another prime example of that.
4. The Browns Are Still Allergic to Throwing Downfield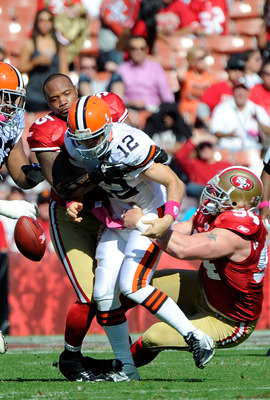 Thearon W. Henderson/Getty Images
Over and over and over again, we hear criticisms of Colt McCoy's arm strength. For a while, that was a satisfactory explanation for why the Browns insisted on sticking completely to a short-gain style of passing game, but the explanation has grown rather stale in recent weeks.
First, the majority of the Browns' productive offensive plays today were throws downfield (or at least throws that you'd consider to be more downfield than their usual repertoire).
Opponents are on to the dink-and-dunk style, made worse by the fact that it's easier to defend in my opinion than a style that uses the depth of the field more frequently. This seems to be proving particularly true at the moment given the Browns' serious woes with their running game (more on this later).
It's tempting to toss this off as "oh, that's how a West Coast offense works," but if you look at the truly stellar West Coast offenses throughout football history, you'll see that most of them used the depth of the field and went much deeper than the Browns do rather frequently.
I understand that McCoy's arm strength is a legitimate issue, but that doesn't mean he can't throw more than 10 yards. The Browns need to adjust their play-calling on passing plays to reflect this or their predictability and low number of options per play will continue to haunt them.
5. The Browns Running Game Is a Mess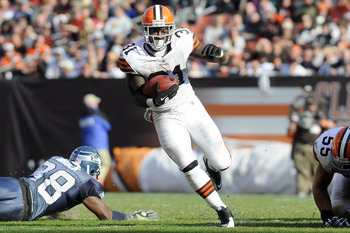 Jason Miller/Getty Images
Nobody thought this game would be an easy one for Browns' rushers given the 49ers sold run defense and the fact that Peyton Hillis was held out of action once again due to his hamstring issues, but after Montario Hardesty's nice game against Seattle, we also didn't envision things turning out quite as badly as they did.
Hardesty struggled immensely, gaining just six yards on two carries, and then in a twist that came as little surprise for anyone who knows his injury history, he hurt himself yet again.
That forced the Browns to go almost solely to Chris Ogbonnaya on handoffs, which went about as well as you would expect for a guy who was on a practice squad just two weeks ago. Ogbonnaya managed just 37 yards on 11 carries, and the Browns rushers as a group posted just 66 total yards on the day.
You can't really blame Ogbonnaya for this; as a third-string RB, he can hardly be expected to to bust out an 80-plus yard game.
The problem is more that the Browns failed to account for their lack of depth at the position way back before the season started when they could have done something about it, and now, it's coming back to bite them.
To be fair, no one had any way of knowing that Hillis would be hurt. But it was a safe assumption that Hardesty would be, and that meant that they were going purely on the assumption that Hillis would be able to shoulder 100 percent of the load for 100 percent of the season.
Even if he hadn't been hurt, that's a lot to ask of one guy. And as we've discussed many times in the past, another season of that, and he'd be too banged up to play within just a few years.
There isn't much that can be done about this issue now (save for praying for Hillis to recover completely within the week), but the Browns need to be more serious about adding some depth at RB this upcoming offseason if they don't want to land themselves up a creek without a running back again in 2012.
Keep Reading

Cleveland Browns: Like this team?