Joe Flacco vs. Mark Sanchez: Which QB Hurts His Team More?
October 30, 2011
Rob Carr/Getty Images
Joe Flacco's stock has continued to fall.
The Baltimore Ravens (4-2), a team that entered the year with an apparent star at quarterback, tailback and all throughout the defense, are sliding and currently in a major hole on the road against Arizona (1-5).
Baltimore currently trails the Cardinals 24-12 in the third quarter.
Flacco's quarterback rating is below 50, thanks in part to his sixth interception of the season.
Flacco and New York Jets quarterback Mark Sanchez both seem to be putting out underwhelming performances for their respective teams.
The two teams might have the most prestigious defensive personnel in the NFL, but offense has not come with ease for either team.
Both quarterbacks have been Pro Bowl caliber in their young careers, so why the slump? And who's slumping worse?
In terms of statistics, Flacco is trailing. He's completed a below average 52.1 percent of his passes so far this year, coupled with eight touchdowns and five interceptions for a quarterback rating of 76.2
Sanchez has thrown 12 touchdowns to six interceptions with a 55 percent completion rate. The Jets, considered to be Super Bowl contenders two years in a row, are sitting in the middle of the pack in AFC with a 4-3 record.
The difference between the teams, however, is that Sanchez isn't the only one who's not pulling weight for his team. The Jets' run defense has surprisingly been one of the worst in the NFL, ranking 26th out of 32 teams.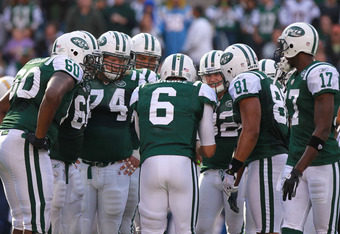 Nick Laham/Getty Images
Baltimore's defense has been stellar, ranking fourth in pass defense and third in rush defense.
Yet, the team is still on the verge of falling to 4-3 despite having what some consider to be a quarterback on the cusp of the elite level.
So far today Flacco has gone 12 for 23 passing and an interception, for a 45.2 quarterback rating.
Flacco has just flat out been a non-factor in games. His statistics are all lower than Sanchez's as well.
Not only are Sanchez's statistics more respectable, but his defense isn't completely shutting down teams either.
The Jets, all around, got off to a pretty poor start to the year.
Flacco, on the other hand, appears to be somewhat of a weak link for a highly talented football team.
Despite what the teams have on paper, it's looking more and more clear that neither team will be able to catch first place in their respective divisions.
And we could be talking about how the quarterbacks are at fault for the rest of the year.