New England Patriots vs. Pittsburgh Steelers: Spread Info, Line and Predictions
October 28, 2011
Jim Rogash/Getty Images
This weekend the New England Patriots face off against the Pittsburgh Steelers in a game that could pave the road in the AFC for the remainder of the season.
The Patriots are off to their typical hot start. They are 5-1 and coming off of a bye week. New England is the early favorite in the AFC, and rightfully so.
The Steelers got off to a slower start, struggling to a 2-2 record to kick off their season. They have now won three straight, much in part to the performance of Ben Roethlisberger.
Where: Heinz Field, Pittsburgh, Pennsylvania
When: Sunday, Oct. 30 at 4:15 p.m. EDT
Watch: CBS. DirecTV 712.
Listen: Patriots - Sirius 91. Steelers - Sirius 86.
Live Streaming: NFL.com Audio Pass ($29.99 for year, $27.99 team specific, $9.99 a month)
Betting Line: Patriots -(3)
What's At Stake?
The winner of this game becomes the team to beat in the AFC.
Currently, the New England Patriots sit atop the AFC with a 5-1 record. The Pittsburgh Steelers are second with a 5-2 record.
After that, there are a bunch of teams that are just a step behind these two. The Ravens, Bengals, Bills, Chargers and many more just aren't quite on the level of these two teams early in the season.
Patriots Injury Report
Ras-I Dowling, CB - Hip (Out)
Josh Barrett, S - Thumb (Questionable)
BenJarvus Green-Ellis, RB - Toe (Questionable)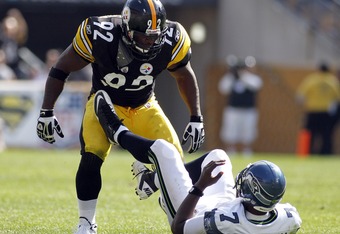 Justin K. Aller/Getty Images
Albert Haynesworth, DE - Back (Questionable)
Jerod Mayo, LB - Knee (Questionable)
Steelers Injury Report
James Harrison, LB - Eye (Out)
Chris Hoke, DT - Neck (Out)
Hines Ward, WR - Ankle (Questionable)
James Farrior, LB - Calf (Questionable)
Fantasy Start 'Em, Sit' Em and Sleeper
Start: Mike Wallace, WR (Pittsburgh)
Mike Wallace is quietly becoming an elite wide receiver in the NFL.
Currently, he is ranked third in the league with 730 receiving yards.
Add in the fact that Ben Roethlisberger may be playing the best football of his career and the matchup against the 32nd-ranked pass defense in the league, and that calls for big numbers.
The Patriots defense will likely gameplan around Wallace, but that won't stop him from putting up big numbers.
Sit: BenJarvus Green-Ellis, RB (New England)
BenJarvus Green-Ellis has become a quality fantasy running back over the last year and a half.
This weekend may be one where you want to leave him on the bench. It's no secret that this game is expected to be a shootout. The ball will be in the air more often than usual.
A mix of limited carries along with Green-Ellis battling through a toe injury could mean a day with lower production than usual from the back.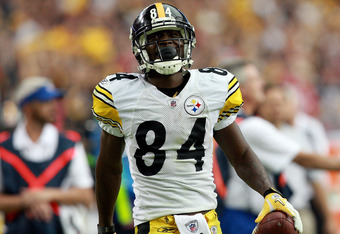 Karl Walter/Getty Images
Sleeper: Antonio Brown, WR (Pittsburgh)

The New England pass defense is atrocious. They know that if they are going to have a shot at holding this Pittsburgh offense, they will need to shut down Mike Wallace.
This will open things up on the other side of the field for Antonio Brown.
Brown received more opportunities last week while Hines Ward has battled through multiple injuries. He finished the game with seven receptions for 102 yards.
He is capable of big things against a shaky pass defense.
Keys to New England Win:
The New England Patriots have won eight-straight games coming off bye weeks.
It's no secret that Bill Belichick is one of, if not the best coach in the NFL. The extra week to prepare for the Steelers will be a difference maker.
The Patriots have historically had the Steelers' number in recent years.
If the pass defense can step up and create just a couple turnovers, Tom Brady and the Patriots will walk away with this one.
Keys to Pittsburgh Win:
It's all about the pass defense in Pittsburgh.
Currently, the Steelers are allowing just 171.9 passing yards per game this season. Their 5.8 yards per pass attempt is the lowest allowed in the league.
If they are going to have any chance, this defense needs to hold Tom Brady.
The Steelers' offense is going to be able to put up points on the Patriots defense. This one will come down to the Pittsburgh's defense ability to hold Tom Brady.
Prediction: 35-31, New England Patriots
Ben Roethlisberger is playing like a top-five quarterback in the league.
However, Tom Brady is playing like a top-two quarterback in the league.
This one is going to be a shootout. Tom Brady and Bill Belichick will prove to be too much with an extra week to prepare for the Steelers' defense.
It could come down to the final drive of the game. Tom Brady, like always, will find a way to get the job done.