Los Angeles Angels: What Should Happen This Offseason
October 28, 2011
I've seen a lot of articles surface about what others think the Los Angeles Angels should do, and I've even dabbled in what I believed the Angels would do. 
I figure it's time to throw my opinion into the mix so that it may be ridiculed endlessly by the masses. The following is what I would do if I were the Angels GM. 
Keep in mind, other GMs may not necessarily accept the trades I propose, but in my fantasy world they would on the basis that I provide them with what I believe to be fair proposals. 
Estimated team payroll following arbitration: $121 million 
Any moves I make will be done with the knowledge that the Angels must become a more cost efficient organization. Increasing payroll far above the $141 million from 2011 is out of the question.
Conditionally trade Mark Trumbo and Bobby Abreu to New York for David Wright. 
The New York Mets have made it no secret they'll look into dealing their third baseman this winter in an effort to bolster a weak minor league system and relieve some financial stress. 
Given Wright's injury troubles, his $15 million dollar price tag and the fact that he can void his $16 million dollar option for 2013 if he is traded, the Mets aren't expected to get as much in return as they'd hoped for. 
Landing a power hitter like Mark Trumbo would be considered a "win" for New York. The Angels will be looking to shed the $9 million dollars owed to Bobby Abreu and upgrade the middle of their lineup. When Kendrys Morales returns (which for the Angels is mercifully appearing more likely), Trumbo may be relegated to the bench of AAA to work on his plate discipline. 
The hang up in this deal is the fact that Wright appears likely to void his 2013 option if traded. If the Angels could work out a one-year extension or have it in writing that Wright will not void his already lucrative 2013 option, then I'd give this trade the go-ahead.
The Angels would add an elite third basemen to their lineup and only $5.5 million dollars because they shed the albatross that was Bobby Abreu.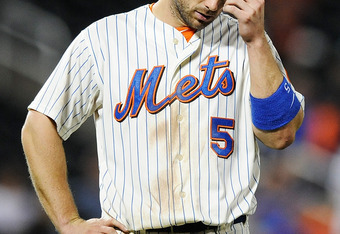 Patrick McDermott/Getty Images
Payroll following the trade: 126.5 million.
Trade Howie Kendrick and Maicer Izturis to Colorado for RP Rafael Betancourt and C Chris Iannetta
The David Wright trade would create an excess of infielders for the Angels, but also provide them with valuable trade chips in Izturis, Callaspo and Kendrick, who all had career years in 2011. 
Given that Callaspo plays multiple positions, makes less than Izturis and Kendrick and is the only player of the three not headed for free agency following the 2012 season, I'd hold onto him. 
Coming off his impressive 2011 season, Kendrick's value is at its highest since he was a prospect, as is Izturis'. The Colorado Rockies will be looking to upgrade their infield, have vacancies at third and second base and need to make room at catcher for prospect Willin Rosario.
Like Kendrick and Izturis, Rafael Betancourt and Chris Iannetta are both headed for free agency in 2013. Next season, Betancourt is set to earn $4.5 million, and Iannetta will earn roughly $3 million, so neither team needs to take on any money for this move.
Betancourt posted a 2.89 ERA in 2011 with a 10.5 K/9 and set a career low in WHIP (.866). The Angels could use Iannetta's solid defensive presence behind the plate and the occasional power he supplies. 
Both teams would collect draft picks if the players signed elsewhere in 2013.  Alberto Callaspo would shift back to second base and the Angels would promote Alexi Amarista to replace Izturis.  Amarista plays an exceptional second base and is more than adequate at shortstop and in the outfield and has hit for average at every level of the minors. 
Payroll following the trade: 126.5 million.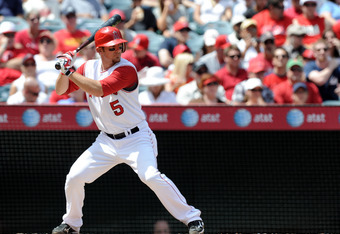 Harry How/Getty Images
Cut Jeff Mathis
This one is just a "mercy rule" kind of move. Enough is enough—this player MUST NOT play 50% of the Angels' games at catcher. If anything, the next GM needs to cut Mathis loose just to prevent Mike Scioscia from playing him. And it saves $2 million, which is nice.
Payroll following move: 124.5 million.
Sign Prince Fielder for 8 years, $180 million
The Angels need a stable middle-of-the-order bat that's capable of keeping the offense from plummeting into deep slumps. 
The lineup also happens to be heavy on the right side and could use Fielder's lefty swing to balance things out. Since money will be tight in 2012, the Angels would need to backload the contract and keep Fielder's salary down to a meager $18 million for 2012. 
I'm sure that given that type of money ($22.5 million annually) and the length of the contract, Fielder and his agent, Scott Boras, should be willing to make less in 2012 for significantly more in 2014 and beyond. 
Payroll following the signing: 142.5 million. 
The resulting 2012 lineup
The payroll would generally be the same as 2011, and here is how the 2012 team would shape up:
SS Erick Aybar
CF Peter Bourjos
3B David Wright
1B Prince Fielder
DH Kendrys Morales
RF Torii Hunter
2B Alberto Callaspo
C Chris Iannetta
LF Mike Trout
BENCH: Bobby Wilson, Vernon Wells, Alexi Amarista, Jeremy Moore
ROTATION: Jered Weaver, Dan Haren, Ervin Santana, Jerome Williams, Garrett Richards
BULLPEN: Jordan Walden (9), Rafael Betancourt (8), Scott Downs (7), Rich Thompson (6), Hisanori Takahashi (L), Bobby Cassevah (Mop Up), Trevor Bell (Swingman)