Fantasy Football Week 8: Keiland Williams Highlights Weak Waiver Wire
October 27, 2011
Gregory Shamus/Getty Images
If you need help with your fantasy football team and think that you can find it on the waiver wire, you are looking in the wrong place this week, just like the kid who sticks his head up the chimney looking for Santa Claus on Christmas morning.   
The Week 8 waiver wire is not overflowing with ready-to-plug-in players. Although it appeared as if every starting running back in the NFL got hurt last week, the truth is that most of their backups are already on fantasy rosters. And there are no Johnny Unitas or Jerry Rice types available at quarterback or receiver on most waiver wires, either.        
But for those of you who are so decimated by injuries and byes that you need some sort of warm, healthy body for your fantasy squad, here are three players I would think about picking up in fantasy leagues this week if you have the roster room: 

Keiland Williams, Detroit Lions
Fantasy owners know that Maurice Morris is a stopgap option, a one-or-two week running back you can stick in and hope for 60 yards and a cheap touchdown from when your regular backs are off or perpetually injured.
Williams is a much more intriguing long-term option. If Jahvid Best does miss several weeks, Williams is a younger, stronger runner with more potential than the serviceable-at-best Morris.
Williams was surprisingly given nine carries against the Atlanta Falcons last week and made good use of them, rushing for 44 yards, including an 18-yard scamper. He was probably going to be the goal line guy instead of Morris anyway due to his size advantage, but he might end up getting 50-60 percent of the overall carries before Best returns.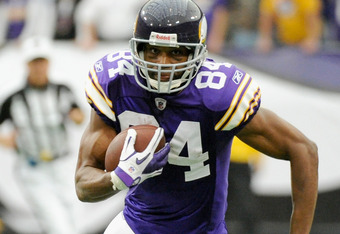 Hannah Foslien/Getty Images

J.P. Losman, Miami Dolphins
Matt Moore may not last the season as Miami's starting signal caller. Heck, he might not even last this weekend as bruised ribs have him listed as questionable for Miami's game against the New York Giants, plus the Giants have an infamous record for knocking out quarterbacks the past couple years. 
With slated second-stringer Sage Rosenfels suddenly sidelined due to illness, Losman has been signed off the scrap heap. Losman is no John Elway, nor is he Alex Smith at this point of his career, yet if a fantasy owner needs more insurance or is in a two-QB league and somehow is stuck with Sam Bradford, Rex Grossman and Jason Campbell on his/her roster, that person might have no other choice then to take a flyer on Lee Evans' former favorite QB.   
Michael Jenkins, Minnesota Vikings
It's funny how Jenkins could never separate from a cover corner when Donovan McNabb was running the Vikings offense, but then rookie Christian Ponder takes over behind center and suddenly Jenkins is able to sprint like a greyhound away from Green Bay's premier corners.
Jenkins was Cris Carter, Randy Moss and Anthony Carter combined against the Packers, catching three passes for 111 yards and a touchdown. Considering he had fewer than 50 yards in five of his first six games of the season leading up to this game, this was akin to Bernard Berrian showing up to a team meeting on time in terms of shock value.  
  
Minnesota will definitely throw the ball more often and, more importantly, throw longer more often with Ponder at QB. This can only help Jenkins, who was averaging less than 10 yards per catch thanks to McNabb's dinks and dunks. Don't expect Jenkins to start toasting every secondary in the NFL, but his numbers should certainly rise as Ponder takes more shots downfield.   

Run and Shoot
Fantasy owners are going to have to treat Denver's Tim Tebow like an NBA contest—don't pay attention to anything that happens with him until the last five minutes of his game.
Those manic fantasy addicts who watch the live scoring on their stat sites every minute on Sunday afternoons will probably have heart attacks after three-plus quarters of the worst passing numbers in fantasy history and die before Tebow racks up 100 passing yards and 50 rushing yards over the last five minutes of his contests to salvage his stats. 
Now that the Chicago Bears and offensive mastermind Mike Martz are calling more running plays for Matt Forte, there is good news and bad news for Jay Cutler owners.
The good news is that this definitely decreases the chances of Cutler being decapitated thanks to his porous offensive line. The bad news is that it will be a whole lot harder for him to throw for 300 yards. After throwing for 300 yards in two of his first three games this season, Cutler has not thrown for more than 267 in any of his past four outings. 
If Jacksonville's Josh Scobee was kicking for the Green Bay Packers or New Orleans Saints, he would not only be the highest-rated kicker in fantasy football, he would be possibly lauded as a god in some circles.  
Not having Chris Johnson at his swiftest was not a problem for Tennessee quarterback Matt Hasselbeck—until No. 1 receiver Kenny Britt tore his ACL. Hasselbeck threw for 932 yards in the Titans' first three games that Britt suited up for. In the three games since Britt went down, Hasselbeck has only thrown for 586 yards. 
Considering Tennessee has taken flyers with moody, mouthy, over-the-hill receivers before (Randy Moss), might the Titans be thinking about signing the virtually ignored Terrell Owens now that he is supposedly ready to go?