Bengals vs. Seahawks: NFC West Championship Still Possible for Seattle?
October 26, 2011
Mike Stobe/Getty Images
The Seattle Seahawks are the defending NFC West Champions, a distinction they've earned in five of the last seven seasons. That is in dire jeopardy following a 2-4 start to the 2011 season, though.
The loss of offseason workouts hindered the Seahawks more than most teams. They have a new quarterback, No. one wide receiver, tight end, and four new offensive linemen. The four starters that are returning are learning a whole new offense and attempting to integrate with their new teammates.
Seattle has responded adequately to injuries on the offensive line, but protection is still lacking.
Their biggest injury issue has been at quarterback. While Tarvaris Jackson wasn't on pace to be a top-10 hurler, he had played well enough to give Seattle an opportunity to win. That is more than can be said for Charlie Whitehurst.
How did the Seahawks get here:
A week ago the Seahawks were riding high. They had won two of their last three games, including an early east coast game against the New York Giants. Their prior game was a hard-fought loss to the Atlanta Falcons, but their offense finally seemed to be clicking.
The win in New York proved to be costly, though. Even with the bye week as a buffer, Jackson was not able to return from a pectoral injury for their Week 7 game in Cleveland. Zach Miller and Max Unger were also injured in that game and were unable to play. Marshawn Lynch joined them on the sidelines with a back issue.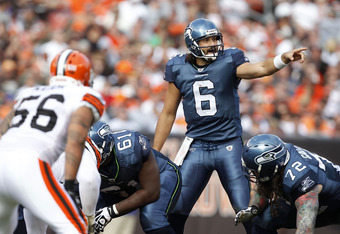 Matt Sullivan/Getty Images
The results in Cleveland were devastating. Seattle's running backs had some success, but were only given 15 opportunities to carry the ball despite a close game.
Whitehurst received the start for Jackson and threw the ball 30 times. He completed 12 of those passes for an average of 3.2 yards per attempt (down to 2.4 yards when the sack yardage is subtracted). Leon Washington and Justin Forsett averaged 4.1 yards per carry, questioning why they had just seven and eight carries, respectively.
The three-point loss to the Browns was offset by a three point win in Week 3 over the Arizona Cardinals. But their ability to make a run at the playoffs was likely offset by that loss, too.
Expectations from the division rivals:
Last week's loss kept the Seahawks from keeping the San Francisco 49ers at arm's length. A three game lead is hard to overcome, even with a home matchup vs. the 49ers late in the season.
San Francisco seemed to have a small advantage playing the third-place schedule, and have already notched wins over the two teams seeded based on the prior year's standings (Detroit and Tampa Bay). Their remaining challenge will be playing on the road in three of their last four games. Their Week 16 game in Seattle could seal the division, if that isn't already decided.
Many 49er fans believe they are facing a 12 or 13 win season, in large part due to a lopsided win over Tampa Bay and a victory in Detroit. There are reasons to believe neither of those foes are as good as once though, and San Francisco has several difficult games looming.
The 49ers have four games on the schedule that will be challenging, and two more that could trip them up.
Arizona had a solid start to their season, beating the Carolina Panthers in exciting fashion. Since then, things have gone south. They've dropped their next five games and have a trip to Baltimore looming over their heads before they host the Rams in Week 9.
The Cardinals are only one game behind my preseason projections, but that doesn't bode well. The concerns I raised with the offensive line, quarterback and their secondary are playing out. The playoffs are not a consideration.
St. Louis has struggled even more than anticipated, although my preseason projections for the Rams had them starting with a 1-6 record. With a matchup looming against New Orleans, an 0-7 start is likely. For St. Louis to have any hope of making the playoffs they have to beat the Saints...and follow that with nine more consecutive wins.
With all due respect to the Rams and my friends and colleagues that support the team, they are playing for draft status.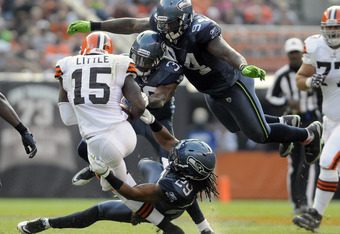 Jason Miller/Getty Images
The remaining schedules and projected final records for the rest of the division:
| | | | |
| --- | --- | --- | --- |
| Week | St. Louis Rams | Arizona Cardinals | San Francisco 49ers |
| 8 | vs. New Orleans | @ Baltimore | vs. Cleveland |
| 9 | @ Arizona | vs. St. Louis | @ Washington |
| 10 | @ Cleveland | @ Philadelphia | vs. New York |
| 11 | vs. Seattle | @ San Francisco | vs. Arizona |
| 12 | vs. Arizona | @ St. Louis | @ Baltimore |
| 13 | @ San Francisco | vs. Dallas | vs. St. Louis |
| 14 | @ Seattle | vs. San Francisco | @ Arizona |
| 15 | vs. Cincinnati | vs. Cleveland | vs. Pittsburgh |
| 16 | @ Pittsburgh | @ Cincinnati | @ Seattle |
| 17 | vs. San Francisco | vs. Seattle | @ St. Louis |
| Proj: | 1-15 | 3-13 | 10-6 |
Worst-case scenario for Seattle:
Some would argue that the worst-case scenario for Seattle would be losing the rest of their games.
However, there is a worse outcome on the horizon. They could win their remaining three games with the St. Louis Rams and Arizona Cardinals and end up drafting behind both of those teams next April with a 5-11 record...or even later in the draft with an 8-8 tally.
This isn't to endorse a "better Luck next year" approach to the season. With two wins the Seahawks are almost certainly eliminated from contention for the top pick come April, anyway. But uncertainty at the quarterback position makes it difficult to project what games Seattle will be able to win.
It is also hard to contend the Seahawks are better off middling through the season and drafting in the late-teens. Struggling down the stretch and ending with four or five wins would be hard on the fan-base.
But so long as they see improvement in the team and hope for 2012, fan support will be there. Ending up in draft position that would allow Seattle to draft a potential franchise quarterback or top defensive player will ease a few ills, too.
Best-case scenario for Seattle:
Seattle looked like a team that could turn their season around if they could beat the Browns last week. Now they are a team missing their starting quarterback and in desperate need of getting a few other offensive starters back in the lineup. 
The team has struggled with continuity on the offensive line. They've had 18 different starting formations over the last two seasons, including four in six games this season.
If Whitehurst needs to start for an extended period of time, Seattle could end the season with as few as four or five wins. He was absolutely lost in a starting role vs. the Browns, and there is nothing in his background to expect a radical departure from that performance. Even in his "best" start vs. the Rams last season, he was unremarkable at best (22/36, 192 YDS, 5.3 Y/A, 1 TD, 0 INT, 84.5 Rate).
Should the Seahawks get Jackson back in the lineup, preferably joined by the rest of the offensive starters, the forecast is a bit more positive. The offense showed promise before Jackson's injury and there is every reason to believe that offense would resurface.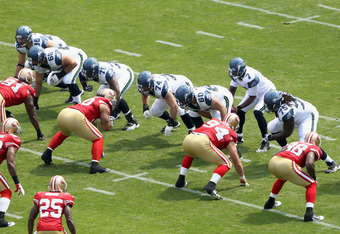 Ezra Shaw/Getty Images
Seattle's defense has been solid this season. Their depth at corner back is being tested, as Marcus Trufant and Walter Thurmond III are both lost for the season. Seattle has Richard Sherman, Kennard Cox and Roy Lewis to fill in; it is difficult to gauge how much of a drop in production Seattle should expect, if any.
Seattle's remaining schedule and projected win-range:
| | |
| --- | --- |
| Week | Seattle Seahawks |
| 8 | vs. Cincinnati |
| 9 | @ Dallas |
| 10 | vs. Baltimore |
| 11 | @ St. Louis |
| 12 | vs. Washington |
| 13 | vs. Philadelphia |
| 14 | vs. St. Louis |
| 15 | @ Chicago |
| 16 | vs. San Francisco |
| 17 | @ Arizona |
| Proj: | 5 – 10 Wins |
If Seattle wins 10 games they will be in the playoff picture. That is a bit of stretch, though, that will require several things to turn in their favor.
Specifically, the Eagles' struggles would need to continue and the Ravens would need to see their road-woes carry over to Week 10. 
Add in a win over the 49ers, and the Seahawks do have an outside chance to challenge for the division. San Francisco would likely need to lose a second divisional game, with Seattle winning their final four division contests.
The odds are certainly against the Seahawks repeating as division champions. Then again, almost no analysts gave them any chance last season, either. 
One thing we know for sure is coach Carroll will continue to push his players and coaching staff, giving the team the best chance to win each week.