Washington Redskins 2011: Déjà Vu for Shanahan and Company
October 26, 2011
Scott Halleran/Getty Images
"Only in our darkest hour do we find the light."
Hopeful words from a hopeful man. Unfortunately, no amount of inspiration, good intentions and hope can salvage a 2011 season that is quickly devolving into a nightmare for the Washington Redskins.
As Redskins fans, weren't we told that we were beyond all this? Weren't we told that the pieces were falling into place, that Shanahan was collecting enough talent that this sort of dysfunctional collapse would not happen again under his watchful tutelage? 
With each loss this season, Shanahan inches closer to irrelevancy as a coach. Those that believed are now filled with doubt. Those that doubted now feel validated. It's a mess all around and there is no one person to blame. 
Those that would point the finger at Snyder still criticize him for his lack of patience and his willingness to destroy the continuity that is so often the trademark of successful teams. Still, they are remiss to ignore the fact that he has made a point to remove himself entirely from the football operations of the team.
Those that would blame Shanahan miss the unfortunate truth that he arrived to an organization with an aging and maligned offensive line, and a quarterback that had been through more offensive coordinators than King Henry V went through wives. 
With pressure to produce now, Shanahan hedged his future on an aging, mercurial and prideful quarterback in Donovan McNabb. In return for a second- and fourth-round pick, we as fans were subjected to a dysfunctional fall from grace for McNabb, culminating in a late-game benching against the Lions last year.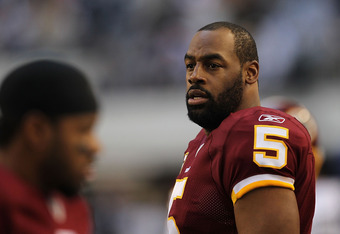 Ronald Martinez/Getty Images
Shanahan has always been considered a coach that specializes in two areas: quarterbacks and the offensive line.
How then has he failed so spectacularly to overhaul these positions?
Shanahan has been successful in other areas, though. The defense still lacks depth, but the pieces are in place for steady improvement over the next few years. Fred Davis has finally developed into the top-tier player that everyone envisioned when he graduated from USC. The roster has become significantly younger than when he arrived. 
But it returns us to the foremost problem. Every pundit has said it so many times that it has become the ultimate cliché, but the NFL is a quarterback-driven league. Teams—and coaches—live and die by their quarterbacks. With Beck and Grossman, Shanahan's future hangs by a thread.