World Series Game 6: Texas Rangers Turn to Colby Lewis to Close out Cardinals
October 25, 2011
Jamie Squire/Getty Images
Colby Lewis, World Series Game 6 starting pitcher for the Texas Rangers, was plying his trade in Japan just two years ago and trying to find a way back to Major League Baseball in the states.
Today, on the eve of his start that could potentially finish off the St. Louis Cardinals and earn the first World Series title in Rangers' history, Lewis has turned himself into a big-game pitcher with an impressive postseason resume over the past two years.
Handed a 3-2 series lead and an opportunity to close out the NL champion Cardinals in Game 6, Lewis will make his second start of the series after he pitched well, but earned a no-decision in Texas' 2-1 victory in Game 2.
In that start, Lewis pitched 6.2 innings, allowing only one earned run on four hits and two walks. The big right-hander allowed only six base-runners and struck out four. He was pulled in the seventh after allowing two singles, and the only run he was charged with then scored after St. Louis' Allen Craig singled off Alexi Ogando to give the Cardinals a 1-0 lead.
Lewis, despite his solid start, was on the hook for what would have been a devastating loss, until the Rangers rallied against the St. Louis bullpen and scored two runs in the top of the ninth to steal a critical Game 2 victory.
He will again take the hill in St. Louis, a welcome development considering the difficulty he endured while pitching at home in Arlington. At Rangers Ballpark in 2011, Lewis was 5-5 with a 5.54 ERA and 22 home runs allowed in only 92.2 innings. Away from home, he was 9-5 with a 3.43 ERA and a 1.152 WHIP. 
Over his three postseason starts in 2011, Lewis is 1-1 with a 2.95 ERA in 18.1 innings pitched. He has allowed only 13 hits and six walks, while striking out 16. Though his ALCS Game 3 start was rough, he has been the Rangers' most reliable starter throughout the 2011 postseason after going 3-0 in four starts during their 2010 run to the World Series.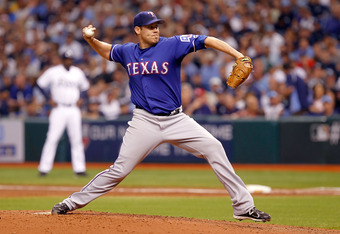 Mike Ehrmann/Getty Images
Though his regular season was inconsistent after a breakout year in 2010, Lewis has still developed into a reliable arm for the Texas rotation. From April through September, he went 14-10 with a solid 1.213 WHIP, but his ERA ballooned to 4.40 due to a league-leading 35 home runs allowed. He did make 32 starts and hurled at least 200 innings for the second consecutive season.
Lewis' strikeout rate dropped from 8.8 per nine innings last season to 7.6 per nine in 2011, but his command improved, as he walked only 2.5 batters per nine.
The 32-year-old right-hander blossomed in 2010 after a circuitous path to the minors that took him through several organizations, as well as a two-year stint with Japan's Hiroshima Carp. 
During 2010, Lewis was a revelation for Texas, as he went 12-13 with a 3.72 ERA and a 1.189 WHIP. In 32 starts and 201 innings, he allowed only 174 hits while striking out 196, good for seventh in the AL.
Where he truly shone, though, was in the 2010 postseason.
Lewis turned in several fantastic performances to help propel the Rangers to their first World Series appearance in franchise history. Though the series would ultimately end in a five-game defeat to the San Francisco Giants, the experience was invaluable for the Texas club, and they have brought the lessons they learned with them as they seek to finish what they started last year.
Outside of  Matt Cain's stellar 2010 playoff run for San Francisco, Lewis was perhaps the best starting pitcher in last year's postseason. The crop of arms involved in that rendition of playoff baseball was impressive, and Lewis fit right in with the likes of Cliff Lee, Roy Halladay, CC Sabathia and Tim Lincecum.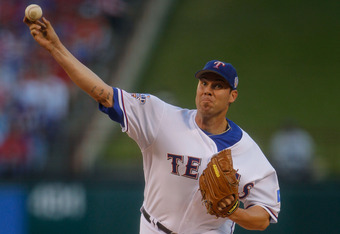 Pool/Getty Images
Over his four playoff starts, Lewis was 3-0 with a 1.71 ERA and 1.10 WHIP in 26.1 innings. He struck out 24 and allowed only 16 hits in those four contests. He beat the Yankees twice in the ALCS, then pitched a stellar Game 3 in the World Series to earn the victory over the Giants in Arlington.
As the Rangers prepare for Game 6 back in St. Louis, they find themselves in prime position to finish the series and celebrate the first World Series title in their history on the field at Busch Stadium. If they are to overcome a talented Cardinals squad, they'll need to subdue a powerful offense that led the NL in runs scored and beat Jaime Garcia, a pitcher who dominated Texas in Game 2.
It remains to be seen whether or not they'll be able to figure out Garcia, but in terms of shutting down the St. Louis offense, Ron Washington and the Rangers feel they have the right man on the hill in Colby Lewis.