The 10 NFL Playoff Matchups We'd Love to See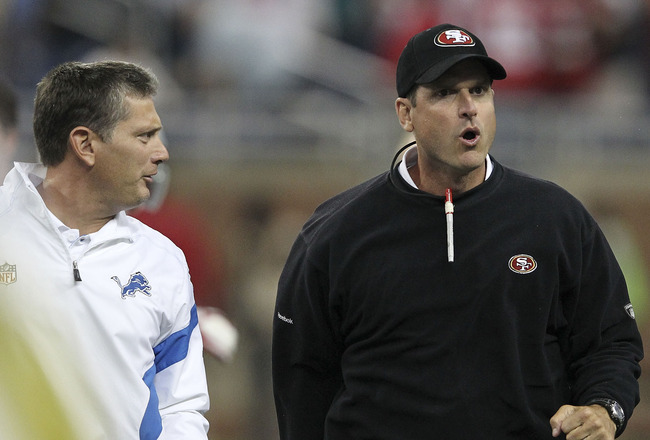 Leon Halip/Getty Images
As Jim Harbaugh and Jim Schwartz had their altercation after Week 6's 49ers-Lions game, tell me readers, did you have the same reaction I did?
"Wow, these two teams would definitely make a great playoff match up."
It wasn't just for the altercation at the end that made me think this, but what happened in the prior 60 minutes.
With the 49ers and Lions, you saw two good teams put on one heck of a performance. A game that wasn't decided until the final minutes, with high drama and suspense the whole time?
Who wouldn't want to see that rematch?
But Lions vs. 49ers is just one of many potential playoff match ups that not only myself, but I'm sure the rest of you would love to see.
Let's take a look at not only this game, but some of the other ones.
Detroit Lions at San Francisco 49ers
This matchup was the inspiration for this slideshow, so it only makes sense that I'll start with it.
Going into the first game, the Lions were 5-0 while San Francisco was 4-1.
For teams with such stellar records going into the game, a neatly played game this was not.
The two teams combined for 21 penalties and 174 penalty yards. Meanwhile the 49ers, who had the majority of the penalties (15 for 120 penalty yards) also added two turnovers to the mix while Detroit had none.
Overall it was a great game, but a weird one too. One that definitely deserves a rematch, only this time in San Francisco.
Its a good possibility that it could happen, as San Francisco leads the NFC West. I don't see them giving up that division, nor do I see any of the other NFC West teams getting hot and taking it from them.
As for Detroit, being in the same division as the Green Bay Packers means having to compete with not only divisional foes in Chicago, but also Atlanta (I'll get to them in a bit), New Orleans, Tampa Bay as well as Dallas, New York Giants and Philadelphia.
But could there be a better NFC Wild Card round matchup than this one?
Detroit Lions at Atlanta Falcons
"I lost a whole lot of respect for 90 [Suh] today, and also 92 [Cliff Avril], the [expletive] they were doing when Matt got hurt, That was unacceptable. ... Like 92 was kicking [Ryan's] feet, saying, 'Get him off the field.' We don't do stuff like that. ... When you compete, you never want to see a guy get hurt."
That quote from Roddy White is more than enough of a reason to want to see these two teams battle in the postseason.
It is very likely though that if one of these teams get in, than the other won't. Atlanta still has a shot at the NFC South, but if they aren't able to win the division, they'll have to compete for the Wild Card.
The good news for Atlanta is thanks to last week's victory over the Lions, it has the upper hand.
But, considering the drama that took place after the game, the accusations of taunting, followed by Suh's follow-up, isn't this an easy playoff matchup to get excited for?
New York Jets at San Diego Chargers
I'm not a Jets fan (far from it; I'll admit I hate them), but I knew they'd beat the Chargers last week.
I knew San Diego would find a way to blow it. Why? Because that's what the Chargers do.
I agree with Rex's claims prior to the game when he said: "Well, I think I would have had a couple of rings, I'm telling you. Those teams were loaded."
Ryan is absolutely correct; he's a great coach and the Chargers seem to lack leadership, which is why they've always faltered in the postseason.
But this wouldn't be so much a soap opera as both Ryan and Norv Turner have mutual respect for one another, but it would make for a great football game in January.
A football game I'd bet all my money on the Jets to win of course.
Pittsburgh Steelers at Baltimore Ravens
Up until that disaster of a game on Monday night, I really thought that this was Baltimore's year to not only get over the Pittsburgh Steelers hump, but finally get back to the Super Bowl.
Maybe the Ravens just have a problem beating mediocre and bad AFC South teams, but losing to Jacksonville (JACKSONVILLE!) isn't exactly the recipe for postseason success.
With that being said, I still think they can beat Pittsburgh in the postseason if, and only if, the game is in Baltimore.
The last two postseason meetings between these two teams haven't disappointed, and neither would their next one this January.
Buffalo Bills at Kansas City Chiefs
After watching that Week 1 Chiefs vs. Bills game, did you think in a million years that a playoff matchup between the two teams was possible?
You probably wrote Buffalo off as a fluke and you also probably thought Kansas City was toast for the year.
Going into Week 8 though, now it's possible that we could see a rematch.
Two old-school AFL teams playing each other in KC in January? Sign me up!
Buffalo Bills vs. Anyone
The Miami Dolphins fan in me is actually pretty excited over the Bills success this season.
Which team would I want representing the AFC in the Super Bowl? The Bills.
Simple reason being that if they can do it, the Dolphins can too, in due time of course.
But I also miss it when the Bills were good.
Buffalo has a great fanbase that's been to hell and back with this team, and I won't patronize them by naming every single bad moment that's happened to them, but I will say that they deserve the success that they've had this season and I'm happy for them.
I really do want to see them go to the Super Bowl, and I'd love to see them win it too. Their division doesn't help them much, but they do have the Jets in two weeks. With a win against New England already in the bank, a win over the Jets puts the Bills in great position to take over the AFC East.
I'd love to see a playoff game in Buffalo again, and deep down, I know a lot of you would like to see that too.
Tampa Bay Buccaneers vs. New Orleans Saints
Divisional rivalries seeping into the playoffs always makes for great fun.
The Bucs and Saints' NFC South rivalry is one that would make for a great playoff game, regardless of where the game is played.
Of course one has to wonder: Which Tampa Bay Buccaneers team is going to show up? Will it be the Bucs that got blown out in San Francisco, or will it be the Bucs that beat the Saints the next week?
Speaking of Bucs-Niners...
San Francisco 49ers at Tampa Bay Buccaneers
Now these matchups are always fun too: a rematch between two teams who played during the regular season, when one team blew out the other.
It's especially great when the playoff game is at the home of the team who got blown out the last time.
In a dream world, this would be my NFC Championship Game (I know the Packers will put a stop to that, though). Tampa Bay, still fuming over losing to the 49ers, welcoming them to Raymond James Stadium, then return the favor.
In a big way.
I like the poetry of one blowout getting answered back with another. I doubt that will happen with the Buccaneers though because they're really not the type of team to blow another team out of the water.
But if it were to happen, I'm sure many Bucs fans would prefer to see the medicine served back to the 49ers.
Houston Texans vs. New England Patriots
If you love high scoring high-octane offenses, you have to want to see a Texans vs. Patriots playoff matchup, right?
Personally, I think that this playoff game could come the closest to matching the classic 1981 Chargers vs. Dolphins playoff game. The final score would likely be the same too.
Brady and Schaub matching each other touchdown for touchdown, while Welker and Andre Johnson both challenge playoff receiving records.
Sounds like a fun playoff game, doesn't it?
Green Bay Packers vs. New England Patriots
Brady vs. Rodgers.
Is there anything else I have to say?
Now we can determine on the field who the best quarterback in the NFL is right now.
Funny thing is, it would happen at Peyton Manning's house (and possibly the home of the NFL's next great quarterback, Andrew Luck. By the way, the possibility of Luck going to the Colts just made me throw up in my mouth).
Isn't that what you want in a Super Bowl—for the stars to come out?
That's exactly what would happen with a Packers-Patriots Super Bowl, which I'm calling right now as the Super Bowl matchup and the matchup that we would most love to see.
Thomas' Thoughts: Miami Dolphins vs. Indianapolis Colts (The Luck Bowl)
I'm not finished just yet.
If the Miami Dolphins and Indianapolis Colts both finish with the same 0-16 or 1-15 record, don't go to a tiebreaker or anything of that sorts, just pair them up and have them play.
Not a full game of course; that would be terrible to see. Maybe instead of Madonna as the halftime show, just put these two teams together in a Kansas City tiebreaker-type scenario, with the loser getting the No. 1 pick.
Oh, and if Peyton Manning is healthy, he has to play.
Did I just slant this in favor of my Miami Dolphins? Yes, I did.
However, keep in mind that the strength of schedule is in Indianapolis' favor, plus unlike the Dolphins (who are too stupid to tank), the Colts are actively tanking (you can't tell me otherwise; I knew they'd be a bad team without Peyton, but not this bad).
Yes, I had to include a Suck For Luck Miami Dolphins reference into my article.
And I'll also include some shameless self-promotion in here as well: my appearance on sny.tv to preview this weekend's Dolphins-Giants travesty (which I'll also be live-blogging this weekend).
Thank you for reading, be sure to leave a comment at the bottom and tell me what playoff match-ups you would like to see, also don't forget to like me on Facebook, follow me on Twitter (@thomasgalicia), and go to www.thomasgalicia.com to check out my archives.
Keep Reading