Derek Holland and the 15 Greatest No-Run Performances in World Series History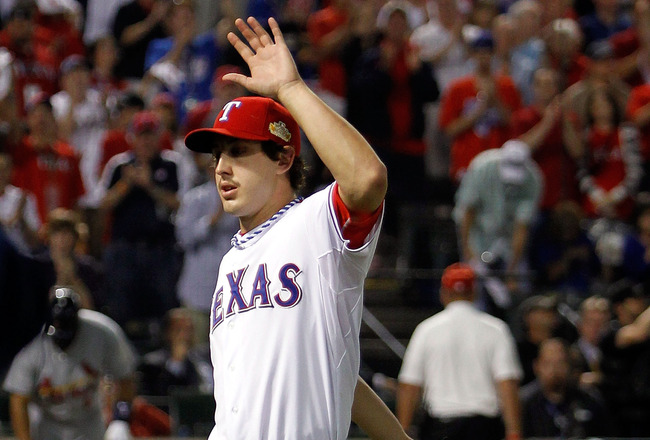 Rangers Pitcher Derek Holland waves to the home crowd as he exits his masterpiece in the ninth inning last night
Tom Pennington/Getty Images
After a performance like Derek Holland's Game 4 masterpiece for the Texas Rangers against the St. Louis Cardinals on Sunday, one can't help but search for some perspective. Among the many things that make baseball and the World Series so special are the vast differences between who can shine brightest on a night-to-night basis. Consider that on Saturday night the stage and the entire sports world was dominated by Albert Pujols.
Pujols is one of baseball's biggest stars, and in a few months will also be one of baseball's highest paid players ever. His offensive showcase in game three on Saturday was amazing but also not completely unexpected from a player of his caliber.
Contrast that with Game 4 just 24 hours later. That's when a 25-year-old pitcher picked in the 25th round of the draft back in 2006 came out and pitched a game that will stand in some very special company. It wasn't a complete-game shutout, but Holland took his scoreless game into the ninth inning, and he did it against the very same lineup that had lit up his teammates for 16 runs just one night before.
In what kind of company does that place Holland? Let's use Don Larsen's 1956 perfect game as a starting point and go from there.
2006 World Series Game 2: Kenny Rogers Clips the Cardinals
Kenny Rogers is pumped up while shutting down St. Louis
Jim McIsaac/Getty Images
For 16 years Kenny Rogers had pitched in the big leagues. In those 16 seasons he had started in one World Series game. That was back in 1996 for the New York Yankees, and while it was surely a memorable night for Rogers, in some ways he'd probably prefer to forget it.
It was Game 4 of the series and Rogers would last only two innings while giving up five earned runs. The Yankees would go on to win the game 8-6, aided in large part by a career night for Jim Leyritz. It was a memorable game in the minds of many, but for Rogers it had to have been a letdown.
10 years and one day later Rogers stepped on the mound at Comerica Park in Detroit. At the age of 41, Rogers was the veteran presence on a young Tigers pitching staff. He was being counted on to lead in both words and deeds, and on this night his arm spoke volumes.
Rogers would go eight innings and throw just 99 pitches. He allowed only two hits, and the Cardinals, who had two runners on in the first inning, never mounted a legitimate threat for the rest of the night. The final score was 3-1, the one run was allowed by Tigers relief pitcher Todd Jones in the ninth. That one run does't take away from the performance that Rogers had that night. It was a masterpiece.
2006 World Series Game 3: Chris Carpenter Shuts Down Detroit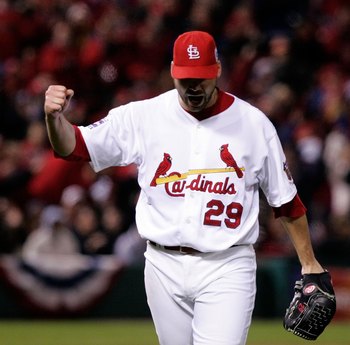 Chris Carpenter is pumped as he exits the game to a standing ovation.
Jed Jacobsohn/Getty Images
As Derek Holland showed last night, you don't have to throw a complete game to have a performance considered great. Holland's outing sets up a crucial Game 5 showdown tonight, and on the mound for St. Louis is a man very familiar with great World Series performances—Chris Carpenter.
Exactly five years ago today in 2006, Carpenter took the mound in St. Louis for Game 3 of the World Series. The series was knotted at one game apiece, and of course the winner of Game 3 would seize some all-important momentum.
Carpenter ensured that team would be his St. Louis Cardinals. In his first World Series outing, he was nearly flawless. In eight innings, Carpenter threw only 82 pitches, 55 for strikes. He gave up three hits and had six strikeouts and never walked a batter; in fact, he never even went to a three-ball count with a batter.
St. Louis held a 5-0 lead as the ninth inning began, so manager Tony LaRussa opted to remove Carpenter for relief pitcher Braden Looper, who finished the shutout by retiring the Tigers in the ninth. Carpenter didn't get a complete game, but he was completely dominant.
2000 World Series Game 2: The Rocket Launches His Postseason Legacy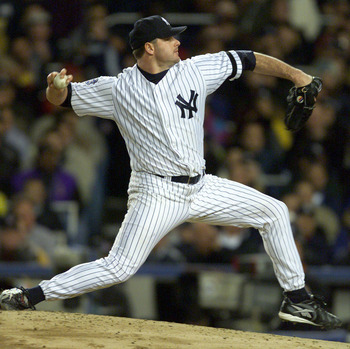 Roger Clemens fires away toward the New York Mets.
Jed Jacobsohn/Getty Images
In a game with a final score of 6-5, in which Roger Clemens is most remembered for a positively odd confrontation with New York Mets Catcher Mike Piazza, it's probably worth noting that there was something else that occurred on that October evening in the Bronx.
Roger Clemens threw a gem. Those five runs all came in the ninth off of Yankee relief pitchers Jeff Nelson and Mariano Rivera.
When Clemens left the game at the conclusion of the eighth inning, the score was 6-0 Yankees. That lead was seemingly very safe because Clemens had been outstanding. Eight innings, two hits, nine strikeouts and no walks. The Mets never really mounted any form of threat to knock Clemens out of his groove that night. The final score was 6-5, but for Clemens it may as well have been 6-0.
2001 World Series Game 2: Randy Johnson in Charge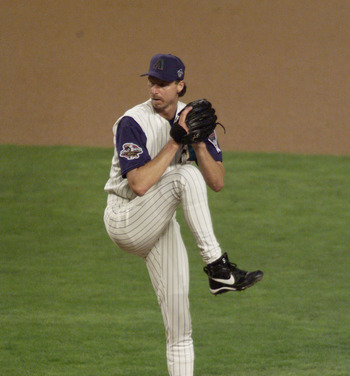 Randy Johnson brings heat in the Arizona desert in the 2001 Fall Classic
Jed Jacobsohn/Getty Images
Randy Johnson is one of the greatest left-handed pitchers in baseball history. In addition to his stunning career numbers, he also has an impressive postseason resume, and the crowning achievement of that resume is Game 2 of the 2001 World Series.
Facing a Yankee team seeking its fourth consecutive world championship, Johnson wasn't just good; he was great. Going the full nine innings and striking out 11 Yankees, he allowed three hits and only issued one walk. Johnson, who began his career as a fireball-throwing pitcher with a penchant for bouts of wildness, announced to the world on this night that he had entered a different realm. He was in total control from start to finish.
76 of his 110 pitches were thrown for strikes and his velocity and intensity, in classic Randy Johnson fashion, seemed to intensify as the game progressed.
Johnson's Game 2 win was just one of a number of dominant performances in this series, but it was also the best of them.
1989 World Series Game 1: Dave Stewart Slays the Giants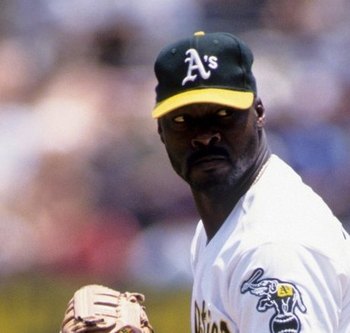 Dave Stewart was known for his menacing glare on the mound.
For those looking for a decent trivia question, here's one: Who is the last American League pitcher to record four 20-win seasons in a row?
The answer? Dave Stewart. Stewart enjoyed a dominant run from 1987 through the end of the 1990 season with the Oakland Athletics, winning 20 or more games in each of them.
His 1989 season was arguably his best, and his 1989 World Series was definitely his best. The Oakland A's were in the Fall Classic in 1988, 1989 and 1990. They only managed to win one though—in 1989—and that one got underway with a dominant performance by Dave Stewart against a San Francisco Giants offense that featured two of the National League's most feared hitters.
That didn't matter on the night of October 14th, 1989. When Stewart stepped on the mound, he was locked-in, and the Giants didn't stand a chance. Stewart's 138-pitch complete game was the perfect way to catapult Oakland to a decisive sweep of their cross-bay rival San Francisco. His Game 1 effort was the major reason he would go on to win series MVP.
1993 World Series Game 5: Curt Schilling's Postseason Legend Is Born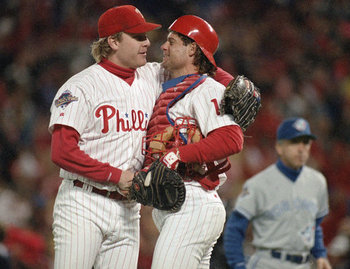 Curt Schilling and catcher Darren Daulton embrace following his game 5 performance.
Game 5 of the 1993 World Series was the last bright spot for Philadelphia and their loyal fans that season. The series would end in dramatic fashion in Game 6, but it wasn't an ending the Phillies or their fans wanted.
Game 5 was different though. On that night a young, hard-throwing and brash pitcher named Curtis Montague "Curt" Schilling hoisted the entire city of Philadelphia on his broad shoulders and carried them to a win.
In an era of pitch counts and frequent bullpen use, Schilling's performance on that night (9 innings, 6 strikeouts, 5 hits and 0 runs while throwing 147 pitches) is the stuff of legend.
There will be other complete-game shutouts in other World Series games in the future, but if the pitcher throwing that shutout needs 147 pitches to finish it then he probably won't be allowed to.
1988 World Series Game 2: Hershiser Quiets the Bash Brothers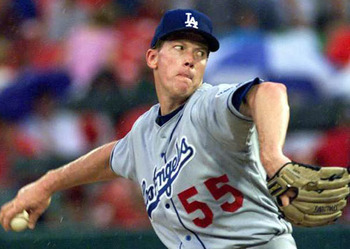 Orel Hershiser was at his best in 1988
The 1988 World Series will always be remembered for Kirk Gibson's walk-off home run in Game 1. It was one of the great moments in baseball history. It's important to remember that Oakland was winning that game until the lead they had held since the second inning evaporated with Gibson's homer.
That meant that Oakland entered Game 2 still retaining some of the confidence that they had brought with them into the series. Oakland was the favored team. They had baseball's first 40/40 player and eventual American League MVP, Jose Canseco. They had second-year slugger Mark McGwire. Surely the Oakland bats would awaken in game 2, right?
Not with Orel Hershiser on the mound. Hershiser had been outrageously good in 1988 and ensured that the adage "great pitching beats great hitting" would hold true. He scattered three hits and two walks over nine innings and made sure that the momentum gained by their dramatic Game 1 win would not be lost in Game 2. That momentum continued as the Dodgers would beat the A's four games to one and Hershiser would get the MVP award, primarily for his Game 2 efforts.
1963 World Series Game 3: Don Drysdale Leads Dodgers over Yankees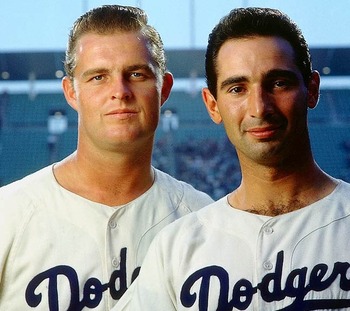 The Dodgers of the sixties were led by pitchers Don Drysdale and Sandy Koufax
In the early 1960s, the Los Angeles Dodgers were one of baseball's dominant teams. They were led by a two-headed starting pitching attack. There was Sandy Koufax, and there was also Don Drysdale.
While Koufax put up the more impressive numbers of the two, that doesn't change the fact that on almost any other baseball team Don Drysdale would be the ace.
In Game 3 of the 1963 World Series, Drysdale showed why. The Yankees entered the series with a better record, but the Series was no contest—it was all Dodgers.
Drysdale would go the distance, clinging to the 1-0 lead he was staked with on an RBI single in the first inning. That was the only run scored on that day. Yankee starter Jim Bouton was lights-out after the first, but the one run was all Drysdale needed. He limited the Yankees to only three hits and one walk. It was vintage Dodger pitching mastery and it would continue as the Dodgers would finish off the Yankees with a Game 4 win and a series sweep.
1995 World Series Game 6: Tom Glavine Secures a Title for the Braves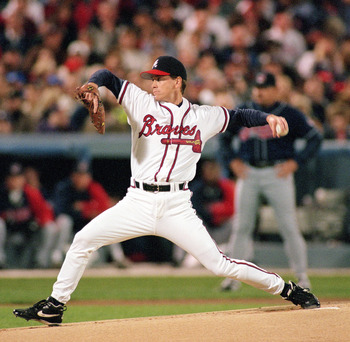 Tom Glavine came through with a dominant performance in game 6 of the 1995 World Series
Otto Greule Jr/Getty Images
Tom Glavine had a very long career filled with more memories than most pitchers could ever hope for. He never threw a no-hitter or a perfect game, but on the night of October 28, 1995, he threw a dominant game on baseball's grandest stage. For his work he got a World Series ring and a World Series MVP Award.
It was Game 6 and the Braves were up 3-2 in the series over the Cleveland Indians. Through eight innings he allowed just one hit. He held the Indians scoreless, which was what his Braves team needed. Atlanta could only come up with one run against a committee of Indians pitchers who were also locked-in on that night. The one run that Atlanta managed to score in the sixth inning on a David Justice solo home run would prove to be enough for Glavine and closer Mark Wohlers, who pitched a 1-2-3 ninth. Glavine's career will eventually land him in Cooperstown, and his performance on this night may have been the best of that Hall Of Fame career.
2003 World Series Game 6: Josh Beckett Goes the Distance in the Bronx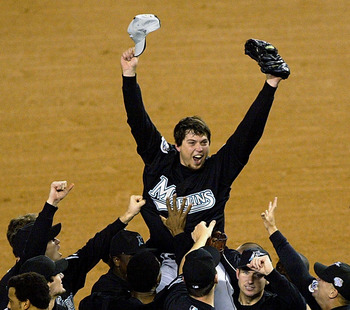 23 year old Josh Beckett is hoisted in celebration by his teammates after shutting out the Yankees to win the 2003 World Series
Jamie Squire/Getty Images
If Derek Holland was two years younger, playing on the road against the greatest franchise in baseball history, with a chance to win the entire World Series, and he had finished the game without turning it over to his bullpen, then he'd be Josh Beckett in 2003.
Those were the circumstances on October 25th when the Marlins took the field in the Bronx. The Marlins entered the game against the Yankees up three games to two. Amazingly enough, there was, in some ways, more pressure on the Marlins. A loss in Game 6 would mean playing a Game 7 on the road in the Bronx against a Yankee team that featured Roger Clemens, Andy Pettitte, Derek Jeter, Bernie Williams and, of course, Mariano Rivera.
Could the Marlins win a Game 7? Sure they could. Would it be well advised to wrap the series up in just six games? Yes.
Enter Josh Beckett.
Beckett was in his second full Major League season. He had yet to become the ace many had pegged him as, but on this night he didn't need to be great for a whole season, he just needed to dominate for nine innings, and he was up to the task.
Facing one of the highest-scoring Yankee lineups in history, Beckett totally shut them down. For a full nine innings he was in control. He started the game by striking out Derek Jeter looking and ended it with a weak ground-out by Jorge Posada. In between, he allowed a total of seven base runners on two walks and five hits. In just 107 pitches, he would go the distance, get the win and grab the World Series MVP Award as well.
Beckett's performance was the stuff of legend and unless you're a Yankee fan, it's one well worth remembering and appreciating.
1968 World Series Game 1: Bob Gibson's 17 Strikeouts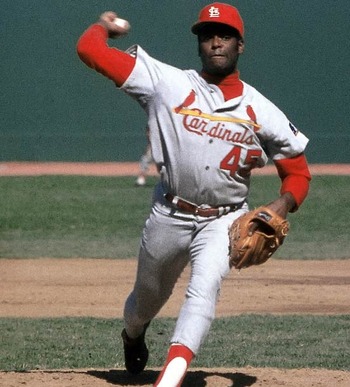 Bob Gibson was one of the most feared pitchers in Baseball History.
1968 was the year that pitching dominated baseball, and no pitcher dominated quite like Bob Gibson. He was so good that season, the numbers are almost hard to believe. His record was 22-9, he threw 13 shutouts and his earned run average was a record setting 1.12.
If anyone expected him to let up in the postseason, Gibson wasted no time in proving them wrong. In Game 1 of the World Series, he had two strikeouts in the first inning and then 15 more, including a strikeout of the side in the ninth to finish off the Tigers. For the game, he set a still-standing single game World Series record with 17 strikeouts. It was one of the most dominant single-game performance in either the regular or the post season by a pitcher.
1965 World Series Game 7: Sandy Koufax Dominates the Twins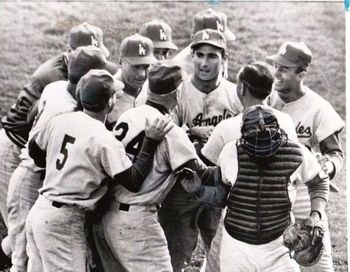 Sandy Koufax is mobbed by teammates after winning game 7 of the 1965 World Series
From 1963 through the end of the 1966 season, no player in all of baseball was as dominant as Sandy Koufax. So it wasn't that big of a surprise when Koufax turned in a classic and dominant performance in the 1965 World Series.
That doesn't make it any less impressive more than 40 later though.
Squaring off against the Minnesota Twins in a winner-take-all Game 7, Koufax was basically the pitcher he had been all season—amazing.
He scattered three hits and three walks over nine innings and had 10 strikeouts. It was vintage Koufax, and that's all you need to know to make it one of baseball's best.
1962 World Series Game 7: Terry Leads Yanks to Title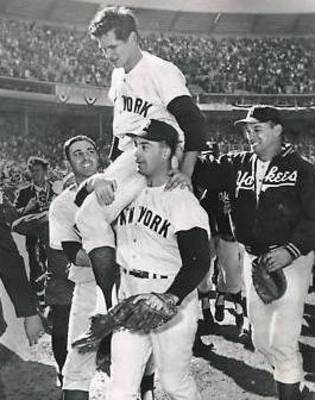 Ralph Terry is hoisted on the backs of Yankee teammates following his 1-0 game 7 victory.
Any shutout in the World Series is impressive. Doing it in Game 7 adds an extra dose of magnitude to the accomplishment, and pitching the shutout in a 1-0 contest makes the feat that much more special.
Ralph Terry did all of those things on October 16, 1962, as the Yankees topped the Giants in a classic seven-game series.
Terry faced off against Jack Sanford in Game 7. Sanford and Terry had engaged in a pitchers battle in Game 2 of the series. In that game Sanford won the battle, shutting out the Yankees in a 2-0 win. In Game 7, Terry would win both the battle and the war. His series-clinching win would of course assure the Yankees of their 20th World Series title. It would also earn Terry Series MVP honors.
1991 World Series Game 7: Jack Morris Goes 10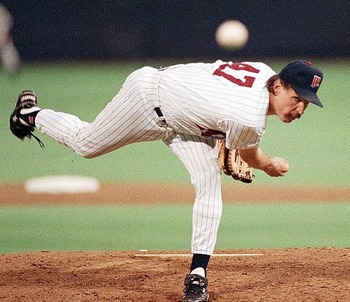 Jack Morris hurls the Twins to a World Series Ring
The full, nine-inning shutout has become a rarity in modern baseball. The full, 10-inning one has always been something special.
For a pitcher to hurl a 10-inning shutout in the regular season is impressive, in the postseason it has added weight. What about in a deciding, winner-take-all scenario such as Game 7 of the World Series?
There's not much room to draw comparisons of Morris' outing on October 27, 1991. Taking into account the performance, as well as the gravity of the circumstance, it's not a stretch to call it the greatest pitching performance in World Series history.
Sure, Morris gave up seven hits and allowed two walks, and, yes, he only struck out eight batters. Those numbers look pretty weak when compared to some of the performances in this slideshow already. Think about the gravity of the situation though. It was Game 7 and the two teams, the Atlanta Braves and the Minnesota Twins, were scoreless through the entire nine innings.
Those that watched Derek Holland pitch his own masterpiece last night probably noticed that Holland worked a bit quicker following the Mike Napoli home run in the sixth. Holland seemed to gain confidence when his lead went from the always tenuous one-run lead to a more comfortable four-run cushion.
On this night in 1991, Jack Morris never threw a pitch while enjoying a lead. Every time he reared back and threw a pitch—all 126 times through 10 nail-biting innings—Morris released the ball knowing that a mistake could result in him losing the lead and consequently the entire World Series. He worked with zero room for error, and he did so with a level of poise that seems almost unmatchable.
In five of the 10 innings Morris had to operate with runners on base. In the eighth inning he induced Braves first baseman Sid Bream to hit into a double play with one out and the bases loaded. Morris operated in this fashion while Braves starter John Smoltz was performing a near perfect imitation for the Braves.
When Morris wiggled out of his bases-loaded and one-out jam in the top of the eighth with a double play, it was only natural that in the bottom of the eighth Smoltz found himself in his own one-out, bases-loaded jam. Up stepped Twins first baseman Kent Hrbek, and Smoltz, in the interest of maintaining his mirror image performance, induced an inning-ending double play as well. It was that kind of night in Minnesota.
Eventually the Twins would break through and score a game-winning, World Series-winning run in the bottom of the 10th. It was a single by pinch hitter Gene Larkin that scored Twins left fielder Dan Gladden as the Twins walked off with the win and Morris waltzed into some of the most hallowed ground of baseball history.
1956 World Series Game 5: Don Larsen Is Perfect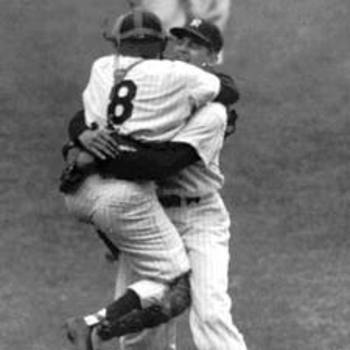 Don Larsen and Yogi Berra embrace in celebration of Larsen's perfection
It's tough to argue with perfection. Is Don Larsen's perfect game the greatest pitching performance in World Series history? It's not as simple of a "yes" answer as one may think.
There's no questioning the brilliance of his performance. There have been only 20 perfect games thrown in big-league history and of course only one—Larsen's—was thrown in the postseason.
While all of that is amazing, there is something to be said for the circumstances under which one throws the game. In Larsen's case it was a pivotal Game 5 win. It wasn't Game 7 though.
It was still a tight game though. Larsen's New York Yankees were facing the Brooklyn Dodgers, and he hurled his perfect game in the midst of his opponent, Sal Maglie, throwing a gem in his own right.
Indeed, it was a scoreless game until the fifth inning, and then the Yanks could only muster one run. The Yanks tacked on an insurance run in the seventh, but Larsen would clearly never need it.
In the end, Larsen's perfect game has to be the greatest of an impressive lot of World Series pitching performances. I'd place Jack Morris' at a very close second though.
Keep Reading

Texas Rangers: Like this team?