New York Giants Report Card: Grading Every Unit's Performance so Far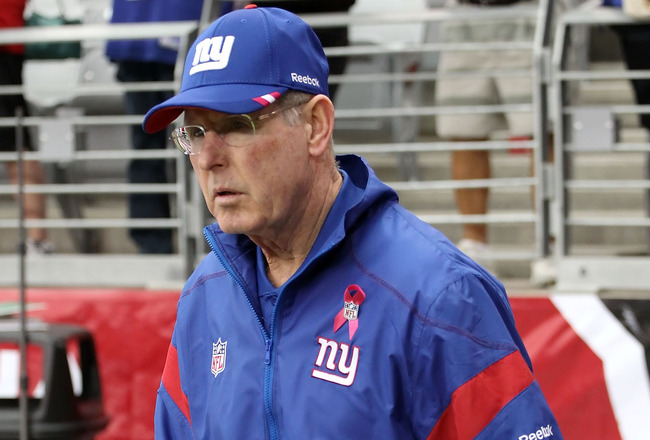 Christian Petersen/Getty Images
The New York Giants entered their bye week at 4-2; they had to be proud of that record but at the same time unfulfilled after a home loss to Seattle prevented them from a 5-1 record.
There have been plenty of surprises so far this season, good and bad, but the collective effort has the Giants in first place in the NFC East.
With a tough schedule looming, let's hope the good continues to be as such, and the bad starts to show improvement.
Here is the Giants report card for each unit this season.
Quarterback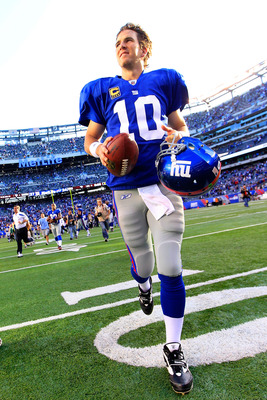 Chris Trotman/Getty Images
Eli Manning has been outstanding thus far and is a huge reason the Giants are winning games. He's playing at a level we haven't seen before and best of all—other than one game—he's protecting the football.
He's averaging 278 yards per game with 11 touchdowns and five interceptions in six games; his QB rating of 101.1 is No. 3 in the NFL right now.
Grade: A
Running Back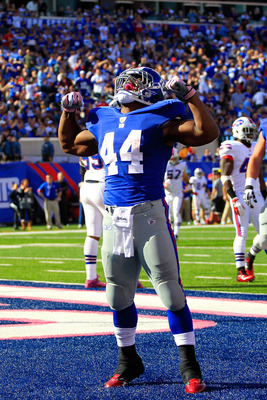 Chris Trotman/Getty Images
The Giants have struggled to get their running game going the way they would have liked to. They've been effective in some games in terms of total yards, but their yards per carry average is terrible.
So far this year, the Giants have averaged 3.3 yards per carry as a team, 3.71 of which is from the three running backs.
Some of it can be attributed to the the ineffectiveness of the offensive line, but the run game in general has to get better.
Grade: B-
Wide Receiver/Tight End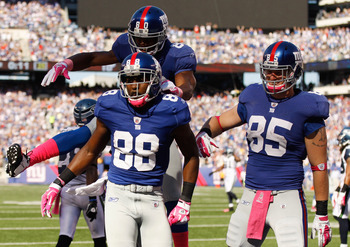 Mike Stobe/Getty Images
The Giants wide receiving group has been marred by injuries again this year, but have been a bright spot so far and better than anyone would have expected.
Both Hakeem Nicks and Victor Cruz are on pace for 1000+ yards, and Mario Manningham seems to be getting back his groove after suffering a concussion.
The best part? The Giants have not missed Kevin Boss in the passing game thanks to Jake Ballard, who's on pace for 45 catches and over 700 yards.
Grade: A-
Offensive Line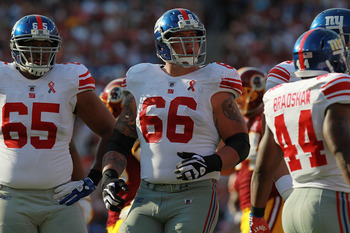 Ronald Martinez/Getty Images
The Giants offensive line has been below average so far this season, which was a concern when they let go of Rich Seubert and Pro Bowl center Shaun O'Hara.
They are 21st in the NFL with 14 sacks allowed, and that 3.3 ypc I mentioned earlier is 31st in the league.
Basically, it's been hit or miss with these guys. A couple games they've looked good, but most of the time it's not been pretty. They have to improve or it will be a nightmare second half of the season.
Grade: C-
Defensive Line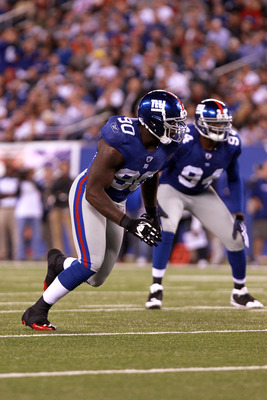 Nick Laham/Getty Images
As good as the defensive line has been rushing the passer—they lead the league in sacks with 21—they've been just as bad against the run.
They are 25th against the run allowing 127.7 yards per game. That kind of number will cause Tom Coughlin to lose some sleep.
It's starts up front and one main reason could be the absence of Justin Tuck, but one player a run defense does not make. It's a collective effort and the front four have to be accountable.
Grade: B
Linebackers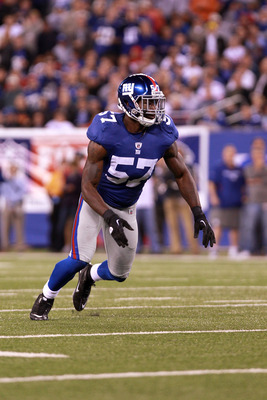 Nick Laham/Getty Images
The young corps of Giants linebackers have been surprisingly good this season, and one player that is coming in to his own is 2011 sixth rounder Jacquian Williams.
He's not the only one either.
Mathias Kiwanuka has played all over the place for Perry Fewell and done a good job wherever he's been placed.
Perhaps the best of the group has been Michael Boley, who's flown mostly under the radar this season but is having an incredible start.
This group is relatively young and they make mistakes here and there, but generally they've been miles ahead of what I expected.
Grade: B+
Defensive Backs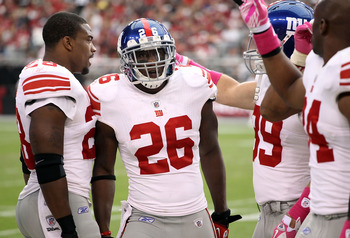 Christian Petersen/Getty Images
The Giants secondary has been one of the more inconsistent units, and not just game-by-game; even within a game they can go from terrible to great on consecutive drives.
Antrel Rolle has been a key factor in the success of the Giants defense, as he's been able to fill the slot corner role after many of the Giants corners went down in the preseason.
He is No. 1 in the team in tackles, has one interception and one forced fumble.
However, if I had to pinpoint one player that makes the secondary either good or bad on any given day, it's been Aaron Ross. When he's played well, the Giants can't be scored on; when he's not having a good day the pass defense clearly suffers.
Though an inconsistent group, the Giants secondary has exceeded expectations considering the amount of losses they sustained prior to the season opener.
Hopefully getting Prince Amukamara back this week or next week, will help them improve even more.
Grade: B
Special Teams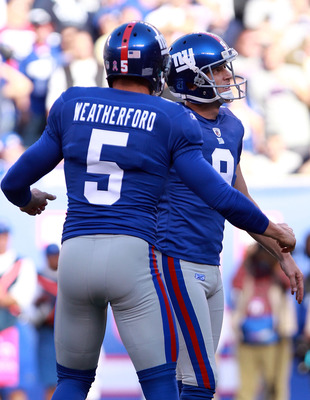 Nick Laham/Getty Images
The Giants' special teams unit has been miles ahead of what they were in 2010. The kickoff and punt coverage units have improve drastically, and Steve Weatherford has been much easier to watch than Matt Dodge.
If there is one aspect that could use improvement it is the field goal unit, which has had two kicks blocked already this season. Tynes is four of six on the year, but he has yet to kick a field goal of more than 30 yards.
That said, it's been nice to watch a unit that isn't costing the team games.
Grade: A
Keep Reading

New York Giants: Like this team?