Carson Palmer: Oakland Raiders' Poor Decision To Sit Palmer Backfires
October 23, 2011
Brian Bahr/Getty Images
Kyle Boller is who we thought he is.
The Oakland Raiders and Carson Palmer decided that the best move to make this week was to sit and watch. No, check that: this was Palmer's decision.
After the Chiefs went three-and-out, Boller's first play was a run up the middle for seven yards. After a short Darren McFadden run, Boller threw a third down pass that was intercepted and returned 56 yards for a touchdown by Kendrick Lewis. The game was barely two minutes old.
Right off the bat he had cost his team seven points, and created this statement: regardless of if Palmer feels he's ready, he has to take the reins with Boller as the backup.
After a three-and-out, Boller threw yet another interception on the third drive of the game, this time to Brandon Flowers. A third interception in the red zone to Brandon Carr and Boller finished 7-of-11 for 61 yards and three picks, with a 14-point deficit.
He looks awful thus far as the cameras continue to provide viewers with shots of Carson Palmer on the sidelines.
The Raiders gave up at least one first-round pick and possibly another in a move that clearly showed they were ready to win now.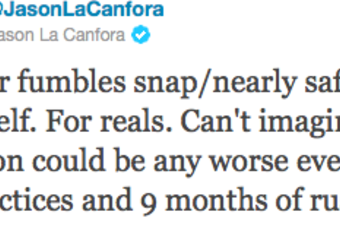 Obviously they didn't have faith in Boller, so what's the point of even giving him a shot?
I'm not saying the three early interceptions wouldn't have happened if Palmer were under center, but it leaves you wondering what could have been.
A home contest against division rival Kansas City, who is still breathing, this is a game the Raiders must win.
Sure, Palmer doesn't know all of the verbiage, but his previous relationship with head coach Hue Jackson should be enough to get him on the field. He has stayed in shape during his time off and has received glowing comments about his condition and the shape he's in.
Why not show early signs of strong leadership by putting it on the line right away, showing the same sort of urgency the team showed in bringing you on board?
Let him start the second half and maybe he can salvage this pitiful performance by the Boller in the first half.
If Boller goes back in, this game is all but over.