NFL Week 7: Highlights from Sunday's Early Round of Games
Malcom Floyd, Chargers
Chris Trotman/Getty Images
There were too many games with too little scoring in the first half of Sunday's morning games.
Three games went to the half without a touchdown being scored.
While that's true enough, that doesn't mean there weren't some plays and players worth watching.
Here's a sampling of what we consider some of the best of the early going.
DJ Williams Strip-Sacks Matt Moore
The Dolphins and Matt Moore did what they do best today against the Denver Broncos: They lost.
They lead 15-0 at one point in the game, but a late Tim Tebow two-point conversion tied it up and forced overtime.
The Broncos would later win the game after Broncos LB D.J. Williams forced a fumble from Moore, who coughed up the football and set up the game-winning FG from Matt Prater.
Tony Gonzalez Now No. 2 in Career Receptions
Only Jerry Rice has caught more passes than Falcons' tight end after his 1,103rd career catch.
It came in the second quarter against Detroit and moved him past Marvin Harrison for the second-most catches in NFL history.
Megatron Keeps Pouring It on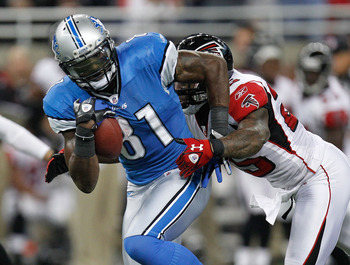 Gregory Shamus/Getty Images
There are many dangerous offensive players in the NFL, but it's hard to say any of them are better than Calvin Johnson of the Detroit Lions.
The 57-yard touchdown catch he snagged in today's game was his 10th of the season and his 39th since the start of the 2008 season.
At 6-foot-5, 240 pounds, he just seems to overwhelm defensive backs. And he has great hands.
Cam Newton Makes History
Today, Cam Newton tied the single-season record for rushing touchdowns by a quarterback.
And we're not even midway through the season yet.
He broke the record with this 16-yard touchdown run against the Redskins.
Matt Prater Drills Game-Winning Field Goal in Overtime
The Broncos trailed the Dolphins 15-0 in Sunday's game.
But that didn't stop them from tying the game late and winning in overtime, 18-15. There is no lead Miami isn't capable of blowing.
Denver K Matt Prater missed two field goals earlier in the game, but he didn't miss this 52-yard game-winner.
Malcom Floyd in the Middle of Jets' Defense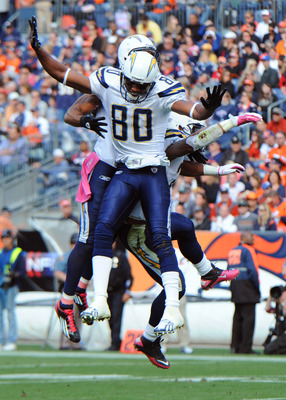 Bart Young/Getty Images
Chargers' wide receiver Malcom Floyd must have been channeling his inner Lynn Swann today.
On a 3rd-and-1 play, San Diego quarterback Philip Rivers went to Floyd, whose ballet leap over defender Antonio Cromartie of the Jets produced a one-handed catch of highlight film quality.
The play went for 28 yards and ranks with the best of this season by anybody.
Neil Rackers Puts a Bone-Crushing Hit on Mark Mariani
The last player on an NFL roster expected to mix it up is the placekicker.
Don't tell that to Houston kicker Neil Rackers.
He completely crushed Tennessee's kick returner Mark Mariani in the third quarter of Sunday's game with a bone-jarring hit.
Brent McCain's Pick-Six Helps Seal Win for Texans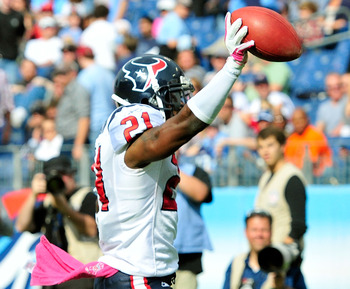 Grant Halverson/Getty Images
CB Brent McCain picked off Tennessee's Matt Hasselbeck and scored from 38 yards out, which has to be the definition of the kind of everything's-going-their-way day the Houston Texans are enjoying.
It was the first interception returned for a touchdown for the Texans since doing it against the Seahawks in 2009.
McCain ran that one back, too. And Hasselbeck was quarterbacking in the game.
Foster Catching on for Texans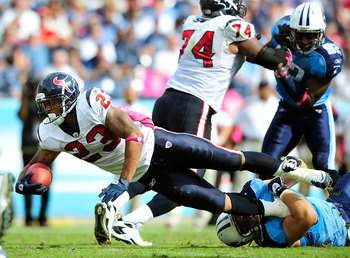 Grant Halverson/Getty Images
Texans' running back Arian Foster is best known for carrying the ball, but he's got some game as a receiver, too.
In the second quarter Sunday he got free in the open field for a pass from Matt Schaub and put together a dazzling run than went for 78 yards, a seriously spectacular performance.
The Texans never looked back after this big play and proceeded to blow out the Titans, 41-7.
Tim Tebow Has a Little Houdini in His Legs
Debate about the quality of Tim Tebow's arm is going to be an ongoing thing, but no one can doubt his legs.
On a 2nd-and-20 play from deep in the Broncos' territory, the quarterback was almost trapped near his own end zone, but he managed to squirm free for a 21-yard gain and a first down.
And on the most important play of the game, Tebow did what he does best on a two-point conversion attempt: He ran the QB option up the middle and tied the game.
Redskins Track Down Cam Newton
The Redskins have utilized one particular strategy in order to attempt to shut down Panthers' rookie quarterback Cam Newton.
They're hitting him, hard.
On this particular play early in the game, Newton scrambled and attempted to run for a touchdown. But LB London Fletcher upended Newton in mid-air just short of the goal line and the Panthers were forced to settle for a field goal.
Lions Continue to Find Ways To Lose Games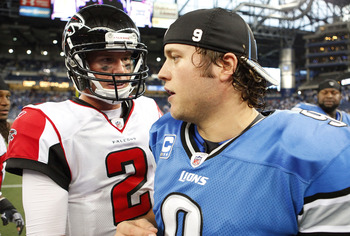 Leon Halip/Getty Images
Detroit's defense sees entirely too capable of making the kinds of mistakes that will keep the Lions from becoming a top-flight team.
This roughing the passer call against defensive end Kyle Vanden Bosch is not the first such miscue of the season for Detroit, one reason the Lions trailed the Falcons at the half.
The Lions had plenty of chances to win each of their last two games late. Yet they dropped both, and we may be referencing these games late in the season if the team should collapse.
Keep Reading