St. Louis Rams vs. Dallas Cowboys: 3 Rams That Will Have a Big Game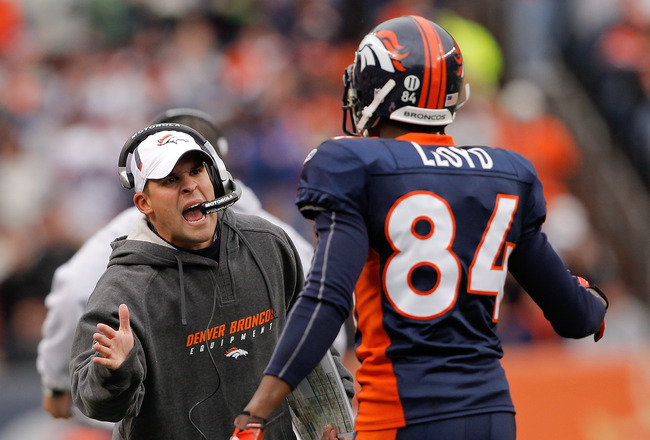 Brandon Lloyd + Josh McDaniels = Points.
Justin Edmonds/Getty Images
The St. Louis Rams will travel to Dallas this weekend to take on the Dallas Cowboys. Most folks think the Rams chances of pulling off the upset are somewhere between slim and none, but the Rams are more talented than their record indicates.
This weekend, that talent needs to step up.
I think these three players will step up and have a big game this weekend for the Rams. Will it all add up to a Rams win? Time will tell, but if these three players step up, the Rams will at least have a fighting chance.
Lance Kendricks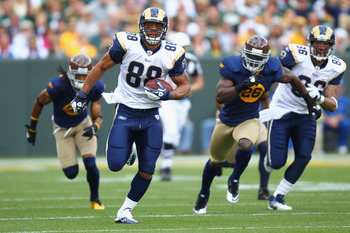 Lance Kendricks is going to break out, it's just a matter of when.
Dilip Vishwanat/Getty Images
Lance Kendricks is the X-Factor for the success of the St. Louis Rams offense. He is talented, athletic, and dynamic and he could change the complexion of the Rams offense all by himself. Kendricks has been plagued by drops, inconsistent play, and has been a huge disappointment so far this season.
When you stop to consider that Kendricks, like every other NFL rookie, missed all the OTAs, all the rookie mini-camps, and all that extra time in the playbook, this should not come as a surprise. By some estimates, NFL rookies missed over 1,000 extra snaps because of the lockout.
But Kendricks is catching up. He only had one catch in each of his first two games against the Giants and Eagles. Then he had two catches against the Ravens, and then four catches against the Redskins. He was picking up steam.
Last week against the Packers, Kendricks had four catches for 78 yards. On the season he is averaging over 14 yards per catch. He is a dynamic player that just hasn't found the end zone yet, but he is getting better every week.
I'm calling it right now: Lance Kendricks will get on the board this weekend and score his first NFL touchdown and he will catch at least six passes. When defenses have to start accounting for a dynamic tight end (Antonio Gates, Jermichael Finley, etc), it changes the entire defensive game plan, making life easier for the rest of the offensive players.
Lance Kendricks is that guy for the Rams.
Steven Jackson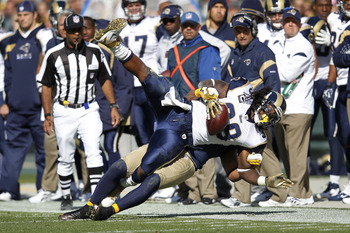 Steven Jackson here with the catch of the year.
Joe Robbins/Getty Images
The Dallas Cowboys are only allowing 307 yards per game (5th in the NFL). They allow 69.6 yards per game rushing (1st in the NFL), giving up a paltry 3.3 yards per carry.
What I'm trying to say is, the Cowboys are hard to run on.
The St. Louis Rams average 97.6 rushing yards per game (23rd in the NFL), mustering an average of 4.4 yards per carry. Of course, Steven Jackson missed most of the first three games, so that average would be a lot higher with Jackson healthy and running hard. On the season, Jackson is averaging a robust 5.4 yards per carry.
Sunday in Dallas, something has to give.
I don't think Jackson is going to go crazy and run the ball 25 times for 160 yards like he did against the Cowboys back in 2008 when the Rams upset Dallas. It's possible, but I don't think that kind of lightning is going to strike twice.
I think Jackson will hurt the Cowboys catching the football.
Jackson had 90 catches in a season as a younger player. He has great hands, but hasn't been properly used as a receiver in years. Last weekend, you saw Jackson make an amazing catch down the sideline. If the Rams are smart, they will use Jackson as a receiver, and this will keep the Cowboys' blitzing linebackers in check.
If Jackson has a couple of big gains on a screen pass, a little flare out of the backfield, and then averages around four yards per carry on 21 carries...
Add it all up, and I think Jackson is going to have over 150 total yards and at least one touchdown.
Brandon Lloyd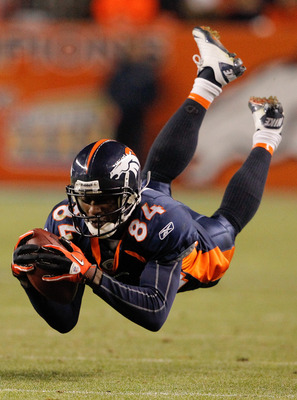 This is what Lloyd can do for the Rams.
Justin Edmonds/Getty Images
Brandon Lloyd was arguably the best downfield wide receiver in the NFL in 2010. He can get open, he has great hands, and he makes big plays.
Basically, he can do all the things the Rams' receivers haven't done so far this season.
If Kendricks gets hot and the Rams start using Steven Jackson as an all purpose threat, those safeties and linebackers are going to stay "occupied." That is going to create some one-on-one opportunities for the receivers, if they can just get open!
I think Brandon Lloyd can get open, and I think whether Bradford or backup A.J. Feeley is in the game this weekend that Lloyd is going to make a couple of big plays.
It would not surprise me if Lloyd had a 100 yard receiving game in his first week with the Rams, and at least one touchdown to go along with it.
Keep Reading

St. Louis Rams: Like this team?