Packers vs. Vikings: Mike McCarthy to Break Vince Lombardi Record?
October 21, 2011
Doug Pensinger/Getty Images
Being a Green Bay Packer fan means that the color combination of burnt orange and navy blue invokes an automatic response of competitive dislike.
Purple and gold were never much better. As of August 2009, that distaste went through the roof. We all know why. To this day Packer backers can still see the creative T-shirts being worn around Lambeau shouting out "Brett who?" and "We won't forget you Brent!"
The day the one-team quarterback moved on in an almost adulterous fashion to the Jets and then to the Minnesota Vikings revitalized this division rivalry like nothing else.
But all that is now the past. This Sunday, this is now, and this is the 100th regular-season showdown between the teams. How commemorative and appropriate.
Bringing a different past into the present though, for the Packers this win means the making of the longest franchise winning streak. Will unlucky 13 be the golden number this time? Or will it break it again like it did under Vince Lombardi in 1962 to the Detroit Lions?
When you hear Lombardi, you know the greatness that is behind the name. Mike McCarthy has now brought the modern era into another type of greatness. How far that is recognized will be affected by Sunday night's game.
Not only is this the longest winning streak, but this is the first 6-0 new-season streak for Green Bay since 1965, so don't expect them to give it up easy.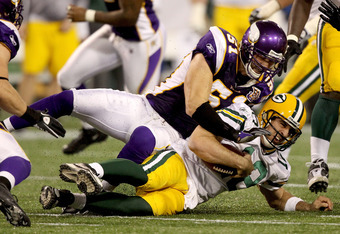 Matthew Stockman/Getty Images
Despite the fierce determination that we know this team has, there are always risks. The Minnesota Vikings want to close out this streak to compensate for one that they opened at Lambeau. Ever since the Vikings were taken down last year in Week 7, Green Bay has not lost at home. This game is being played out on Viking territory though, not on familiar ground.
All around, Green Bay has taken the majority, at 51-47-1. A simple bump up to 52 and Green Bay Packer coach Mike McCarthy has a record for all time which surpasses the wins of the Lombardi era.
For the players, this streak means involvement in the history books. Even more so, it means carving in stone the name of the coach who has brought them this far.
We have no clue what the history books will be saying about this game yet. No matter what though, I wouldn't want to miss it for anything if I were you.