Fantasy Football: Starting Tim Tebow and Moves to Improve Your Odds of Winning
October 21, 2011
Bart Young/Getty Images
We haven't hit the tipping point of the fantasy football season yet, but we are at the mid-point. By now you should have a fairly clear idea of how good your team actually is. Look at your total points scored and your week-to-week consistency, not your win/loss record. So by now you should know which of your players you are comfortable starting, and which players you'd rather keep on your bench.
If you've got a lineup of starters you feel comfortable with, congratulations. You've got a nice team. Go ahead and skip down to the players portion of this article. If you're like most of us, you've got a few decent starters but also a couple of questionable positions. Every week you try to patch those holes the best you can with various players. But doesn't it always seem like you choose the wrong guy?
When I have to make these decisions, I first look at my team and my opponent's team. I will do my best unbiased projection for each team and see where I stand. If it looks close or like I will dominate, I'm going to lean towards low-level "safe" players who are very likely to get between 4-7 points most weeks. If I feel like my team is a significant underdog, I'm swinging for the fences. I will start the "boom or bust" players with the highest upside.
Here's how this strategy applies to your kicker and DST.
DST
"Safe" Move
Start a decent defense that looks to be involved in a low-scoring game.
"Boom or Bust" Move
Start a defense with an excellent return game that can force turnovers or get sacks, even if it looks like the game could be a shootout. More passing = more defensive opportunities.
KICKER
"Safe" Move
Start a kicker on team that has a decent offense and should be playing in fair weather. You should at least get some extra points and maybe even a FG or two.
"Boom or Bust" Move
Start a kicker on a mediocre team in a game that is played in fair weather. You might be starting a kicker on a team that is a heavy NFL underdog. That's okay. You might get zero from your kicker. Or you might get 5 FGs.
Simple enough, right? It should be. Your kicker and DST are important and can be the difference between victory and defeat. But it's very difficult to predict. Make a decision and move on, don't agonize over what kicker to pick for an hour.
Since we're starting with QBs, let's just cut right to the chase. Tim Tebow. DISCLAIMER: I'm not a Tebow fan, a Florida fan or a Broncos fan. I don't believe that Tebow will be an effective NFL QB. But that doesn't mean that he can't be an effective FANTASY QB.
So here is the list of QBs I would start OVER Tebow. If the name is not on the list, that means I'm starting Tebow.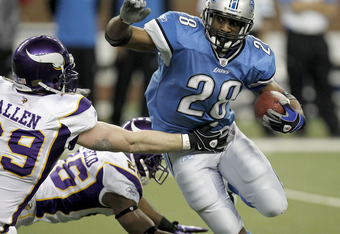 Gregory Shamus/Getty Images
Aaron Rodgers
Drew Brees
Tony Romo
Cam Newton
Matthew Stafford
Philip Rivers
That's it. And Rivers only makes the list because he's coming off of a bye and should have his entire complement of offensive weapons back finally. How about a few other QBs I like this week who are not every-week starters:
OTHER QBs I LIKE THIS WEEK
Joe Flacco (@ JAX)
Jay Cuter (vs. TB in London)
John Beck (@ CAR)
Beck is your guy in deep leagues where you have no other option. He'll get a game or two "Honeymoon Period" under Shanahan. Remember how Grossman started? When a team gets three games worth of film on a QB, they can begin to plan for him. Beck is an unknown quantity.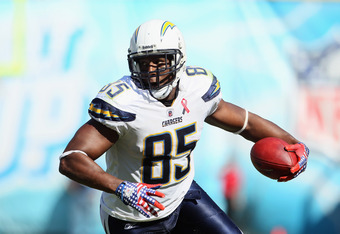 Jeff Gross/Getty Images
In a week with many good fantasy RBs on a bye, it's slim pickings out there. Let's breakdown some of the most confusing RB situations real quick:
SAINTS (vs. IND) - Mark Ingram & Pierre Thomas
Start Ingram in standard leagues and Thomas in PPR leagues.
PACKERS (@ MIN) - James Starks & Ryan Grant
Starks is worth starting as a flex play in most leagues
REDSKINS (@ CAR) - Ryan Torain, Tim Hightower, Roy Helu
It looks like Hightower is healthy, but avoid this situation if possible. If you must, start Torain in standard leagues and Hightower in PPR leagues.
JETS (vs. SD) - Shonn Greene & LaDainian Tomlinson
Jets are going to give LT the start vs. his old team. Look for Rex Ryan to try to get Tomlinson a TD. Start Greene in standard leagues, but I would start Tomlinson over him in PPR leagues this week.
COWBOYS (vs. STL) - DeMarco Murray & Tashard Choice
The Rams are terrible so there should be plenty of work to go around here. I would start Murray in standard leagues and Choice in PPR leagues. Both are flex-worthy.
PANTHERS (vs. WAS) - DeAngelo Williams & Jonathan Stewart
This is a situation to avoid, but I would start Stewart over Williams in all formats.
THE BEST OF THE REST
Avoid the Colts RBs this week.
Maurice Morris (DET) is a good flex start in PPR leagues this week.
Jackie Battle (KC) is a flex play in standard leagues.
Avoid Montario Hardesty (CLE) even if he starts.
Thankfully, the WR picture is somewhat more clear than the RB picture. There's only a couple of teams where you would really have to make a difficult decision.
SAINTS (vs. IND) - Lance Moore, Robert Meachem, Devery Henderson
That's the order I would rank them, but I'm not starting any of them if I can avoid it.
COLTS (@ NO) - Pierre Garcon & Reggie Wayne
Garcon is a starter in most leagues with Painter at QB. Wayne is just a WR3, even in PPR leagues.
TEXANS (@ TEN) - Jacoby Jones & Kevin Walter
Jones is more talented than Walter and is targeted more. I prefer Jones in all formats.
STEELERS (@ ARI) - Hines Ward, Antonio Brown & Emmanuel Sanders
Ward is the play in PPR leagues. Brown has seen reduced targets recently, but is still a "Boom or Bust" option.
SEAHAWKS (@ CLE) - Sidney Rice & Doug Baldwin
If Charlie Whitehurst starts at QB, I would roll with Baldwin. We often seen No. 2 QBs have a connection with 2nd-string WRs they practice with every week. Baldwin is that guy. He's a decent WR3 flier.
THE BEST OF THE REST
Eric Decker (DEN) - Can't do it this week. Need to see Tebow for a week.
James Jones (GB) - Run him out there in deep standard leagues.
Steve Breaston (KC) - Creeper WR3 value this week and maybe going forward.
Greg Little (CLE) - I would start him as a WR2 in PPR leagues this week.
Raiders WRs - Not going there this week, no matter who starts at QB.
Mike Williams (TB) - I'll give him one more week. Then it's banishment to my bench.
Good thing TE is even easier. The position has been well defined and you shouldn't have many difficult choices this week.
WEEK 7 TE OPTIONS
Fred Davis (WAS) is an every-week starter, even with Beck at QB. Could even help him.
Kellen Winslow (TB) Not sure if he will ever score a TD again (just slight sarcasm)
Dallas Clark (IND) Expect Clark to be busy blocking this week. You can do better.
Jared Cook (TEN) Your "Boom or Bust" option at TE. Massive big-play potential.
Rob Housler (ARI) Your very deep league TE option. If Heap sits, Housler is worth a look.
Antonio Gates (SD) If he plays, you're playing him unless you own Jimmy Graham & Gates.
Done and done. I just lay out the options, it's your job to make the decisions. That's why you're the team OWNER. Look at all the crap Jerry Jones gets away with. Make some bold moves, talk some trash, and in honor of Al Davis, "Just win baby".
If you have anything to add or any question please use the comments feature. If you have a fantasy question, please be as specific as possible. Thanks for reading and good luck this week.
You can also follow me on Twitter