Jets' Coach Rex Ryan Reveals His Take on Turner
October 21, 2011
Donald Miralle/Getty Images
Rex Ryan, the excitable, impulsive head coach of the New York Jets has, once again, provided excellent bulletin board material for an upcoming opponent to use as added incentive, just prior to a critical AFC matchup.
Regardless of any attempts to backtrack on the comments that imply the Chargers have under-performed under coach Norv Turner's leadership, Ryan left little doubt about his true feelings on the subject, during a recent conference call with local media representatives earlier this week.
According to the Associated Press, when asked about his thoughts on what might have happened had been it him, not Turner, who had taken over as the Chargers' head coach in 2007, Ryan responded confidently with "...I would have had a couple of rings. I'm telling you, those teams were loaded."
By it's very nature, an NFL head coaching position lends itself to more than its fair share of criticism, much of which may or may not be warranted. Still, Turner's relative lack of success with what has been widely considered as being one of, if not the most talented rosters in the league for the past several years has led to accusations by many that the Chargers have underachieved under Turner.
This, in turn, has prompted criticism of Chargers management for deciding to extend Turner's contract following the end of last year, a season in which San Diego missed the playoffs for the first time since 2005.
Considering the Chargers have been developing Pro Bowl-caliber players at an average rate of roughly two per year since 2004, it's difficult to argue with the critics who blame Turner for San Diego's inability to live up to the hype its talent base has generated in recent years.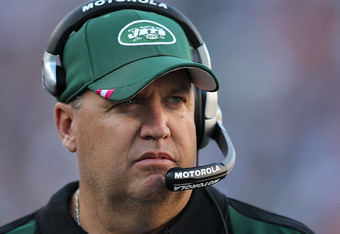 Jim Rogash/Getty Images
Ryan's often candid approach to dealing with the press has made him an NFL media darling and earned him a reputation for wearing his emotions on his sleeve. His pension for thinking before he speaks, blurting out what seem like unfiltered, random thoughts, has provided the media with a bounty of highly entertaining snippets, quotes and sound bites over the years. At the very least he's provided the league with a refreshing departure from the usual canned, predictably dry and entirely filtered "coach speak" NFL fans have become accustomed to.
Despite any attempts at backpedaling, though, we can be fairly certain about Ryan's honest opinion on a couple of things. For starters, it's fairly safe to assume Ryan thinks he could have coached the Chargers to at least two Super Bowls, implying Turner had failed to deliver in some significant aspect. Secondly, his comments strongly suggest that he coveted the Chargers roster, considering it superior to that of the Jets during that time.
Considering how badly Turner was out coached by Ryan during their most recent meeting—in the 2009-2010 NFL playoffs—he might just have a point.
Ryan used a very talented Jets defensive backfield to essentially nullify what was, by all accounts, a prolific San Diego passing attack. The strategy was quite simple, really. Take away the pass and force the Chargers to run the football in order to win. Ryan hoped to take advantage of the vulnerability the Chargers rushing attack represented at the time and the plan worked to perfection.
Turner's offense had no answer for the Jets defense, which held San Diego, ranked second in both scoring and passing as well as second in total offense, to a season-low 14 points.
In response to Ryan's recent comments, Turner attempted to fuel the fire by making a reference to Ryan's repeated failure to deliver on his Super Bowl guarantees. He may have well said "I know you are but what am I."
After going 11-5 and advancing to the AFC championship in his first season, what Turner has accomplished in the last three seasons since, with what Ryan and many others consider a "loaded" roster, is a single playoff victory.
And while there may still be some small amount of room for argument as to whether or not Norv Turner has what it takes to bring home a championship, there seems to be little debate surrounding whether or not he's had the horses to do it with.