Seattle Seahawks Can't Win for Trying This Week with the Oddsmakers and Experts
October 22, 2011
Rich Schultz/Getty Images
The Seattle Seahawks, coming off the bye week with a record of 2-3, head to Cleveland to face the 2-3 Browns as three point underdogs according to the oddsmakers. 
While the Hawks are hardly world beaters this year, and will likely be starting Charlie Whitehurst in relief of Tarvaris Jackson (who is still nursing an injury according to Danny O'Neil at the Seattle Times), the Browns have been able to only cobble wins against the Peyton-less Indianapolis Colts and lowly Miami Dolphins. This week they are also missing key players in cornerback Joe Haden and running back Peyton Hillis. 
One could imagine, with both teams sporting identical records and injuries/questions at key positions, the odds slightly favored the Browns being at home. 
Fair enough.  
What seems a tad unfair are the thoughts and theories of some of the experts...
Columnist Peter King of Sports Illustrated usually makes for a good read and rarely pulls punches when writing about the NFL, but this week for his Week 7 picks he really goes out of his way to dig at the Seahawks. 
In making the Browns his pick over the Seahawks this week by a score of 26-23 (that coincidentally covers the spread), he offers the following synopsis:
"Scientists and mathematicians at MIT have teamed up over the last 10 days to investigate thoroughly the Seahawks' scoring of 36 points at the Giants in their last game. After studying cosines and tangents of the plays in the game and blood samples of the players and hiring Greg Cosell to explain what the film shows (and to explain who Doug Baldwin is), esteemed scientist Zorn Largent concluded: 'I would have found water freezing at 76 degrees Fahrenheit more plausible.'"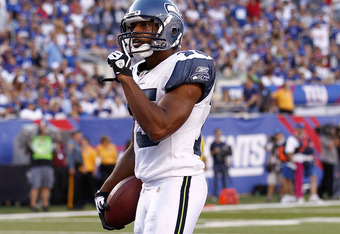 Jeff Zelevansky/Getty Images
Ouch.  The Hawks can't even win without getting insulted.  Meanwhile they probably could have scored even more than the 36 points they tallied against the Giants if not for a few mistakes. 
Meanwhile, is it too much to ask for some insight on this week's game?
Maybe he has no definitive rationale to choose either the Hawks or Browns, but usually he admits as much instead of being overly cute.  
Speaking of rationale, Mike Golic on ESPN Radio for his "Stone Cold Lead Pipe Locks" this week offered the following gem to pick the Browns, "I like Cleveland at home.  The weather is starting to change a little bit. This is Browns weather, the Browns get the win by more than three."
Is there a blizzard only Mike is aware of forecast for Sunday?  Otherwise "Browns Weather", according to the Weather Channel at 64 degrees and mostly sunny, shouldn't provide too much of an advantage for the home team.
Perhaps the Madden NFL '12 EA Sports Simulator on ESPN could offer a logically coherent prediction? 
Once again, the Browns are given the nod, but it seems there is a small problem here in predicting a 13-10 final score...
BOX SCORE
|   | 1st | 2nd | 3rd | 4th | Final |
| --- | --- | --- | --- | --- | --- |
| Seattle | 0 | 7 | 0 | 3 | 10 |
| Cleveland | 3 | 3 | 0 | 7 | 21 |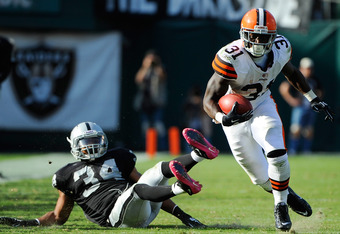 Thearon W. Henderson/Getty Images
"Down 10-6 in the fourth quarter, the Browns handed the ball off to second year back Montario Hardesty, then watched as he sidestepped defenders and spun his way to a game-winning, 28-yard touchdown. Great finish!"
Great finish!??  How about double checking your work? 
How much credence can be put into a computer simulation that can't add correctly?
Finally, and yet oddly enough, one of the few people in favor of picking the Hawks to upset the Browns this weekend, Bill Simmons at Grantland also can't help but take a veiled shot in his writeup: 

"Walk through this one with me. The Browns lucked out with their first five weeks: Andy Dalton's first Cincy start, the Manning-less Colts, the free-falling Dolphins, a decent Titans team, then Kyle Boller's falling into their laps in Oakland … and somehow they're 2-3. Not a good sign. Also not good: The offense is averaging 3.3 yards per run and 5.5 yards per pass attempt, which basically says, "We need to execute a series of long, boring drives to win football games while getting no big plays whatsoever." Meanwhile, the Seahawks played a much better slew of teams (Niners, Steelers, Cardinals, Falcons and Giants) and found an identity in those past three games. What's that identity? Rock-solid mediocrity. But still. My not-really-an-upset special, Part 2: Seahawks 20, Browns 10."
You get the feeling that this game is of low priority compared to other matchups around the league, yet it is critical to both teams that are at a crossroads with 2-3 records and in search of finding their identity, for this season and beyond, as they rebuild. 
The "Rock-solid mediocre" Hawks really can't win for trying this week with the odds-makers and experts, but with the exception of Simmons, no one can be bothered to offer very much in terms of rationale. 
Here's hoping the Hawks can not only beat the Browns, but also help the experts get a clue in forming their opinions over the coming weeks.