Oakland Raiders: Sports Writers Fail to Recognize NFL Leaders Like Amy Trask
October 20, 2011
David Paul Morris/Getty Images
As the only female who was GM of an NFL team, the Philadelphia Eagles, I was on the receiving end of the bias the sports media shows when a woman has the power to influence important football decisions. They referred to me as "the wicked witch of the Vet."  Now it is Amy's turn to see whether the sports writers mock her actions or continue to ignore her.
Amy Trask has been with the Oakland Raiders organization for 24 years and has been the team's CEO for the last 14 years. Spending more than two decades working for Al Davis should earn Amy a free pass to the "good old boys club"—so why is the media so reluctant to acknowledge her talent, skills and position?
This is one more example of how male sports writers tend to downplay the key leadership role of a woman when she works for a professional sports team.
Amy did not grow up in a football family but became a Raiders' fan during her college days and interned for the Raiders while she was in graduate school. In 1987, a few years out of law school, she joined the Raiders' legal staff and never left.  How better to get noticed than by working on the numerous law suits that characterized Al Davis and the Raiders after they moved the franchise to Los Angeles?
Several recent events illustrate Amy's strong command of business issues and reveal the influence she has in the Raiders' organization.
During the lockout Amy brought the entire staff together to discuss how management could continue to pay salaries to employees—including the coaching staff. Instead of reducing salaries or terminating staff, everyone was given a challenge to avoid pay cuts—the goal was to sell season tickets during the lockout that would be at least equal to 10 percent of their salaries during the lockout.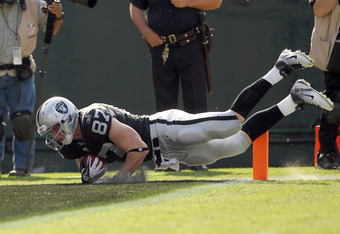 Ezra Shaw/Getty Images
This novel idea accomplished two things—it allowed the team to keep paying salaries and increased revenues by adding to the number of season ticket holders.
Earlier this week, the Raiders' head coach, when asked by the press about the trade for Carson Palmer, confirmed Amy's role in the signing. "Jackson said Davis' son, Mark Davis, and team CEO Amy Trask were principle in the negotiations."  See also
Amy eats, sleeps, and dreams Raider football and is an indispensable CEO. Her leadership will be a key element during the transition period and her years with Al Davis have shown that she has the kind of staying power to play in this league.
It's about time the sports media takes off its blinders and gives credit where credit is long overdue.