Ronnie Brown Trade Dead: Mayhew Still Distances Himself from "The Mustache"
October 19, 2011
Gregory Shamus/Getty Images
In the wake of a disappointing home loss and another Jahvid Best concussion, the NFL trade deadline has brought Detroit a welcomed dose of good tidings.
Prior to the witching hour of 4 p.m., Martin Mayhew and the Detroit Lions plucked Ronnie Brown off the Eagles' roster for Jerome Harrison and a seventh-round pick.
On the surface, it was nothing more than a ripple, given the blockbuster trade between the Raiders and Bengals.  
Carson Palmer was given a gift. There was not a better landing spot for him than getting back together with Hue Jackson and that running game.
Apparently Mark Davis is the Ghost Whisperer, because only Al Davis could drop a first- and second-round pick for a 32-year-old QB. Didn't they just give away a third-round pick for Terrelle Pryor?
Back in the Midwest, Martin Mayhew shrewdly swooped in and got a former second overall pick and Pro Bowler for the equivalent cost of Tim Toone. How's that for extreme couponing?
OK, so they had to give up Jerome Harrison also. What was he doing for this team? He was a poor man's version of Best. This was like a deer hunter swapping a new paint gun for a used shot gun. The paint gun may have a higher overall value, but not to the man with his sights set on a huge rack (sometimes sophomoric humor is necessary).
Better yet, Brown has a history with Lions offensive coordinator Scott Linehan and his system.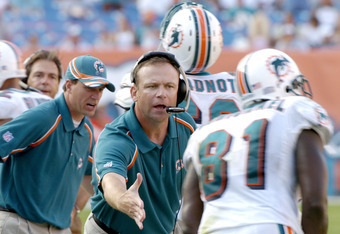 A. Messerschmidt/Getty Images
Linehan was the OC for the Miami Dolphins in 2005, Brown's rookie year. That year Brown averaged 4.4 ypc and had 904 yards rushing and 232 yards receiving.
Not bad numbers, but even better considering he was sharing the backfield with recently reinstated tailback Mary Jane….I mean Ricky Williams.
Brown knows Linehan's system, is a perfect insurance policy for Best's burgeoning concussion problem and is now given the opportunity that all perceived "washed up" professional athletes desire: a second chance.
Brown was never going to get the touches with LeSean McCoy ahead of him in Philly.  The "dream team" roster was a perfect opportunity to grab some usable depth at RB for minimal cost.
It was like buying Halloween candy on November 1. Really, does it matter what the wrapper looks like on a Snickers if it's still Snickers inside?
What I'm really taking away from the trade is this: "The Mustache" would have never pulled something like this off. A few years ago, the front office was in cruise control during the season, at least at the top, and using a dartboard as spring sprung. 
Now I feel confident that every stone is being turned and the quest for personnel upgrades are never ending and the mantra of the scouting staff in Allen Park. 
Mayhew is putting in a full day's work and not concerned with varnishing Queen Anne dining chairs; a far cry from the way things were.
Update:  Trade fell through b/c Harrison had health issues.  This does not change the fact that Mayhew was continuing to try and upgrade the talent on this team.  Can't blame the Lions for trying to get rid of damaged goods.