NFL Coaches on the Hot Seat, Week 7 Edition
Nick Laham/Getty Images
The 2011 NFL season has featured more head coaches on the hot seat than in recent years. We've figured out there are more pretenders than contenders holding clipboards on the sideline.
However, some coaches that were previously in hot water have cooled off slightly after big wins, namely Andy Reid.
Week 7 features a few teams coming off bye weeks with head coaches that are looking to save their jobs and boost their stock. Will the extra preparation be a benefit or yet another deterrence?
The teams' performances on the field this weekend will answer that question, and we will all be watching.
We're now seeing a trend in coaching staff failures: The majority of them are young, former players that organizations took a big chance on. But many of the moves have backfired.
It's time to hold them accountable.
We're going to highlight each of the 10 coaches that are currently on the hot seat, assigning a rating to assess their performances thus far in 2011.
Jack Del Rio (Jacksonville Jaguars)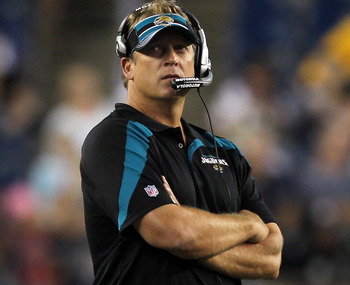 Jim Rogash/Getty Images
Dead man walking!
Jack Del Rio's hot seat is blazing, and he could be fired any time in the coming weeks. His players don't even believe in his ability to win anymore, as RB Maurice Jones-Drew recently questioned the head coach's strategy.
And we can't forgot how he treated QB David Garrard, which was a complete embarrassment. Del Rio and the Jaguars organization should have made that decision before the season began and received draft picks for their former quarterback.
Del Rio is a good defensive coach, but he lacks the total package to manage all three units of a football team. Maybe that's why the Jaguars' offense over his tenure has been anemic.
Former linebackers tend to fail as head coaches, just look at Mike Singletary's recent tenure with the 49ers. Del Rio will be the next one to bite the dust, and I think it will come during the team's bye in Week 9.
Hot seat score (10): SCORCHING
Tony Sparano (Miami Dolphins)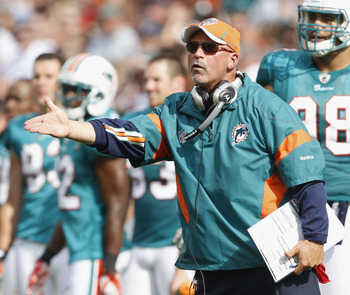 Matt Sullivan/Getty Images
Tony Sparano and the Dolphins organization are clearly sucking for (Andrew) Luck.
Don't believe me? Listen to owner Stephen Ross and hear it right from the horse's mouth. According to a report from the Miami Herald, he recently informed friends in the know that "as much as losses pain him in the short-term, he's aware they offer long-term gain because they put Miami in better position to pick Stanford quarterback Andrew Luck in the next draft."
Well, they're doing a great job of sucking, starting the season 0-5 and ranking second-to-last in red zone offense, scoring a touchdown only 33.3 percent of the time when in deep.
Maybe it's because Sparano continually stood by QB Chad Henne, who had a history of inconsistent play and making impulsive decisions. What's worse, he never even displayed any leadership qualities. His assessment in rating Henne was completely off the mark.
And we can't forget about when he brought in RB Reggie Bush to be a "feature" back in the offseason. The move backfired as Bush cannot run in between the tackles and is "damaged goods." Bush is better utilized in a more secondary role, either in the screen-passing game or running outside the tackles.
From the top of the Dolphins' organization (Ross), to the coaching staff, all the way down to those at the bottom (players); the team is in peril.
Change is needed, and firing Sparano will help move them in the right direction. And the move could happen in the coming weeks.
Sparano has provided a lot of bravado during his tenure in Miami, but his bark is much stronger than his bite.
Hot seat score (10): SCORCHING
Leslie Frazier (Minnesota Vikings)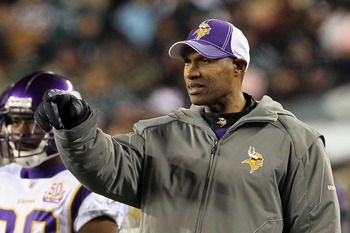 Jim McIsaac/Getty Images
Leslie Frazier employed a new strategy this week.
Instead of blowing leads in games, his team was embarrassed on Sunday Night Football and found itself down 26-3 at the half.
Minnesota is a struggling team. Fingers are being pointed, starting players' roles are being evaluated and players are questioning others during games (Jared Allen to defensive line). That falls on the coaching staff, and Frazier—who the Vikings' organization took a flyer on—could be on his way out the door at the conclusion of the 2011 season.
It took him five weeks too long to finally give QB Christian Ponder reps behind center on Sunday. The young quarterback is mobile and can move around in the pocket, a trait Donovan McNabb doesn't possess.
While Ponder can't throw the ball directly into the ground or at receivers' feet as well as the veteran McNabb can, he does give the team the best chance to win
The Vikings are now 1-5 on the season and they look like a team that has mailed it in for the season. If they hadn't drafted Ponder I'd say we could include them in the Andrew Luck sweepstakes. But they're just a bad team that lacks a competent coaching staff with a grasp on how to compete in the NFL.
Hot seat score (9): sizzling
Jim Caldwell (Indianapolis Colts)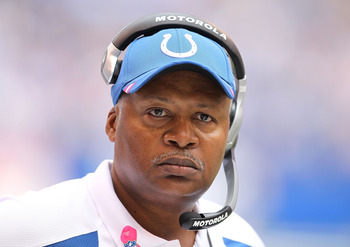 Andy Lyons/Getty Images
In 2009, Jim Caldwell was extremely lucky to take over for former head coach Tony Dungy. The team was loaded with talent on both sides of the ball, and fielded arguably the most potent offense in the NFL.
And Caldwell was lucky in that he didn't even really have to coach the offense, as mastermind QB Peyton Manning took care of that himself in the uptempo, hurry-up offense. The Colts lost in Super Bowl XLIV that year, and it's all been downhill from there as Caldwell has been exposed for what he's always been: a fill-in coach that was more of a "friend" to his players than a head coach.
Since then, the Colts built their team and payroll around three core players, and they are really paying for it now.
Caldwell was lucky to have Manning bail him out late in games in '09 and '10. His in-game adjustments and clock management have always been terrible; and recent personnel moves even worse.
The team has lost its identity and has failed to win a game this season. However, they were in a position to win the last two games, yet failed to make plays when the game counted in the fourth quarter.
Could the team be tanking and sucking for Luck? It's certainly possible, as it almost looks like the Colts actually don't want to win a game! And maybe they won't, and maybe it's for the best. Luck could be the most NFL-ready quarterback in the last decade and he would fit perfectly in the Colts' up-tempo offense.
A former quarterbacks coach, Caldwell may never get the opportunity to be a head coach in the NFL again. He will suffer the same fate as (former quarterbacks coach) Jim Zorn, who was in a similar position as head coach of the Redskins. And he got the ax.
Caldwell will be fired at the conclusion of the 2011 season, if not sooner.
Hot seat score (9): sizzling
Steve Spagnuolo (St. Louis Rams)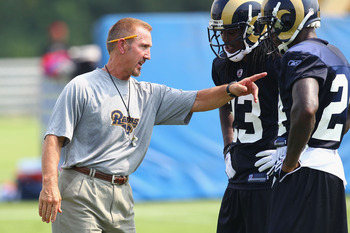 Dilip Vishwanat/Getty Images
The Steve Spagnuolo experiment is failing miserably. His spurious team has no identity or gameplan when they hit the field each week.
It seems like every week I'm watching another Rams player commit a stupid penalty, drop a pass or turn the football over.
Last season, we wrote it off to having a young team that needed to learn his system. But what's the excuse now? Injuries have been a factor, but the blame still lies with the head coach.
Spagnuolo's team has yet to win a game this season. Unfortunately, they have a young quarterback in Bradford, so who are the Rams sucking for?
And it's hard to discount the Rams' record in three seasons under "Spags": eight wins and 28 losses!
The Rams are an awfully-coached team with little discipline or guidance. Like Del Rio, Spagnuolo is another defensive mind that isn't fit to be a head coach. Maybe that's why the Rams' offense ranks dead-last in points scored per game, averaging an atrocious 9.8 points per game.
Hot seat score (8): igneous
Todd Haley (Kansas City Chiefs)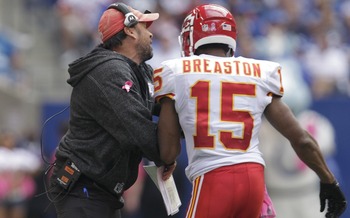 John Sommers II/Getty Images
Todd Haley is another coach on the hot seat coming off a bye week with extended time to prepare for Sunday's game against the Oakland Raiders. All eyes will be on him as he faces Carson Palmer and his new team.
Haley did a poor job scheming early in the season. Even when RB Jamaal Charles was healthy, he didn't utilize him enough. With the players Kansas City has on its offensive unit, and a mediocre-at-best quarterback in Matt Cassel, we all thought Haley would employ a run-heavy gameplan to put the Chiefs in position to win games.
But he didn't, giving Charles just 10 carries in Week 1. Yet he managed to draw up plays to target 11 different players in the passing game, including QB Matt Cassel on a trick play.
Haley has personally worked with Cassel, but until Week 4, it seemed the quarterback had shown no improvement from last season's form. However, he may have turned a corner with much better play of late (against weak competition) and this will be something to watch as the season progresses.
In his defense, the Chiefs have suffered a lot of injuries at key positions, including playmakers RB Jamaal Charles and FS Eric Berry, as well as many others.
Haley has faced a lot of adversity, but his team looked completely unprepared early in the season, and it's the reason the Chiefs' 2011 season was off to an abysmal start.
The team has looked better in their last two games though, but were lucky in facing the Vikings and Colts. This week will be telling and is a big test for them. Can Haley turn the season around?
Hot seat score (8): igneous
Ken Whisenhunt (Arizona Cardinals)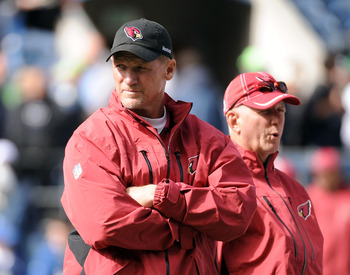 Harry How/Getty Images
The Cardinals have not won a game on the road since December 2009. Ken Whisenhunt still hasn't figured out how to travel and win. But time is running short for him.
The team is coming off a bye week, and all eyes will be on its head coach to see what adjustments he makes. This should be the week the (2-3) team gets back on track, right?
Unlikely, as Arizona is 1-3 in four seasons under Whisenhunt following the bye week.
The Cardinals made a big push to land QB Kevin Kolb in the offseason, and the team's secondary suffered as a result. Kolb has been disappointing, to say the least, and the secondary still can't tackle or cover. That move has been a big failure for the Whisenhunt era thus far.
Whisenhunt's team can't close out games in the fourth quarter and they can't win on the road. This could be his last season as head coach if the team doesn't turn its season around, and soon.
Hot seat score (7): hot
Andy Reid (Philadelphia Eagles)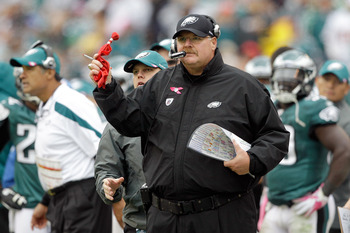 Rob Carr/Getty Images
Reid has a long history with the Eagles' organization, and his history of over-thinking situations and failing in short yardage downs is nothing new.
But his team was faced with a must-win game against the Redskins on Sunday. And they came through in a big way, jumping out to a 20-0 lead. The playcalling was much improved, especially in the red zone, and Reid's staff employed a much more fluid gameplan.
Reid's hot seat has cooled off—for now. But that doesn't mean his job still isn't in jeopardy.
The spotlight will still be on him on a week-by-week basis, and if he makes any more "interesting" in-game decisions, he'll be back on the hot seat. Reid has historically struggled to make adjustments in a timely manner, and he was roughly four weeks too late this season, too.
The Eagles are 2-4 and in last place in the NFC East. I predict that the team's chemistry will improve as the season progresses; they are coming together and will make a push for a postseason berth.
The odds are stacked against Reid though, as anything short of a Super Bowl and this season will go down in history as a huge failure.
Hot seat score (7): hot
John Fox (Denver Broncos)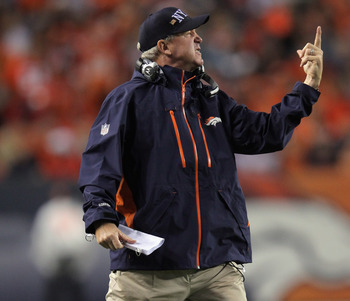 Doug Pensinger/Getty Images
When John Fox had success with the Panthers roughly a decade ago, the elite teams in the NFL were defensive-minded. And this played right into his coaching style.
Unfortunately for Fox, things have changed, and it's a passing league now.
Maybe that's why his combined record in the last two NFL seasons is an abysmal 3-18.
Fox made it a point to the Broncos organization and fans that he didn't draft Tim Tebow to quarterback this team. His reluctance to start the rookie over the veteran quarterback Kyle Orton early in the season may have cost the team a few wins, as the Broncos have lost some close games that were winnable.
And as adamant as WR Brandon Lloyd was about leaving the team, he may have sensed something was up with the head coach as well.
I believe Fox hit his ceiling years ago. There's a reason Panthers owner Jerry Richardson wanted him out; he's a great defensive coordinator, but not a head coach. He has a young team and we'll have to wait for a bigger sample size to rate him.
However, I personally don't think he is the person to turn this franchise around and get it headed back in the right direction. His score could be upgraded to an "eight" come January.
Hot seat score (6.5): Lukewarm, only because of the small sample size.
Pat Shurmur (Cleveland Browns)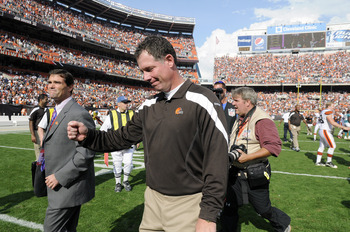 Jason Miller/Getty Images
Pat Shurmur gets a bit of a pass from me, as it's still only going to be just the sixth game in his first season as a head coach in the NFL.
But there are still some things he has done that may have hurt his team's chances to win this year. As surprising as it sounds, the Browns could easily be one game over .500 (3-2) right now.
For example, in Week 3's game against the Titans, Shurmur elected to have QB Colt McCoy throw 61 times and only gave RB Peyton Hillis 10 carries. Hillis is a bull and should get 20 or more carries per game every week, unless injured (as he is now). There is some tension between the two right now about lack of carries as a result..
Still, his team is 2-3 and they do have some bright, young talent in their passing game as well as in the secondary.
We'll give Shurmur a pass for now though and check back later in the season. The small sample size renders it tough to accurately rate him, and he's doing a decent job in his first season so we'll give him a bit more time until we pass judgement.
Hot seat score (6): lukewarm
Keep Reading