Why Rex Grossman Will Never Start Another NFL Game
Dilip Vishwanat/Getty Images
Redskins quarterback Rex Grossman had his worst outing of the 2011 NFL season Sunday against the Philadelphia Eagles.
Grossman was able to beat out John Beck for the starting job heading into the season. He was off to a hot start leading the Redskins to a 3-1 record heading in to Sunday's game.
However, Grossman has performed statistically worse with each game. His yards and completion percentage have dropped with each game.
Coach Mike Shanahan put John Beck in after Rex's four interception performance.
Now, as we draw closer to next weekend questions are being asked about which quarterback will get the start.
Here are three reasons Rex Grossman won't be the starter again.
John Beck Was the First Choice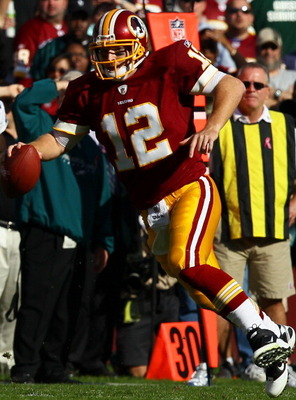 Win McNamee/Getty Images
Heading in to the season the debate between Beck and Grossman was skewed by Shanahan's assumed preference towards John Beck.
When the Redskins passed on one of the young quarterbacks in the draft, Shanahan stated that he "had a game plan" at quarterback. He went as far as saying that he had Beck rated as the highest quarterback coming out of his draft.
This led many to believe that Shanahan had already made up his mind about which quarterback he would be putting out on the field Week 1.
Grossman was able to outplay Beck during the preseason and earn the job.
Now that it appears that Grossman may have been the wrong choice for starter, it is hard to believe that Shanahan will turn away from a guy he thinks so highly of.
As long as Shanahan feels Beck is prepared to lead this Redskins offense, I don't see why he wouldn't give a guy he thinks so highly of a chance to play.
Grossman's Reputation Continues to Follow Him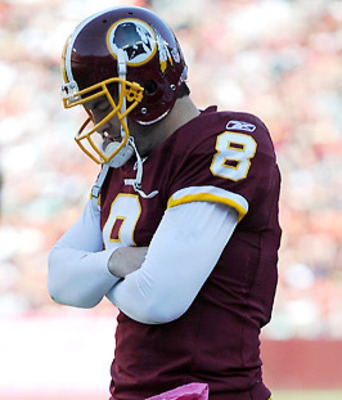 The highlight season of Rex Grossman's career was in 2006 where he went to the Super Bowl with the Chicago Bears.
Even after throwing 23 touchdowns he still threw 20 interceptions. The Bears' stellar defense that year was the reason that they were able to capture the NFC crown.
Other than that season, Grossman has never topped 10 passing touchdowns in one season. His play has been that of a career backup.
It was surprising to many that the Redskins would turn to Grossman in the first place after trading for Donovan McNabb.
If it isn't clear now that Rex isn't a quality starting quarterback then it will never be. He just does not have the skill set to play at the NFL level.
Sunday's performance against the Eagles was much less of a fluke and much more classic Rex Grossman.
He Has Nowhere Else to Go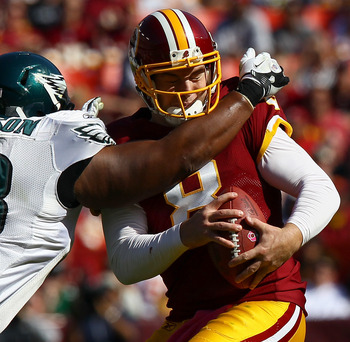 Win McNamee/Getty Images
If Rex Grossman's time as a starter in Washington is truly over then where does he go from here?
Will he stay as a backup for the Redskins or will he attempt to move on somewhere else where he could compete for a chance to be the starter?
If he chooses to move on then I imagine that Rex is going to have a very difficult time finding a new home.
By the start of next season Grossman will be 32-years-old. I don't know what NFL team is going to be looking to give a 32-year-old quarterback who has topped 10 passing touchdowns once in his career a chance to start.
The success of young quarterbacks this year has only hurt his chances. The trend of the past few years has been to sit your young quarterbacks before throwing them in the spotlight.
Rookie quarterbacks like Cam Newton and Andy Dalton have shown that the young guys can play right away.
The more teams that are willing to turn towards the young arms means less opportunities for a quarterback like Grossman.
Grossman will certainly be remembered for many things, but being a good NFL quarterback will not be one of them.
Keep Reading

Washington Redskins: Like this team?