2012 MLB Offseason: General Manager Rankings 11-15
October 18, 2011
Doug Benc/Getty Images
We took a bit of a hiatus on the GM rankings, but it's time to pick up the second half of the list. For those entering the game a little late, we are basing the rankings loosely on the analysis scores I developed earlier. However, I reserve the right to move guys around a bit depending on individual circumstances. With each guy, we will look at their best deal, worst deal, mitigating factors and what they will be most known for.
15. Larry Beinfest — Florida Marlins
Best Move: Beinfest set up the Marlins for a number of years when he dealt Mike Lowell and Josh Beckett to the Red Sox for Hanley Ramirez and Anibal Sanchez. Lowell is now a commentator on the MLB Network and Beckett is still pitching in Boston. Outside of last season, Ramirez has arguably been the best shortstop in baseball while Sanchez has been as good as Beckett for far less money.
Worst Move: Sometimes good trades don't work out. Beinfest seemingly worked his magic again when he traded Miguel Cabrera and Dontrelle Willis to the Tigers for Andrew Miller, Cameron Maybin and four other prospects. Maybin is a nice center fielder, but he is plying his craft in San Diego. Miller has yet to make it. Cabrera is a special player and they have yet to net any significant return for him. Eduard Mujica and Ryan Webb have been nice complements from San Diego (for Maybin) but nobody comes out and knocks your socks off.
Mitigating Factors: Money has always been a concern in Miami, but now that they are moving into a new ballpark and becoming the Miami Marlins, you have to hope some of that will change. If Josh Joshnson and Hanley Ramirez return to form, this could be a very competitive club.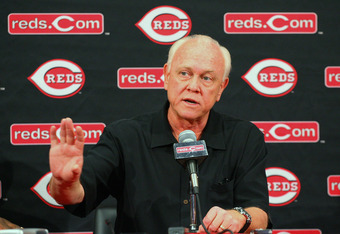 Hunter Martin/Getty Images
Known For: Larry Beinfest will forever be known as a guy that is adept at dealing high priced veterans for young players and somehow continuing to compete. The cycle has repeated itself two or three times now.
14. Walt Jocketty — Cincinnati Reds
Best Move: Walt Jocketty was with the Cardinals for years, and took his talents to Ohio. It's hard to find one great move for Jocketty, but it might end up being picking up Dontrelle Willis. Willis was in baseball's gallows until this season, when he seemed to rediscover something. Getting even 75 percent of the Willis from five years ago would be a welcome addition.
Worst Move: The Josh Hamilton for Edinson Volquez deal seemed great for both clubs in year one. Hamilton has gone on to win the AL MVP while Volquez is barely marginal. Imagine a healthy Hamilton in the lineup along with Joey Votto. If you are a Reds fan you don't want to.
Mitigating Factors: Jocketty exists in the same place most GMs exist. He can afford some things, but he must pick and choose. There are rumors that Joey Votto might be available at the right place. Those are the kinds of tough choices that GMs in mid-markets must make every year.
Known For: Walt Jocketty is the very definition of average. He is a credit to his profession, but no one is going to write books about his brilliance either.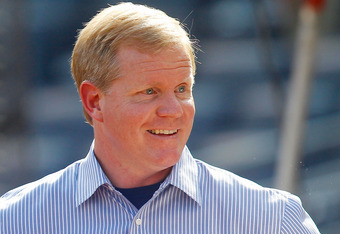 Jared Wickerham/Getty Images
13. Doug Melvin — Milwaukee Brewers
Best Move: At this point, the move to bring in Zack Greinke and Shaun Marcum has to be seen as positive. Yes, the Brewers came up short again in their bid to win a NL pennant, but when you get to the NLCS you need a little luck. This is two seasons in the last three years where they have come up just a little short. Greinke has another year left, so it wasn't exactly a rental.
Worst Move: It's hard to criticize much of what Melvin has done, but you have to wonder if going after Francisco Rodriguez was bang for the buck. It wasn't a horrible move by any stretch, but Melvin is one of those guys that hasn't done anything brilliant or horrific.
12. Theo Epstein — Boston Red Sox
Best Move: Yes, he is now with the Cubs, but we are evaluating things through this past season. Getting David Ortiz was not a major move, but no one could argue with the results. Ortiz led the league in RBIs twice and has averaged more than 100 RBIs a season since 2003. Now that Epstein is gone, Ortiz might be gone too. It would be a pity if that is true.
Worst Move: Funny how the Monday morning quarterbacks are coming out of the woodwork. Suddenly, everyone was down on the Carl Crawford deal before it was done. Last season could not be foreseen, but a long-term contract for a speed player is rarely ever a winning proposition.
Mitigating Factors: Things were a lot simpler when he was simply trying to end the drought. The drought ended and the fans and front office got greedy. They wanted to beat the Yankees at all costs. That often clouds your judgment, and it did in Epstein's case.
Known For: He helped bring two rings to Boston and was the youngest GM in history. People will debate how much he was really responsible for. I suppose we will find out in a few years when we see how good the Cubs are.
11. Neal Huntington — Pittsburgh Pirates
Best Move: Huntington has done a credible job of rebuilding the team's pitching staff. A group that was the worst in baseball was actually among the league's best until August. How good they are moving forward is up for debate, but they won't be awful.
Worst Move: Giving Jose Tabata a long-term contract seems eerily similar to deals given to old Pirates like Kevin Martin and the like. Tabata is still very young and hasn't done much. I'm not sure why he warranted the long-term deal, but they may grow to regret it. Of course, they may end up loving it too. It just seemed premature.
Mitigating Factors: The Pirates have gone 20 years without a winning season. That is the longest such streak in big league history. They have little money and little winning pedigree. Huntington is trying to change that, but sometimes losing becomes a culture.
Known For: Whether he is there when everything comes together or not, Huntington will be known as the GM that finally started hitting on some draft picks and getting the ship turned around. Their draft this past season was their best and could produce at least two star performers.
Addendum
If you want to see how the other GMs were rated, you can check those rankings out here. 21-25, 16-20, 26-30, 6-10, 1-5.