2012 MLB Offseason: General Manager Rankings 21-25
October 18, 2011
Jonathan Daniel/Getty Images
Last time, we took a look at the bottom five general managers in the game. Two of them have already resigned or been fired. We have to imagine at least a couple of them aren't far behind. Now we get into a group of folks that are struggling but should still remain on the job for at least another year.
25. Kenny Williams, Chicago White Sox
Best Move: Letting Ozzie Guillen go actually was a good move on Kenny Williams' part. Sure, Guillen led them to the first World Series title since 1917, but he also was becoming a big-time distraction. Now, some might not be so sure about Robin Ventura, but it probably will work better than Paul Konerko would have.
Worst Move: Adam Dunn was miserable last season. In all fairness, no one could have predicted that. Yet, you have to wonder why you go out and spend an excess of $40 million for a player that can only DH. Wouldn't that money have been better spent on, say, pitching, infielders, outfielders, young players or even Taco Bell coupons for fans?
Mitigating Factors: There really aren't any. They have plenty of money and he has been there a long time. This is all on him.
Known For: He has a deep rotation and bullpen, but Williams has a lot of money sunken in players that don't seem to be doing much. Some of that money is now clearing off the books, but Dunn is the gift that keeps on giving.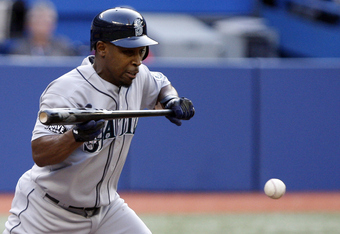 Abelimages/Getty Images
24. Jack Zdrucienek, Seattle Mariners
Best Move: Um, well, um...er, yeah. I'll get back to you on that. Seriously, the Doug Fister trade looks bad now, but he did get some good young players. I suppose the Cliff Lee deal can still work out, although it hasn't yet.
Worst Move: There are a few to choose from, but we'll go with Chone Figgins because he has been a high-profile failure. Of course, no could predict the depths he would fall to this year.
Mitigating Factors: Jack inherited a mess and a mess he still has. However, there are some good young players that are coming up, and that is why he isn't in the bottom group.
Known For: He is hoping to be known for a developing young pitching staff that includes Felix Hernandez and Michael Pineda. He probably will also be on the clock when Ichiro finally retires in a couple of years.
23. Dayton Moore, Kansas City Royals
Best Move: There are no positive signature moves at the big league level, although Melky Cabrera and Jeff Francouer were positive in the short term. Moore's lasting legacy will be building the best farm system in baseball. Of course, when you draft in the top five nearly every season, you are bound to build something.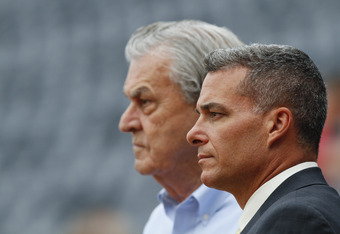 Ed Zurga/Getty Images
Worst Move: The bad days are gone, but signing Jose Guillen and Gil (Ga) Meche to long-term contracts were really bad ideas. Low-ball deals like Cabrera and Francouer are better ideas, but still not good ones.
Mitigating Factors: The Glasses have pretty thin pocketbooks, but they are opening them up to sign draft picks. This is the key to building the foundation for a good team. Hopefully they will continue.
Known For: Signing veterans with poor on-base skills to plug holes. Many of these signings have actually inspired jokes. He deserves a little better than that, but not much.
22. Bill Smith, Minnesota Twins
Best Move: Everyone in the baseball world thought he was nuts, but he believed in Carl Pavano. Pavano had been the poster child for WedMD, but in Minnesota, he has been the most durable and consistent pitcher they have had the past few seasons.
Worst Move: As it turned out, trading Matt Garza and Jason Bartlett for Delmon Young and Brendan Harris wasn't a good move. Young never lived up to his potential and Garza helped the Rays get to the World Series. Whoops.
Mitigating Factors: Minnesota was a small-market team until Target Field opened. Sometimes, GMs that have gotten used to getting by on less struggle when they have a little money to play with.
Known For: Smith will be forever known in Minnesota as the GM that kept Joe Mauer from bolting. Of course, the next couple of seasons will reveal whether this will be a fond memory or a painful one.
21. Ned Colletti, Los Angeles Dodgers
Best Move: The best thing about the Dodgers right now are their young players. Matt Kemp was the best player in the National League this year. Andre Ethier has been excellent as well. Clayton Kershaw could be the Cy Young winner. Funny, you could have the league MVP and the Cy Young winner on the same team and they would still be a sub-.500 team.
Worst Move: Manny Ramirez was a nice story for awhile. but like an all-night bender, the Dodgers will be feeling the effects for quite some time. They owe money to Marquis Grissom for crying out loud. Andruw Jones falls under this category as well.
Mitigating Factors: Are you kidding me? Bankruptcy is a pretty big mitigating factor, don't you think?
Known For: Well, it won't be much, except for a series of bad contracts to guys like Jones and Ramirez.
Addendum
If you want to see how the other GMs were rated, you can check those rankings out here. 26-30, 16-20, 11-15, 6-10, 1-5