Fantasy Football: DeMarco Murray and Your Waiver Wire Wish List
October 18, 2011
Elsa/Getty Images
Is it Week 7 already? It is, and you're already behind on your holiday shopping. Thankfully, the upcoming holiday is only Halloween. So, go buy some candy, and while you're out, it's about time to get a head-start on that Christmas shopping.
And that's what our waiver wires are every week. A big kid's Christmas Wish List. What we want, in the order we want it. And what we're willing to give up to get it. Simple enough, right? Before we start making our list for Week 7, let's briefly remember how we're supposed to go about creating this list.
If you've been holding your FAAB or a high waiver priority, the time is quickly approaching to use it. You don't want to keep waiting for the perfect pick-up. It's probably not going to happen. There's no Michael Vick out there this year. Get a player (or players) that can help you now.
You should have a reason for every player you pick-up. Whether it's to start consistently, to start as a fill-in, for trade value or just to back up a player, you need to have a reason. Blindly picking up a player just to sit him on your bench and then cut him the next week doesn't help you. Sometimes you have to fill a hole that doesn't involve the sexiest RB pick-up of the week.
Never overvalue your own players. Sometimes you hold onto your opinions of a player for so long that you're inherently biased. You think this player is great, yet if you cut him, there's a chance that nobody would even pick him up. Don't be afraid to cut the cord on a player, no matter how early you drafted them.
Now, let's hit the high notes of some waiver wire targets for Week 7. I'm not going to list obvious players (Tim Tebow) or players that are already owned in a majority of leagues (Jackie Battle).
QB
ANDY DALTON—The Bengals are on a bye in Week 7, but Dalton has shown that he's a good QB2 who can be started when the matchup is right. If you're in a deep league and somebody cuts Dalton, he's worth picking up.
SAM BRADFORD—The Rams' poor performance and his high ankle sprain could scare some owners away from Bradford. But, the additions of Brandon Lloyd and Mark Clayton can only help. And the Rams' schedule finally gets easier two weeks from now. Bradford is worth stashing as your backup QB in most leagues.
CARSON PALMER—Here's the deal. Palmer hasn't participated in organized football activities since last December. He knows the basics of the offense, but not the specifics. The Raiders will remain a run-first team. Don't expect many 300 yard games or games with multiple TD passes. Palmer is worth rostering in 14-team and deeper leagues as a QB2. But there's not much upside here.
CHRISTIAN PONDER & JOHN BECK—Both of these players might have starting jobs soon, but there's no need to add them immediately, unless you are in a very deep or two QB league.
RB
DEMARCO MURRAY—Felix Jones could miss 2-4 weeks with a high ankle sprain and Murray is the next man up. He's worth adding in all leagues and could be a decent start in Week 7 vs. the Rams.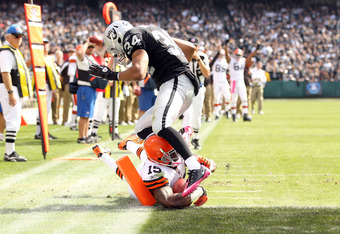 Ezra Shaw/Getty Images
TASHARD CHOICE—In deeper leagues, Choice might be your only option. The coaching staff doesn't love him, but it looks like he will play on passing downs. In PPR leagues, Choice could be a decent flex option vs. the Rams in Week 7.
DONALD BROWN—Brown looked better than Delone Carter in Week 6 and the Saints are just an average team against the run. If you need help at RB in deep leagues in Week 7, Brown could be worth a pickup in case Joseph Addai sits again, which is entirely possible.
MONTARIO HARDESTY—It doesn't look like Peyton Hillis will be traded, but it also doesn't appear that Hillis is the future at RB for the Browns. Hardesty could see his role continue to grow as the Browns determine how they will handle the RB position in 2012. Hillis could miss Week 7 with an injury, making Hardesty a possible flex play.
MAURICE MORRIS—Jerome Harrison and even Keiland Williams have gotten all of the attention for the Lions behind Jahvid Best. But it looks like good old Maurice Morris would get the majority of the touches if Best misses Week 7. Morris is worth picking up in most leagues and could be a decent flex play, especially in PPR leagues.
JOE MCKNIGHT—Coach Rex Ryan spoke about getting McKnight more involved during his post-game comments in Week 6. Shonn Greene has been ineffective and LaDainian Tomlinson has clearly lost a step or two. McKnight has been seeing some snaps at WR, as the Jets try to find ways to get him involved in the offense.
WR
DOUG BALDWIN—He might not have been picked up last week because the Seahawks were on a bye. Charlie Whitehurst got the reps with the first-team offense on Monday. If Whitehurst starts, it's likely that Baldwin would be his most targeted WR.
GREG LITTLE—The time to pick up Little might have been last week. He's clearly emerged as the No. 1 target in the Browns' passing game. He should have some appeal as a starter in deep PPR leagues. There's upside here, so he's worth picking up in most leagues.
STEVE BREASTON—Breaston was on a bye in Week 6, but he had seen his role on offense increase for three straight games before the bye. Breaston has a decent matchup against the Raiders in Week 7 and he could be a decent WR3 or flex play in PPR leagues.
MARK CLAYTON—It's unknown what Clayton's role will be, but it looks like he will return in Week 7 and immediately have some role on offense. He's worth picking up in deep leagues.
DAMIAN WILLIAMS—Williams is now the most talented WR in Tennessee with Kenny Britt injured. Nate Washington is a safer PPR option, but Williams had scored a TD in two straight games prior to the Titans' bye in Week 6.
TE
FRED DAVIS—Chris Cooley suffered a broken finger, which will require surgery and keep him out for at least six weeks. Fred Davis just solidified himself as a TE1 and is probably worth starting every week, no matter who is at QB for the Redskins.
JARED COOK—Since the Titans were on a bye in Week 6, Cook might still be available in your league. He's emerged as the No. 2 target in the Titans' passing game and is worth picking up in most leagues.
JAKE BALLARD —Ballard has seen a small but steady dose of targets. The Giants are on a bye in Week 7, but if you're looking for some TE depth in a deep league, now is probably the time to add Ballard.
ED DICKSON—Dickson had a quiet game in Week 6, but was knocked out of bounds at the one yard line on a catch. He's sees a decent amount of redzone targets and is worth a look in Week 7.
There you have it. If you have any questions or comments, please use the comments feature below. You can also find me on Twitter.
Good luck to all in Week 7.