7 NFL Players We Least Trust in Crunch Time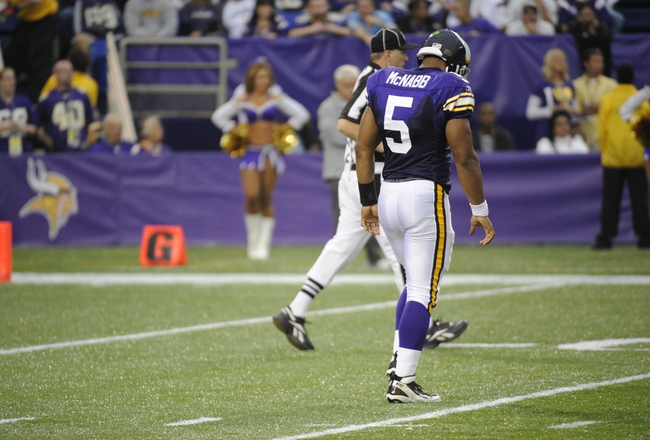 Hannah Foslien/Getty Images
With two minutes left in the game, who would you trust most with the football in his hands? Tom Brady? Peyton Manning?
Rex Grossman? Just kidding. I need to make sure you are paying attention.
When the game is on the line, here are the seven players that are the last people in the world you want touching that football.
Andy Reid, Head Coach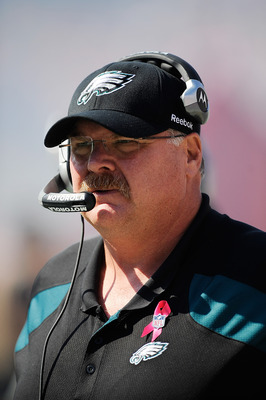 Patrick McDermott/Getty Images
I know that this is supposed to be about the players we least trust in crunch time, but the players need a coach, and the least clutch coach in the NFL right now has got to be Andy Reid.
His 10-9 playoff record is rather unimpressive, but what hurts the most is his 1-4 record in NFC Championship games. Considering the amount of talent that Reid had with those Philadelphia Eagles' teams, 1-4 is just unacceptable.
When the game is on the line, hand the clipboard to someone else and let Reid take a much-needed break.
Donovan McNabb, Quarterback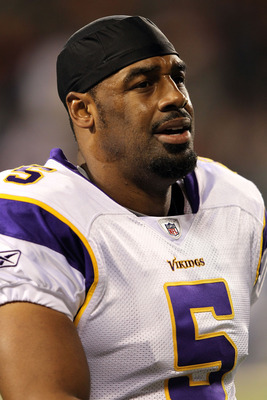 Jamie Squire/Getty Images
While Andy Reid has certainly lost some games, the entire blame can't be placed on him for losing so many NFC Championships. Some, or most (or all if you're from Philly) can be placed on the shoulders of Donovan McNabb.
It seems that when the game is on the line, McNabb folds. In his lone Super Bowl he threw three interceptions, two of which were returned for touchdowns.
I know McNabb's greatest play was "fourth-and-26" against the Green Bay Packers, but that type of clutch play is certainly not the norm in McNabb's career.
Just look at him now. The Minnesota Vikings gave up three straight first-half leads to start the season. Aaron Rodgers wouldn't do that and neither would the other clutch quarterbacks in the league.
I'm not saying that McNabb hasn't had a fantastic career, I'm just saying that I'd rather have a different quarterback lead my team when the going gets tough.
Jay Cutler, Quarterback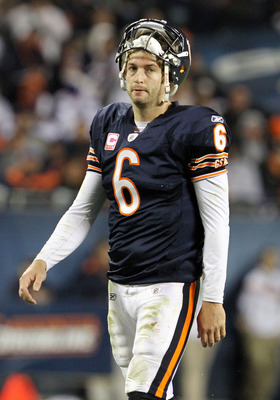 Tasos Katopodis/Getty Images
The reason that I'm not putting the ball in Jay Cutler's hands with the game on the line isn't because of his NFC Championship game last year. He was injured and there was nothing he could do about it. I will say that he wasn't playing very well before he left the game with an injury, but that is beside the point.
The reason that I'm not giving him the football is because of his lowly 1-1 playoff record. For a player with as much talent as he has, 1-1 is unacceptable. When you consider that his only win was against the 7-9 Seattle Seahawks in Chicago, it becomes even more unacceptable.
When Cutler finally wins a big game by himself instead of relying on his defense, I'll consider cutting him some slack. Until that happens he will be considered not clutch in my book.
Tony Romo, Quarterback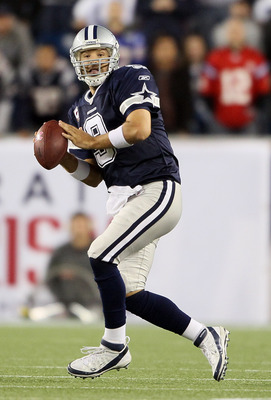 Elsa/Getty Images
We all know how poorly Tony Romo has played in the clutch so far this year, but his unclutchability (yes, I just made up that word) is well chronicled.
A 1-4 playoff record with numerous collapses late in the game will make people question how clutch you are. His most notable mess-up was during the 2007 playoffs when he botched the snap while holding for a field goal. He tried to run for a touchdown, but came up short and the Dallas Cowboys lost the game.
We also can't forget his 2009 playoff performance against the Minnesota Vikings where he had three fumbles and an interception in a 34-3 beat down.
Romo does fine in the regular season, but once December and the playoffs roll around, he becomes a completely different player. He becomes Mr. Not Clutch.
Rex Grossman, Quarterback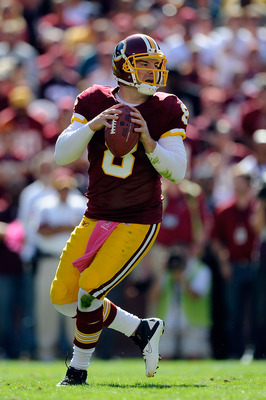 Patrick McDermott/Getty Images
With Rex Grossman, it just comes down to the fact that he isn't a very talented quarterback.
While the Chicago Bears did make the Super Bowl with Grossman playing quarterback, it certainly wasn't because of his play during the season. In fact, some would say that he was the least talented quarterback to ever start in a Super Bowl.
Against the Indianapolis Colts in Super Bowl XLI, Grossman threw two interceptions and lost two fumbles. He only led his team on one touchdown drive the entire game and his fourth-quarter interception that was returned for a touchdown sealed the victory for the Colts.
After Grossman's four-interception performance last Sunday, I think it is safe to say that no one will be trusting him in an important game anytime soon.
Rashard Mendenhall, Pittsburgh Steelers
Gregory Shamus/Getty Images
After a very impressive 2010 regular season, Mendenhall did the unthinkable in the biggest game of his career.
At the start of the fourth quarter in Super Bowl XLV, Mendenhall coughed up the football when being tackled by Clay Matthews. That turnover was turned into six points by the Green Bay Packers and proved to be the final nail in the coffin for the Pittsburgh Steelers.
Fortunately for Mendenhall, he is still a young player and has time to become clutch. However, right now I'm handing the ball to my backup running back with the game on the line.
James Jones, Wide Receiver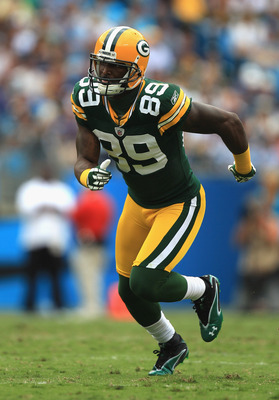 Streeter Lecka/Getty Images
If there was one bad thing that Green Bay Packers' fans remember from the 2010 playoffs, it was James Jones' numerous dropped passes.
You would think that a professional wide receiver that makes their living on catching footballs would come to play during the most important part of the season. Unfortunately, that wasn't the case for Jones and his drops seemed to cause Aaron Rodgers to lose confidence in him earlier this season.
It now appears that Jones is back on the good side of Rodgers, as he has three straight games with a touchdown reception. However, no one will forget his consistent dropping of passes and until he makes some clutch receptions, he will always carry around the tag of "butterfingers."
Nate Kaeding, Kicker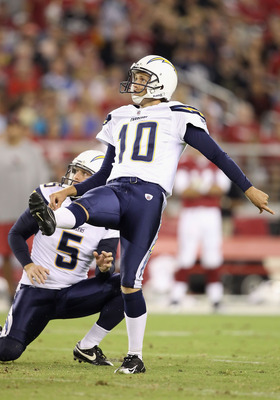 Christian Petersen/Getty Images
Known as one of the best regular-season kickers of all time, Nate Kaeding has had more than his fair share of trouble in the playoffs.
During the regular season, Kaeding has converted 86.5 percent of his field goal attempts. However, during the playoffs, at home, Kaeding is only converting 33 percent of his field goal attempts.
His misses include a game-tying field goal in the 2006 playoffs and an 0-3 day in a 17-14 loss to the New York Jets in 2009.
If a team is down by two points with three seconds left on the clock and they are in field goal range, Kaeding is the last name they want to see on the back of the jersey of their kicker.
Keep Reading