NFL Picks Week 7: 5 Underrated Teams That Could Perform Better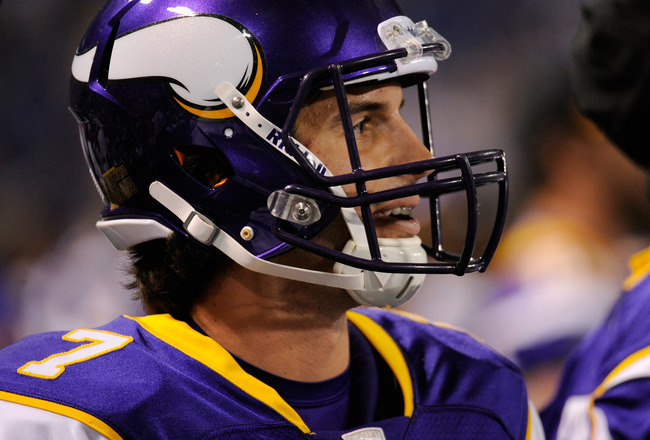 Hannah Foslien/Getty Images
There are games in Week 7 that look like complete mismatches. However, upon closer inspection, some of these losing teams may have a much better shot at winning their games against their superior opponent than one might think.
Here's a look at the teams who don't look like much but may just surprise some in Week 7.
Carolina Panthers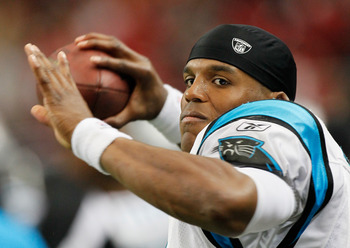 Kevin C. Cox/Getty Images
Don't be fooled by their 1-5 record—the Carolina Panthers are better than they appear. They have been in every one of their games this season, except one.
The Panthers lost their first game to the Arizona Cardinals in Arizona, where the Cards seem to play every team tough. It was also rookie QB Cam Newton's first game as a pro, and rookie quarterbacks rarely win their first game in the NFL.
Their second loss was to the defending Superbowl champion Green Bay Packers. The score was 23-16 Green Bay until 2:14 in the fourth quarter when Aaron Rodgers connected with Jordy Nelson for 84 yards on the go-ahead touchdown.
Their third loss was to the Chicago Bears by five at Soldier Field, a tough place to play for any team. Their fourth loss was to the New Orleans Saints at the Superdome. The Panthers were leading this game by four late in the fourth quarter with less than a minute to go when Drew Brees hit Pierre Thomas with the six-yard go-ahead touchdown.
Their most recent 14-point loss against the Atlanta Falcons was the first game they were not in late in the fourth quarter. Newton threw three interceptions that cost his team the game.
Newton and the Panthers could possibly be 3-3 if a few plays would have went their way this season. They are a young team that has not been together for more than a season and had to deal with a shortened training camp with a new coach and new system. They just need time to come together.
Until they can come together, they do have some offensive weapons to rely on in Newton, WR Steve Smith, TE Greg Olsen and RBs DeAngelo Williams and Jonathan Stewart, which gives them a dual-threat backfield.
This week, the Panthers play the Washington Redskins in Carolina. While the Redskins, who at 3-2 have the superior record, have not played the superior opponent.
The Redskins' three victories this season come against an injury-plagued New York Giants team in Week 1, a one-point win over the Arizona Cardinals and a 17-10 win over the winless St. Louis Rams.
After being unable to move the offense and throwing four interceptions in defeat against the Philadelphia Eagles, Washington QB Rex Grossman was benched in favor of John Beck, who some believed should have been the starter to begin with. If a QB controversy starts up it will cause a distraction, possibly opening the door for Newton and the Panthers to grab their second victory of the season.
Why the Panthers Will Not Surprise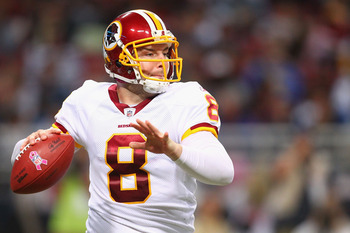 Dilip Vishwanat/Getty Images
They are what they are: a 1-5 team with a rookie QB going up against a 3-2 veteran Washington team. A Redskins team whose pass defense is ranked eighth overall in the league and a rush defense that ranks sixth overall in the league.
The QB controversy may be good for the Redskins. If Grossman starts, he may be re-energized, knowing he must play well or he will get benched. If Beck plays, he knows it's his one shot where he can show he deserves the starting job.
Atlanta Falcons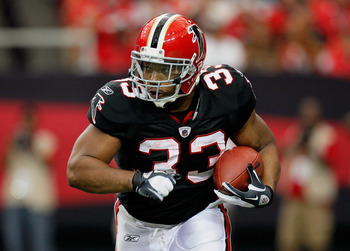 Kevin C. Cox/Getty Images
After playing a turnover-free game while rushing for 166 yards and three touchdowns against the Carolina Panthers, the Atlanta Falcons may have recaptured their winning formula.
The Falcons play the 5-1 Detroit Lions next in Detroit, who will surely be ready to go after losing a close one to the San Francisco 49ers.
Atlanta has been up and down this season but has managed to go 3-3 and by no means should be written off to win the division. The Falcons are only one game behind the Tampa Bay Bucs and the New Orleans Saints and have only played one division game this season.
The Panthers game may be a start to a streak. Also, after the Falcons face the Lions they have their bye, which may make them play just a little bit harder, knowing they have a break coming up. Going into their bye week with a record of 4-3 looks a hell of a lot better than 3-4.
What they must do to beat the Lions is stick to what they do best. They have to rely on their running game behind Michael Turner, who looked just fine against the Panthers, rushing for 139 and two TDs. Matt Ryan has to play turnover-free ball. He should definitely take his shots when they are there, but by no means force anything.
Atlanta has to look over the San Francisco 49ers blueprint, which saw their RB Frank Gore rush for 141 yards and one touchdown. The 49ers also sacked Detroit QB Matthew Stafford five times.
The Falcons have to win the time of possession game, or come close to it; they cannot make this game a shootout.
Why the Falcons Will Not Surprise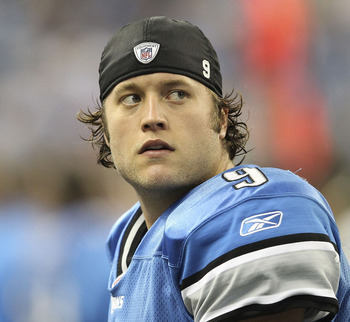 Leon Halip/Getty Images
The Detroit Lions are 5-1, coming off a rough loss, and are fired up, playing in Detroit.
If the game turns into a shootout, the advantage goes to the Lions. The Lions are averaging 284 yards per game passing, which is ranked seventh in the league, and their pass defense is ranked a very respectable 12th in the league, thanks to their phenomenal pass rush.
Meanwhile, Atlanta's pass defense is ranked an abysmal 28th in the league.
Kansas City Chiefs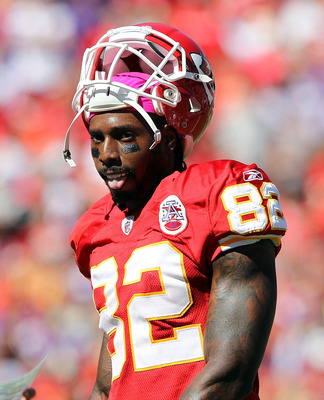 Jamie Squire/Getty Images
After getting blown out by the Buffalo Bills 41-7 and the Detroit Lions 48-3, the Kansas City Chiefs looked like the worst team in the league.
The Chiefs then played a strong game against the San Diego Chargers, losing by a field goal. They then stopped the losing streak at three with two victories over the lowly Minnesota Vikings and the winless Indianapolis Colts.
Now, although the Chiefs are just 2-3 and they are going against a superior 4-2 Oakland Raiders team in Oakland, it is a divisional game. Divisional games are games where you throw away the records. Divisional teams are so familiar with each other's tendencies that a lot of them end up being close games.
This was shown when the Chiefs played the clearly superior Chargers in Week 3 in San Diego to a very close game.
Kansas City's passing game, ranked 30th in the league, is better than it seems. After basically taking the first two games off, the passing game came alive the next three. Wide receivers Dwayne Bowe and Steve Breaston are nothing to laugh at. Bowe is coming off back-to-back games of 100-plus yards with three touchdowns.
The Chiefs also had the bye week to prepare for this game.
As for the Raiders. Although they are coming off a win against the Cleveland Browns, it was a win that cost them their starting QB Jason Campbell for the season. They are now left with QB Kyle Boller, which I do not think will cost them all that much, but he has not played in a while and may be rusty.
Why the Chiefs Will Not Surprise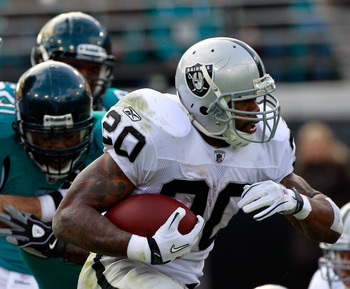 Sam Greenwood/Getty Images
The Oakland Raiders play very tough at home, and if their running game gets going there is no way that the Chiefs' 20th-ranked rushing defense can stop the Raiders' second-ranked rushing offense.
Backup QB Kyle Boller looks just fine in Campbell's absence.
Arizona Cardinals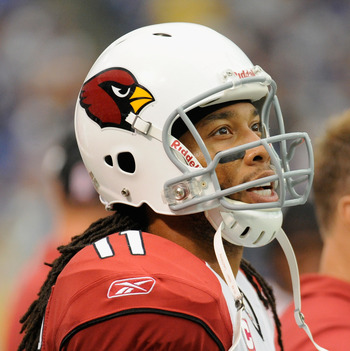 Hannah Foslien/Getty Images
The 1-4 Arizona Cardinals should be no match to a 4-2 Pittsburgh Steelers team, but upon closer inspection, it may look a little different.
The Cards' losses come against the Redskins 22-21, Seattle 13-10, Giants 31-27 and Minnesota, which they lost to by 24. If a few plays went Arizona's way, they could easily be 4-1.
The Steelers have their four wins against Seattle, Indianapolis, Tennessee and Jacksonville, hardly murderer's row. When they faced good teams such as Baltimore and Houston, they lost. Baltimore actually blew them out in Week 1, 35-7, questioning if the Steelers still have what it takes to be contenders.
Arizona had a week off to look at why it lost those winnable games and to prepare for the familiar Pittsburgh Steelers.
The Cardinals know the Steelers system, they even practice it. Head coach Ken Whisenhunt brought the Steelers system to Arizona with him when he left Pittsburgh. He also brought over other coaches who were part of the same system.
Another reason why the Cards will show up for this game is just the fact that they play much better at home.
While Pittsburgh's defense is still ranked among the best in the league, it is getting old and injured. The heart of the defense, Troy Polamalu left last week's game in the fourth quarter with concussion-like symptoms and may be out against the Cards.
Why the Cardinals Will Not Surprise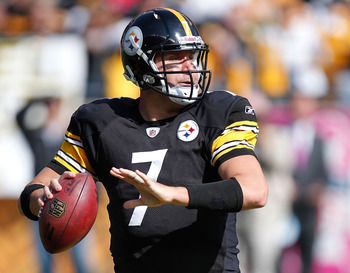 Gregory Shamus/Getty Images
If Pittsburgh's No. 1-ranked pass defense in the league shows why it is No. 1 in the league, it will shut down Arizona's QB Kevin Kolb and WR Larry Fitzgerald.
Also, the Arizona defense will struggle if Steelers QB Ben Roethlisberger has a big game.
Minnesota Vikings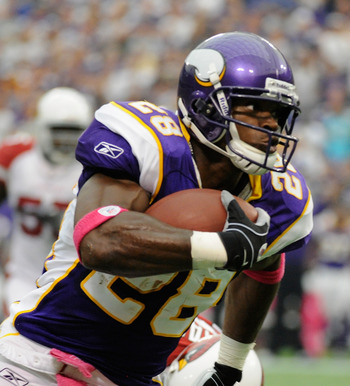 Hannah Foslien/Getty Images
Now, I'm going way out on a limb with this pick. The 1-5 Minnesota Vikings have looked horrible this season. In saying that, four of their five losses came against good to decent teams in San Diego, Tampa Bay, Detroit and Chicago. To add to that, four of five of their losses were close, winnable games.
The Vikings still have one of the best running backs in the league in Adrian Peterson, who is capable of having a breakout game each time he gets on the field. They also have a great pass rusher in Jared Allen, who is probably dying to get a piece of Green Bay Packers QB Aaron Rodgers.
The problem with the Vikings this season has been the poor QB play of Donovan McNabb, who looks all but done. McNabb just does not seem to have the mobility he once had and his downfield passing was lacking.
This might all change if they make rookie QB Christian Ponder the starter. McNabb was pulled last night in favor of the rookie. Now, although Ponder's appearance was very brief, the offense started to move with him. He was able to scramble out of the Chicago Bears pass rush and make some throws down the field to WR Percy Harvin.
Ponder may prove to be a spark for the Vikings offense against the Packers, or he may not be, but everyone watching could see that McNabb was not getting it done and it was time to make the switch.
This is also a division game played in Minnesota. I believe this game will be closer than a lot of people think.
Why the Vikings Will Not Surprise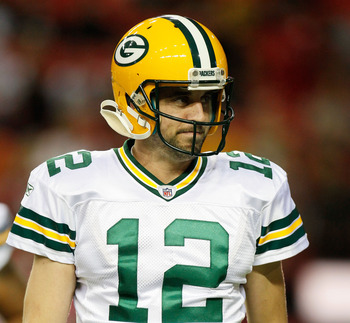 Kevin C. Cox/Getty Images
If Green Bay stops Adrian Peterson, I don't see how this is even a game.
If rookie QB Christian Ponder starts, and looks absolutely lost in his first game, there's no shot.
If the Vikings pass rush is unable to get to Aaron Rodgers, better luck next time.
Keep Reading