MLB Playoffs 2011: 10 Most Impressive Players of the Postseason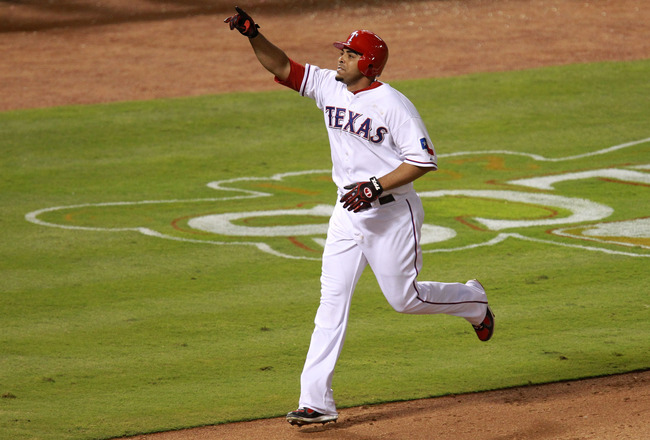 I feel like Nellie's doing this at least once every game...
Ronald Martinez/Getty Images
The dramatic 2011 MLB postseason has been highly competitive and entertaining. Three of the four division series went to a decisive fifth game, and the league championships were back-and-forth, hard-fought battles.
With all that in mind, let's take a look at the most impressive individual performers as we head into (what should be) an evenly matched World Series between the Texas Rangers and the St. Louis Cardinals.
(Please note: Closers Jason Motte and Neftali Feliz have both had excellent postseasons, but I only included pitchers with at least 10 innings pitched.)
10. (Tie) Matt Moore, SP, Tampa Bay Rays and Robinson Cano, 2B, New York Yankees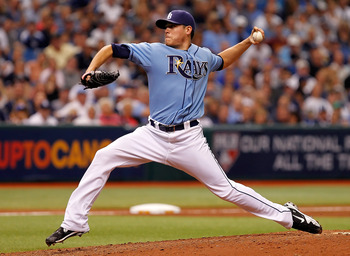 Arguably the most electric lefty in the game...already.
J. Meric/Getty Images
It was difficult to eliminate one of these players because of a limited sample size, so I figured it would be fair to include them both.
Moore's story was incredible—he had started only one big-league game before being called upon to pitch the opener of the ALDS.
Moore, a rookie left-hander with the poise of a 15-year veteran, responded with seven innings of eyebrow-raising shutout ball against the rightfully feared Rangers lineup. It was a beautiful thing to witness.
You can book this: If he can stay healthy, Moore will easily be one of the top-10 starters in the American League for a long time to come.
Cano, despite playing in a single series, is sixth in postseason RBI (nine). He also had two homers and a 1.057 OPS.
His grand slam in Game 1 was one of the more memorable homers of the divisional series.
9. Chris Carpenter, SP, St. Louis Cardinals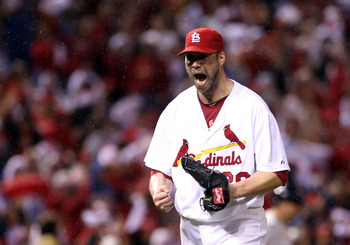 I'll never forget his performance against Halladay and the Phils.
Christian Petersen/Getty Images
Relative to the rest of the pack, Carpenter's postseason numbers are solid: 17 innings pitched (T-third) and two wins (T-first) with a 3.71 ERA and 1.18 WHIP.
However, this ranking isn't about his cumulative statistics—it's about his absolutely incredible performance in Game 5 of the NLDS.
On the road in Philadelphia against a heavy favorite and one of his best friends in Roy Halladay, Carpenter turned in the performance of a lifetime.
Carpenter threw the only complete game of the 2011 playoffs, surrendering just three hits in an elimination game. He attacked the strike zone (walked none) and had astonishing command of his devastating curveball and sinking fastball.
It was certainly one for the ages, and who knows, maybe he'll turn in another in the World Series.
8. Mike Napoli, C, Texas Rangers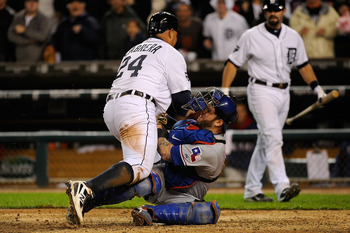 Nap is never afraid to take one for the team.
Kevork Djansezian/Getty Images
This energetic, fun-to-watch ballplayer was one of the hottest hitters throughout the second half of the regular season, and he's continued that success in the postseason.
Heading into the World Series, Napoli is hitting .316, and his 12 hits put him in the top six.
He also hit a fortune-changing home run off David Price in the ALDS and provided a pair of balance-shifting defensive plays in Game 4 of the ALCS.
This guy's playing wonderfully on both sides of the ball.
7. Yovani Gallardo, SP, Milwaukee Brewers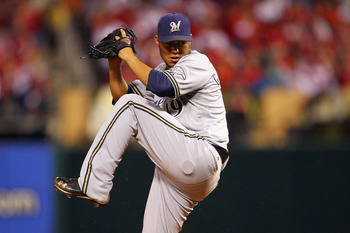 His postseason location was outstanding.
Dilip Vishwanat/Getty Images
This tough-minded battler was one of only a pair of aces who stayed true to their regular season form; the other was Roy Halladay, who finished with a 2.25 ERA and 0.69 WHIP in 16 innings of work.
Gallardo is second to Justin Verlander in playoff innings pitched, but Verlander posted a poor 5.31 ERA in comparison to Gallardo's far superior 2.84. Gallardo also had fewer walks and a lower WHIP than the soon-to-be AL Cy Young award winner.
What was most impressive about Milwaukee's ace was his impeccable location down in the zone. He was painting the knees as well as, or better than, anyone.
6. Alexi Ogando, RP, Texas Rangers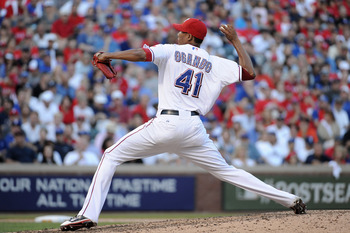 Looks like the Rangers made the right call putting him in the pen.
Harry How/Getty Images
In a postseason that has strongly suggested that good hitting beats good pitching, this raw, flame-throwing right-hander has been the most impressive pitcher of all.
Though he's worked entirely out of the bullpen, Ogando is one of only 18 pitchers who have reached double digits in innings pitched. Of that group, only four have ERAs under 3.00: Yovani Gallardo (2.84), Roy Halladay (2.25), Matt Moore (0.90) and Ogando (0.87).
Ogando has 12 strikeouts in 10.1 innings and a sparkling 0.58 WHIP. He's also 2-0 with four holds.
This kid is amongst the playoff leaders in all major categories.
5. Miguel Cabrera, 1B, Detroit Tigers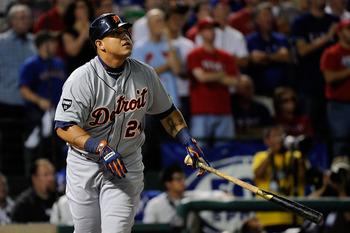 One of baseball's true naturals.
Kevork Djansezian/Getty Images
As we enter the top five, you'll begin to notice that the cream rises to the top. Three of the hitters who were in the top five in my "MLB Top 100 Players" slideshow appear again in these rankings.
In the 2011 postseason, Cabrera reached double digits in three major categories: hits (11), RBI (10) and walks (12). He also finished with an uncanny .489 OBP and an astronomical 1.261 OPS.
Miggy was feared by both the Yankees and Rangers, and rightfully so. At one point, manager Ron Washington even opted to intentionally walk him...with the bases empty.
4. Ryan Braun, LF, Milwaukee Brewers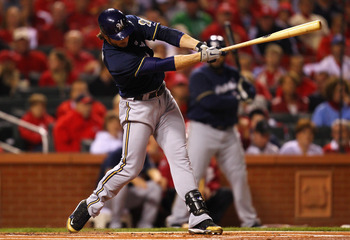 Braun continued to show why he's one of the best in the game.
Dilip Vishwanat/Getty Images
With the exception of Cardinals' veteran reliever Octavio Dotel, no pitcher seemed to have an answer for Braun in the postseason.
The Brewers' bashing left-fielder is second in hits with 17 and finished with a sensational .405 playoff batting average.
Against both the Diamondbacks and Cardinals, Braun showcased his ability to hit to all fields with relative ease. He ended up with nine extra-base hits, including seven doubles and two home runs.
3. Albert Pujols, 1B, St. Louis Cardinals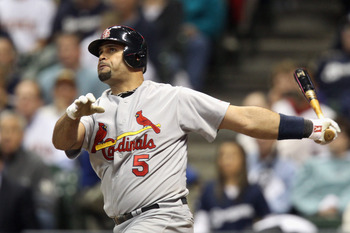 It must be nice to be him.
Christian Petersen/Getty Images
It wasn't one of the most spectacular regular seasons of Pujols' potent MLB career, but I knew there was a reason why I kept him as the No. 1 player in my top-100 players list...
"The Machine" is freakishly consistent, even in the postseason.
Pujols has a .419 batting average, 18 hits (leading all players) and 10 RBI heading into the World Series, and shows no signs of slowing down.
He's also made a number of impressive, high-IQ defensive plays.
2. David Freese, 3B, St. Louis Cardinals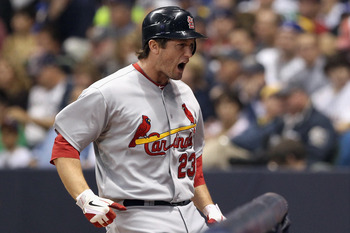 I'd be jacked up too if I were hitting like Mr. Freese.
Christian Petersen/Getty Images
A breakout player like this is often necessary for a surprise team to reach the World Series against the odds.
The Cardinals were a long shot to earn a playoff spot, and once they did (in dramatic fashion), they were heavy underdogs against the Phillies and their foursome of aces.
However, Tony LaRussa's club shocked the Phillies and their faithful and have now advanced past the Brewers and their supposedly unparalleled home-field advantage.
Freese deserves a significant portion of the credit for the Redbirds' success, clubbing four homers and driving in 14 runs (to lead all players) in 40 postseason at bats.
We expected production from the likes of Albert Pujols and Lance Berkman, but Freese has been a truly pleasant surprise.
1. Nelson Cruz, RF, Texas Rangers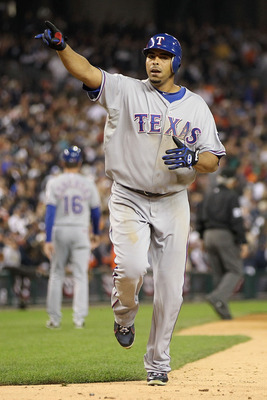 Few have ever been as hot as Nellie is right now. Incredible.
Leon Halip/Getty Images
Is anyone even the least bit surprised by this ranking?
Cruz is in the midst of one of the greatest individual postseasons in the history of Major League Baseball, if not the greatest.
In the past 15 years we witnessed jaw-dropping playoff runs by Barry Bonds with the Giants and Carlos Beltran with the Astros, but Cruz's run likely tops the chart.
Cruz has six homers and 13 RBI in just 37 official at-bats, and virtually all of his bombs were of the "no, not again!" clutch variety.
And he hasn't only been doing it with his bat; he also completed a picture-perfect, catch-and-throw double play in a critical spot of ALCS game four.
Simply put, this is Nellie's world right now, and we're all just witnesses.
Keep Reading

Texas Rangers: Like this team?