7 Reasons the Denver Broncos Have Become the NFL's Most Troubled Franchise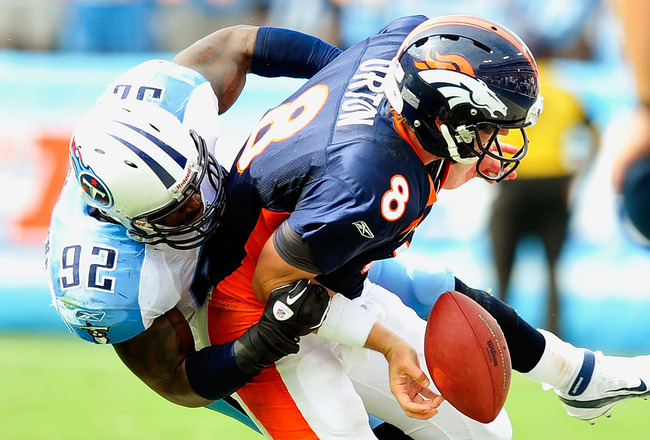 Grant Halverson/Getty Images
The Denver Broncos are once again on pace for a losing record.
It is a sad story for a storied franchise that seemed to have a place in the playoff hunt every year.
The Broncos have not owned a winning record since finishing their 2006 season (9-7) with a 2-5 slide that yanked them out of playoff contention.
We will take a look at the seven reasons that this proud program has become one of the NFL's most-troubled franchises.
Poor Drafting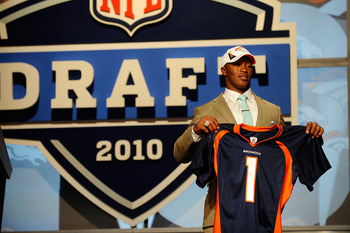 Jeff Zelevansky/Getty Images
The Broncos have not had the best of luck when drafting out of the first round.
With all the money that was tied into first-round players, Denver has not done well with its investments.
In the last 10 drafts, excluding this year's draft because the jury is still out on Von Miller (although he is looking like a true player), Denver has drafted 11 players. Of those 11, only six are still on the team.
Four were drafted in the 2008 and 2009 drafts, and we really don't know what to make of Knowshon Moreno, Robert Ayers, Demaryius Thomas and Tim Tebow, but many have labeled them as busts and mistakes. The only serious contributors of the bunch are D.J. Williams and Ryan Clady. If the Denver Broncos want to gain more wins, they need to have more success out of the first round.
Denver also needs to get lucky and find more late-round "diamonds in the rough" who made the glory years possible, players like: Karl Mecklenberg (11th round), Shannon Sharpe (seventh round), Rod Smith (undrafted), Terrell Davis (sixth round) and Peyton Hillis (seventh round; traded).
Defensive Coordinators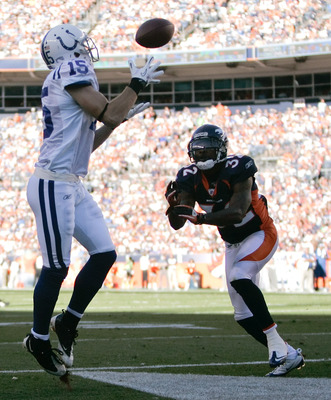 Justin Edmonds/Getty Images
It's no secret that the Denver Broncos are suffering on defense. Last season, the Denver defense was statistically one of the worst in the league. The poor performance could be attributed to many factors: bad free-agent signings, weak drafting, wrong players in the wrong system.
But, ultimately, performance falls on the coaching. Denver's defensive coaching just has not been consistent. The Broncos have had six different defensive coordinators in the last six seasons.
Unless they find some consistency with a coach and consistency with a system, it will be difficult to build a program that dominates on the defensive side of the ball.
John Elway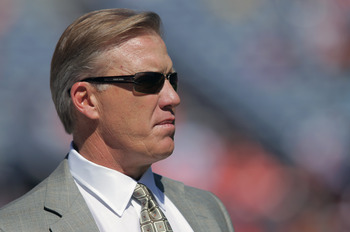 Doug Pensinger/Getty Images
Shortly after the firing of Josh McDaniels following the 2010 season, Pat Bowlen named John Elway the executive vice president of football operations. This could potentially push the Broncos down a path that will prolong their rebuilding process. Former players who have been given power have proved successful (Ozzie Newsome), but it could also be disastrous (see Matt Millen and Dan Marino).
Hiring Elway was a smart public relations move for a team that was trying desperately to distance itself from the disaster that was Josh McDaniels.
Elway's successful history with the team and his icon status with the franchise made him an obvious choice.
Then again, is Ronald McDonald the CEO of McDonald's?
Pat Bowlen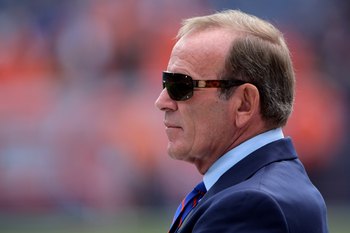 Doug Pensinger/Getty Images
Ultimately every decision that the Broncos have made this last decade falls under the boss man. Bowlen's day-to-day decisions have been in question due to health issues.
Going back just a couple of years, Mike Shanahan was regarded as the coach for life for the Denver Broncos. But after a few mediocre seasons, Shanahan was fired. Maybe the better move would have been to strip the general manager title from Shanahan and keep him exclusively in the coaching position.
Hiring Josh McDaniels was a mistake. The team was struggling to find some consistency—maybe firing him as soon as they did was a mistake as well.
Bowlen has been an owner who has always been hands on. His decisions in the last few years have cost his team some wins. It is now time to allow someone else to make more of the decisions, and pick the right ones to do the job.
Mike Shanahan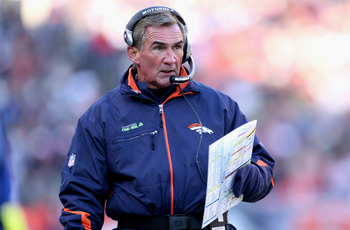 Doug Pensinger/Getty Images
The beloved coach who brought Denver fans and John Elway their first Super Bowl victory seemed to not be able to do wrong. After only one playoff win in the 10 seasons following the back-to-back Super Bowl win, fans started to ask, "what have you done for me lately?"
Poor draft choices and questionable free-agent acquisitions started to send the franchise into a tailspin that would only get worse in a new regime. The 14-year head coach for the Broncos was sent packing after three years of under-performing teams.
Josh McDaniels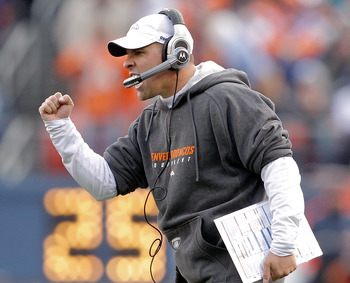 Justin Edmonds/Getty Images
Josh McDaniels came to Denver and set the franchise on the road to disaster well before coaching his first game. In just under two years, McDaniels traded away a franchise quarterback (Jay Cutler), a star receiving tight end (Tony Scheffler), a fan favorite running back (Peyton Hillis) and a game-changing wide receiver (Brandon Marshall)—and that was just the offense.
McDaniels failed to effectively address the Denver defense, firing Mike Nolan because of personal differences. The former head coach alienated the Denver fanbase immediately with the Cutler saga, continued to do so by dressing like Bill Belichick, and put the final nail in his coffin by overseeing the illegal taping of a San Francisco 49ers practice while they were in London.
McDaniels is arguably the No. 1 reason the Denver Broncos are one of the NFL's most troubled franchises.
Miles the Mascot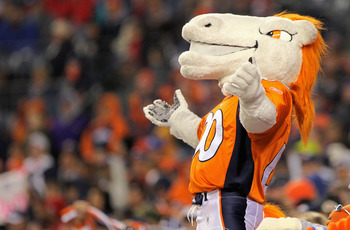 Doug Pensinger/Getty Images
According to Denver Broncos documents, Miles (the mascot) was born on the day of the franchise's last Super Bowl victory in 1999. During his existence, the Broncos have had their longest playoff drought and worst playoff winning percentage in 35 years.
There is no way that the presence of Miles can be overlooked as one of key factors to the downturn in this proud franchise.
Keep Reading

Denver Broncos: Like this team?