Ryne Sandberg: 5 Reasons Why He Won't Be the Next Chicago Cubs Manager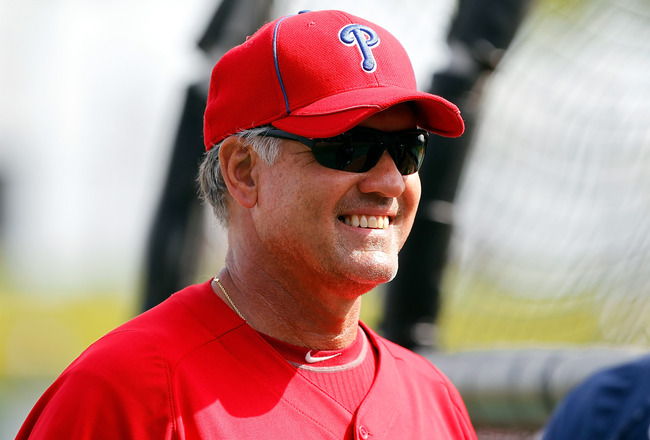 J. Meric/Getty Images
New Chicago Cubs general manager Theo Epstein will look for a manager to replace Mike Quade.
Though, that manager will not be former Cub Ryne Sandberg.
Sandberg played 15 seasons at second base with Chicago, resulting in a Hall of Fame career. He also got his start in coaching the Cubs, being a minor league skipper for four years.
Ryno left the Cubs organization when former the Cubs hired Quade over him, so he bolted to the Philadelphia Phillies and managed their AAA affiliate.
Even though Cubs fans would want the Chicago legend to be skipper, here are five reasons why he will stay with Philly.
The Chicago Cubs Seriously Burned Ryne Sandberg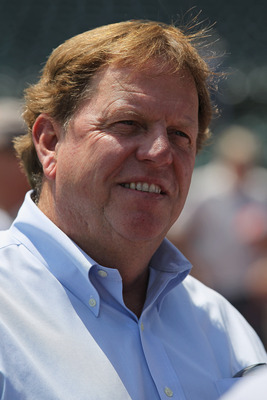 Jonathan Daniel/Getty Images
When former manager Lou Piniella retired last August, many thought Chicago would hire Ryne Sandberg for the job.
Sandberg was in his fourth minor league season as manager and was coaching the AAA Iowa Cubs.
No. 23 was the fan and media favorite for the job, but former general manager Jim Hendry chose Mike Quade instead of him.
With that, Sanberg bolted Chicago for the Philadelphia Phillies, becoming their AAA manager.
As Bleacher Report's Darrell Horwitz writes, the Chicago White Sox hired former player Robin Ventura without any coaching experience, while Hendry made Sandberg manage four years in the minors and then passed him up.
Ryno might love the Cubs, but the organization has shown it does not value his contributions.


Philadelphia Phillies Have Shown Ryne Sandberg Loyalty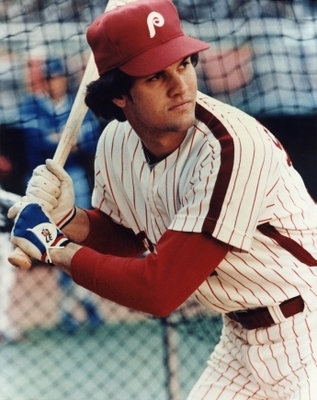 The Philadelphia Phillies selected Ryne Sandberg in the 20th round of the 1978 draft.
Ryno played in Philadelphia's farm system for three years and made his major league debut with the team in 1981.
He only played 13 major league games with the organization before he was traded to the Chicago Cubs.
After the Cubs dissed Sandberg with the Quade hiring, the Phillies snatched him immediately to be the AAA manager.
When the Cubs did not show Sandberg any loyalty, he turned to Philadelphia who gave him a good job.
Ryne Sandberg Possibly Being Groomed To Replace Charlie Manuel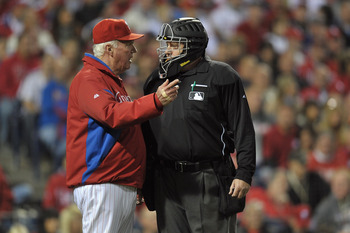 Drew Hallowell/Getty Images
Philadelphia Phillies manager Charlie Manuel is signed through 2013, but that might change soon if his ballclub struggles next season.
Manuel's teams have underachieved the last two postseasons while having arguably the league's strongest starting rotation.
The Phillies were primed to win it all this year, but were shocked by the upstart St. Louis Cardinals in the National League Divisional Series.
While Manuel is optimistic about 2012, another disappointing season and Manuel could be fired.
Hiring Sandberg to coach the Lehigh Valley IronPigs was not the only reason why he was brought in. The Phillies could be grooming Sandberg to take over for Manuel whenever that time comes.
Philadelphia Phillies Are a Better Organization To Manage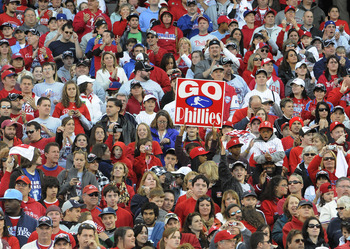 Fans line up during the 2008 World Series championship parade.
Jeff Fusco/Getty Images
The Philadelphia Phillies have been one of baseball's top teams since 2007.
They have five consecutive National League East division titles, winning six playoff series, two National League pennants and the 2008 World Series.
Their regular-season record is 473-337, a .584 winning percentage.
They have strong nucleus of star players under contract in Roy Halladay, Ryan Howard, Chase Utley, Cliff Lee and Cole Hamels.
Meanwhile, the Chicago Cubs in the same span are 411-409. They missed the playoffs the past three seasons and were swept in the NLDS in 2007 and 2008. This is not counting the ridiculous 103-year championship drought.
Besides, Chicago does not have a good nucleus to build a team around and bad contracts to Carlos Zambrano, Alfonso Soriano and Aramis Ramirez are preventing a desperately needed rebuilding project.
Philadelphia is geared to being a perennial World Series contender. Chicago? Not so much.
Ryne Sandberg Has More Pressure To Win with Chicago Cubs
Jonathan Daniel/Getty Images
Philadelphia is a tough place to manage, but Chicago is becoming worse.
Fans and media are becoming extremely disenchanted with the "Lovable Losers" mantra the Cubs adopted years ago.
There is booing at Wrigley, significantly lower attendance and a critical media base.
This is not mentioning not winning a National League pennant in 66 years and a World Series in 103 years.
Many top managers like Leo Durocher, Dusty Baker and Lou Piniella came to Wrigleyville to tackle the various curses and hexes associated with Cubdom and become a hero.
Their efforts were valiant, but all three failed grandly as they were chewed and spit out by the unforgiving Cubbie quagmire.
Ryne Sandberg wants to be a successful manager, so he definitely will steer clear of the Cubs.
Bob Bajek is a writing intern at Bleacher Report. He is also a freelance reporter and can be followed at Patch.com and Twitter.
Keep Reading

Chicago Cubs: Like this team?