Robin Ventura's Hire as White Sox Manager Is a Slap in the Face to Ryne Sandberg
October 8, 2011
Jim McIsaac/Getty Images
Can you imagine how former Chicago Cub Hall of Famer Ryne Sandberg felt when he heard the news that the crosstown Chicago White Sox hired Robin Ventura to be their manager?
After the disastrous 2006 season when the Cubs lost 96 games, Sandberg approached general manager Jim Hendry and told him he was interested in managing the team. Hendry said he needed to gain some managerial experience before he would consider him for the job.
So Sandberg, a guy who made millions in his career, took a job managing the Cubs "A" ball team in Peoria. He rode the buses, ate at fast food joints, and slept in cheap hotels so he could achieve his dream of managing the team he loved.
He endured four, hard years working his way up to the "show." 
Success found him along the way. He won Manager of the Year honors in the Pacific Coast League in 2010, and reached the playoffs three times.
Finally, after a dismal 2010 season for the Cubs, he thought all his hard work had paid off. The Cubs had an opening for manager. Surely, a Cub icon who sweated his way through four tough years would get the job.
Instead, the same Jim Hendry who told him to go to the minors to learn his craft gave his dream job to Mike Quade. Sandberg didn't even get the courtesy of a call.
He found out about it a few days later. At the time, he was not even told he was wanted back to manage the Triple A Iowa Cubs. Hendry said maybe he could come to spring training and hit some fungos and walk around.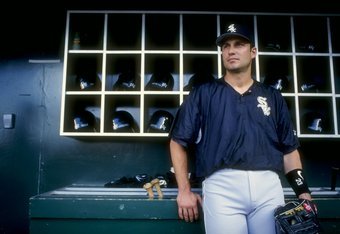 Donald Miralle/Getty Images
Sandberg thought it might be a better idea to walk and he did, leaving the Cub organization to take a job managing the Lehigh IronPigs in the Philadelphia organization.
He's still dreaming of the opportunity that he put so much effort into getting.
Ventura, on the other hand, was begged to accept the job by Sox GM Kenny Williams after he realized that Ozzie Guillen would be leaving the team. Ventura had just come back to baseball this summer with the Sox as a special assistant.  
He didn't really think he was ready for it, and it wasn't something that he aspired to, but he got the job.
Isn't it ironic that two guys that are very similar ended up this way?