Cleveland Browns Must Get Mohamed Massaquoi More Involved in the Offense
October 14, 2011
Jim McIsaac/Getty Images
It's just no fun criticizing Andy Reid anymore. For the entire decade that the Philly faithful were booing Donovan McNabb and hailing Reid as a genius, there was some point in trying to be the voice of the facts.
I could espouse my firm conviction that Reid is allergic to power rushing, that this flaw doomed the Eagles to be an "almost there" team and that it was McNabb holding that offense together. Now, heck, it's all obvious; so what's the point? 
Why would I begin an article exhorting Pat Shurmur (read Mike Holmgren) to start funneling passes towards Mohamed Massaquoi with a recap on Andy Reid? Where do you think Reid learned to coach? Under Holmgren. (Yes, begat by Walsh and before that, Paul Brown.) And where did Shurmur cut his coaching teeth? Philadelphia. 
So it's relevant. In a system most noted for its short passing aspect, Mike H. had great success with teams when he had a top rusher (Levens, Bennett, Henderson and particularly Alexander) and a lot of Shurmur's success last season came on the legs of All-Decade runner Steven Jackson. So, to be completely simplistic, the Holmgren offensive model is:
1)    Balanced attack where short passing success sets up a legit rushing attack.
2)    Score the most points overall:  In 1996 the Packers led the NFL in points scored and the 2005 Seahawks were second in the league in points scored.
Both of those Super Bowl teams averaged 50 percent runs and passes per game (stats-aholics please note use of the word averaged.) For a while in 2011, it appeared that Shurmur was leaning towards the Reid side of his coaching lineage and minimizing Hillis—or trying to turn him into a Faulk-esque receiving back.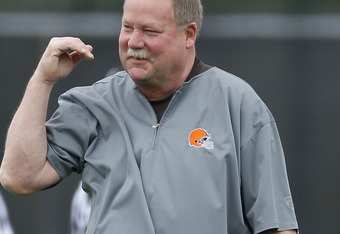 Gregory Shamus/Getty Images
But in researching this article I found that, numerically if not in terms of Gestalt, Hillis has indeed been used in the traditional Holmgren-type West Coast Offense role. It turns out that Peyton is getting 23 touches per game and 20 of those are carries. Add in Montario Hardesty and that's pretty balanced.
Falling behind early in the Titans game forced the abandonment of this philosophy—and look what happened. 
We also can't forget that the Browns picked up former Packer RB Brandon Jackson this summer in the hope that he would fill that third-down back role. Losing him before snap one has left a vacuum that, according to several recent sources, Cleveland is hoping undrafted free agent runner Armond Smith might fill.
Keep your eye on how this experiment develops and you'll see how that "balanced attack" plan is going to go. 
Well, all righty then. Ground game, check. How about QB? That's pretty important in the West Coast Offense, right?
I'm a Colt McCoy fan. I get killed for it in print, but I do see a young Hasselbeck in the Browns' baby-faced QB. Yes, it's taking him too long to make his reads, yes, he's sometimes a bit lost out there and yes, we haven't seen tremendous arm strength thus far.
However, this is a system that specializes in the short pass, right? Despite his drawbacks, Colt is still completing over 58 percent of his passes. 
My position is that if you can lead The Drive Lite against the Dolphins once, you can do it again. Mr. McCoy completed 9 of 13 on that 80-yard game winner. Even in Week 4's losing effort, Colt's numbers were impressive:  40 of 61.
Did you know that 40 completions are 5 short of the all-time League record, which is 45 by Drew Bledsoe in 1994? Yeah, me neither, I just looked it up.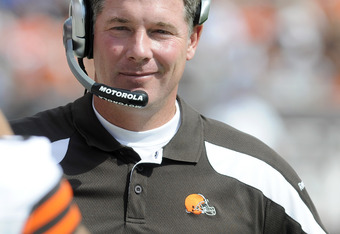 Jason Miller/Getty Images
So, how do the Browns round out this Holmgren/Shurmur West Coast hybrid? You've got it:  the famous passing part of the famous "short passing offense." For a team with two second-round WRs playing their third season, a promising rookie and an awesome return specialist trying to transition to receiver, there is a perplexing lack of clarity on this ball-catching squad.
Does the West Coast offense require a Jerry Rice wow-factor WR? Well, it never hurts. However, Hasselbeck didn't have one in Seattle and Brett Favre had a chorus of very good receivers in GB, without one Hall of Famer.
But QBs need their safety net, their go-to guy, their WR-ing blankey. The prime example of this in 2011 is the inimitable Wes Welker. Who is filling that role in Cleveland? Well, right now it's Hillis. He is second in total receptions with 15 this season—in three games!
Venerable TE Ben Watson is the leader with 16 and Massaquoi and rookie Greg Little follow with 14 each. In a league now famous for multiple WR sets, one might be tempted to see this as depth. One would be missing the above-mentioned key to the success of this scheme:  the part where the team actually scores points.
Cleveland is 29th in total points scored and 26th in points per game. See, that's not good. I'm also fairly sure that this is not what anyone on any branch of the Walsh coaching tree would consider a winning offensive strategy. The Browns have to do two things:  generate points and hold onto the ball.
The defense is allowing an average of 320 passing yards per game and is ninth in the NFL in this category. While that is not terrible, it will not cover for the 29th offense. And the ninth place ranking is deceptive. When facing their first true offensive threat in Matt Hasselbeck, the Browns' secondary was badly outclassed.
They are young and they will get better, but if you can't stop the big play, you had better be able to win time of possession—significantly win it.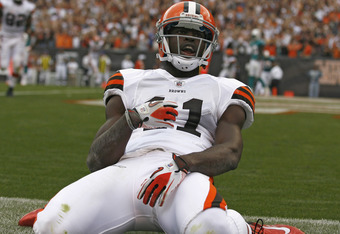 Matt Sullivan/Getty Images
Add to this the fact that Cleveland is currently without the services of DB Joe Haden, arguably their best player, period, as well as LB Marcus Benard. (I just have to interject here—why is it that NFL teams do not have "no motorcycle" clauses in these contracts? Don't get me wrong, we are a Harley-loving family and I enjoy tooling down the highway with the best of them, but men under 30 with too much money should not be allowed to own motorcycles if your team depends on them. But I digress.) None of this translates to being a defensive powerhouse at the moment.
Solutions? Anyone? How about picking a No. 1 WR and getting the ball to him? Call me crazy, but the Browns have to at least pretend that they have what the late Al Davis called the "vertical" game.
Cleveland reminds me of the Bears:  a great running back, a bunch of mediocre ballcatchers and a terrific return man who is trying to make it as a WR. And this is not working for either team. Don't even get me started on the offensive line(s).
The difference is that Chicago's WRs have proven themselves to be B-level whereas I still have reasonable doubt about the Browns' group. So, let's take off the training wheels and start stretching the field. What is the worst that could happen? They could fall three spots and be the absolute last-place offense?
I pick Mohammed Massaquoi. He had 34 catches his first year and 36 last year. While 14 receptions in four weeks isn't making anyone forget Calvin Johnson, it's on pace for his best season thus far as a pro. And he's a real WR. He's been a WR since high school.
Cribbs is a return man who was a QB in college. That may be great for his football IQ, but I vote that we let "Mo" give it a shot as the man. Let me tell you why.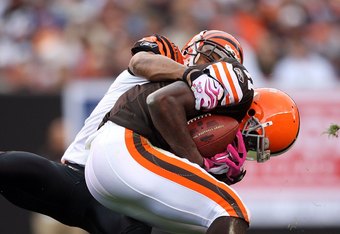 Jim McIsaac/Getty Images
1) He is the only Cleveland WR with a long catch (56 yards) all year. Plus, he has averaged almost 14 yards per reception. And that is something that the Browns desperately need. Pull the safeties back, give Hillis some room and then look out for the TEs and Brian Robiskie over the middle. Hey, it's a plan.
2) This plan has the added benefit of potentially giving young Greg Little single coverage. With a 4.5 forty, he may not be burning Revis in a sprint down the sidelines, but he's no slouch either. And the kid's on a mission to succeed after the cloud over his college career. Featuring Massaquoi will only help Little's development.
4) That short passing game? Let the defenses know that Mo is the No. 1 WR by targeting him a heck of a lot more than seven times per week, which is the current arrangement. Brady throws in Welker's direction almost 20 times per game. Of course, Welker actually catches the ball on many of those attempts. But let's give Mohamed a chance. Then every pass could be of the five-to-seven yard variety and we'd all be happy:  moving the ball and keeping it on offense.
5) I also think that Massaquoi is currently the most versatile WR on the roster. Excluding Special Teams skills of course. While not enormous at 6'2", I think he is big enough to play the slot as well as fast enough to run a go route. Okay, not against the speediest corners, but he's got game at 4.57 in the forty. Cribbs is probably the best athlete and Little looks like he'll ultimately be the best deep threat, but Mohamed was drafted to be an all-around receiver. How about we give him a shot in his third year to prove it?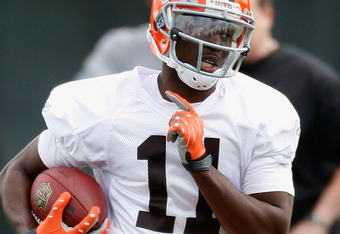 Gregory Shamus/Getty Images
And for those of us who still appreciate a good cloud of dust, consistently targeting No. 11 might just drag at least a safety out of the box for Hillis/Hardesty/Smith. Oh goodie.