Boston Red Sox: Jacoby Ellsbury Led Just Fine, Thank You
October 13, 2011
Elsa/Getty Images
Jacoby Ellsbury just turned in an MVP-worthy season, however, he just got broadsided with a sharp right jab from the Boston Globe on Wednesday.
Bob Hohler wrote the article, with contributions credited to Peter Abraham and Nick Cafardo. Hohler writes:
As joyful as Ellsbury's MVP-caliber season was to many fans, his interaction in the Sox clubhouse was limited mostly to his friend Jed Lowrie. Ellsbury produced one of the most sensational seasons for a leadoff hitter in franchise history—he also ranked with [Dustin] Pedroia, [Alfredo] Aceves, and Jonathan Papelbon among the team's hardest workers—but he contributed little to the clubhouse culture.
The guys at the Globe aren't alone in their critique of Ellsbury. ESPN Boston's Jackie MacMullan expresses a similar sentiment, writing that "[Ellsbury's] teammates like and admire him, but he keeps to himself, confides only in Jed Lowrie.
"Contributed little to the clubhouse culture?" "Keeps to himself?" What the heck is this all supposed to mean?
What it means, as far as some writers are concerned, is that Jacoby Ellsbury is a bad leader.
If the Hohler, MacMullan and any other pundits are trying to indict Ellsbury for failing a test of leadership, consider the following:
Ellsbury hit .321 with 32 homers, 105 RBI, 39 stolen bases and 119 runs in 158 games played this season.
He's sure to factor in the AL MVP voting.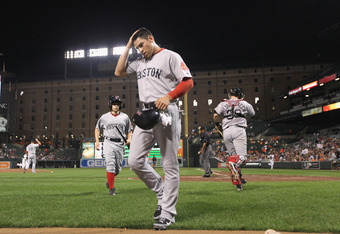 Rob Carr/Getty Images
As the Red Sox fell apart in September, Ellsbury did everything he could to save the season. He batted a .358 on the month with eight HR, 21 RBI and 22 runs.
That sounds like some pretty darn good leadership by example.
During the season's final week, Ellsbury gave it all he had.
On a doubleheader in the Bronx on Sept. 25, Ellsbury hit two solo shots as the Red Sox dropped the first game, 6-2.
Ellsbury hit a clutch three-run homer in the 14th inning of the nightcap, keeping Boston a game up on the Rays with three to play.
Two days later at Baltimore, Ellsbury hit a two-run homer in the third inning of an 8-7 win over the Orioles.
Ellsbury had a hit in every game in September save one, a 9-2 loss to the Rays on Sept. 15.
So he'll enter 2012 riding a 13-game hitting streak.
How is this all not some exemplary leadership? 
I'm not the only one taking the Globe's baseball boys to task. Grantland's Jonah Keri and Chris Jones question the Globe's journalistic integrity today's article "Boston, the Red Sox, and Anonymous Source." Keri writes:
What constitutes appropriate leadership anyway? A fire-and-brimstone speech during a losing streak? Or could keeping one's mouth shut and hitting game-winning homers count as leadership, too? Because Jacoby Ellsbury certainly hit the crap out of the ball all year (including down the stretch). Yet he gets mentioned as someone who "contributed little to the clubhouse culture," whatever that means.
Ellsbury does not come off as a "rah-rah" guy—and he may never be that kind of guy—but that's fine.
Any good enterprise—baseball or otherwise—needs a variety of leaders to be truly effective.
Among the team's supposed leaders—Dustin Pedroia, David Ortiz, Adrian Gonzalez and the captain, Jason Varitek, to name a few names—only Pedroia emerges from the rank mess of September smelling rosier than Ellsbury.
A comparison of Pedroia and Ellsbury is actually quite helpful in making a case for Ellsbury's leadership ability.
After missing nearly all of last year with his infamous rib injuries, Ellsbury re-established himself as a good player this year. He did that, and then some—he's now a true star and perhaps an MVP.
At the very least, Ellsbury's the 2011 AL Comeback Player of the Year, as announced today.
Pedroia, on the other hand, is three years removed from 2008, his own MVP season.
He's earned his respect with his steady play on the field.
With regard to ability to command respect from one's peers, Ellsbury is just getting now to a place that Pedroia arrived at several seasons ago.
The Red Sox are sure one ugly sight now, and there is certainly blame to be spread and explanations to be explicated from all of this.
But raking Jacoby Ellsbury over the coals for perceived intangible failures, for an alleged failure to lead, is a short-sighted and misplaced endeavor.